Oh my Gosh! Can I just tell you how frustrating that was?! I finally got things fixed two days ago but had still not been able to get on here to start this post. That was a nightmare that I went through and never ever want to do it again! To read about what happened click
here
. Well little did I know it not only affected my blog but every single thing I attached my photobucket photos to!!!!!! Yeah I keeled over and died when I realized that. I so did not want to fix everything. I emphasize did not.
Oh well it is over and done with and FIXED!!! Yay!!!!!! So we move on. I am still not sure what there was to be learned about that whole fiasco but still we move on. But I do want to thank you all soooo much for being patient with me in getting it all fixed!
I have absolutely incredibly awesome news!!!! Well it might not be so much news anymore because a bit of time has passed since they have happened and been announced but oh well. It is news for this blog! hehe. I have been asked to be on two design teams!!!! One is this fabulous kit club called
The Scrapbook Nook
! I am going to be doing a huge post about the current kit and the work I have done for them so far tomorrow! There is also going to be a virtual crop this coming weekend so I will have details about that too!!! It will be my first virtual crop so I am sooooo excited! Stay tuned for this upcoming post!
And then the other is a challenge blog called
Category Stories
! On this site you are given a prompt for that month's challenge and you just have to use it in some creative way! Whether you use it as your title or part of your title or the theme of your project or any other totally awesome way, we love to see how many different representations of the same prompt you all can come up with!
This month's prompt is What I love about..... It got taken in so many directions just by the DT I can't wait till I see what all the participants come up with!! The sponsor will be announced soon along with the fabulous RAK they are providing!!! (I'll keep you posted on that!) There is a lot of really awesome talent on this DT and I can't help but get inspired by them everytime I go and visit one of their sites!! Be sure to go over and give them some love! This is what I did for the prompt:
I don't have any close ups yet but I will edit with those soon. The whole thing reads: What I love about CREATING is the freedom it gives to pursue a dream without fear. I am really really passionate about creating from the heart, whatever it is that you are creating. I turned this into a sort of collage of colors because um hello how could you not with all that awesomeness in front of you!!! I picked up this new K and Co paper called Que Sera Sera which I soooo know was made just for me! hehe. I love it so much! It mixes gorgeous florals with totally cool marine animals, which seriously made me swoon when I saw it! You may think I am crazy and I would agree but I am so in love with this line. Hope you liked what I did!
Here are the LOs I did for the last three prompts:

January's prompt: I remember....

Journaling: I remember when everyone used to tell me that I looked exactly like you, I talked exactly like, acted exactly like you. And I hated it. Now I am honored.

This is the first LO I have ever done with a picture of my mom. This picture is nearly 12 years old. She passed away almost 6 years ago. This was very hard to do, but I am very glad I have finally been able to break that barrier. Scrapbooking is therapy for me, and this was a very productive and powerful session.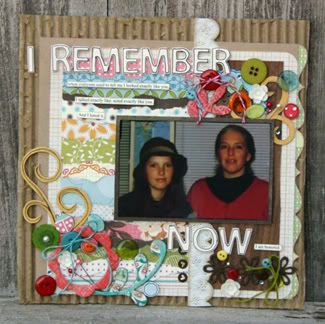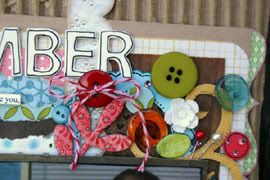 December's prompt: Decorate
Journaling: (was) decorated with a bow until about two seconds after this photo was shot.

She loves to have things on her head but can't stand having someone else put them there. so of course this bow had to come off. This LO was lift inspired by
Alexis Hardy's Love LO
. Such a perfect set up I just had to use it! Thanks for letting me lift it Alexis!!!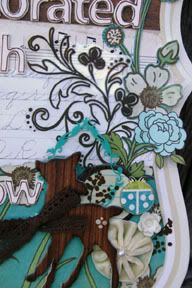 November's prompt: My phone
Journaling: You think I am joking huh? Nope. I'm not. It is really at a spa, but there is no way I could tell you which spa that might be seeing as we have about 4 billion in this area! Wonder how it got there all by itself? Well the truth is, it had some help. I lost it at a craft store, someone found it, called my Dad (which I guess seemed like a safe bet), and told him they were going to leave it at such and such spa. My Dad, being the crazy guy he is, actually thinks I had gone to said spa so doesn't bother to listen to the name. And now, he can not remember the name. Cruel Irony. My phone is lost, found and lost again. I have come to terms with this and so now, this is my little goodbye to you, Flipshot.