Well I am here today to share all the Crate Paper stuff that I have been meaning to share for far too long! :D I have one of my newest creations made with the Restoration line, and 2 other projects that were up on the
Crate blog a looooong time ago
!
First up is Vintage Love, that features some of my fav things: a few pics of my antique treasures and the gorgeous
Restoration line
!! Please forgive the awful picture. :P I am having sooo much trouble photographing here at our new home. (I hate it! I want my old spot back! LOL!) But I am working on finding a better spot. :D Anyway, I really actually had a hard time doing this LO because I just could not get my LO to look good enough to do the collection justice!!! I look at what the other girls did and I just gasp! They are phenomenal! But I really tried and did have fun doing this LO! And I have many more opportunities to give this collection a go so I am pumped about that! :D The background scallop I cut myself after tracing the die cut paper from the
Crate Paper collection Lemongrass
. (Anyone remember that collection? Feels like a million years ago but I still love that paper!) I love the wonky scallops, but the only things I changed was the fact that I didn't punch the holes that are in the die cut. Next I just decided to play with all the colors in the collection and started lining papers up to see what looked good. I cut flowers and leaves out of the Slipcover paper and mixed them with some of the chipboard, and also cut a few of the doilies out of the gorgeous Doilies paper. The rest just sort of came together, and I found a few alphas in my stash to match-American Crafts Letterbox Geyser chipboard and Webster's Pages Polka Dot alphas.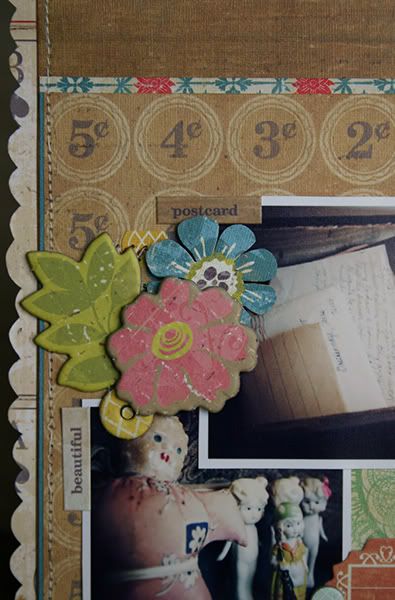 I do have one more LO that I made with the
new line School Spirit
, but it has yet to be shown on the Crate blog so I can't show it here yet. Buuuut, they did put up a pic from CHA that had it on their displays, so I think it is ok to show that as sort of a teaser. :D It is the one on the bottom far left. Doesn't look like much from here but it is one of my favs. The pics of Cree smiling are priceless. :D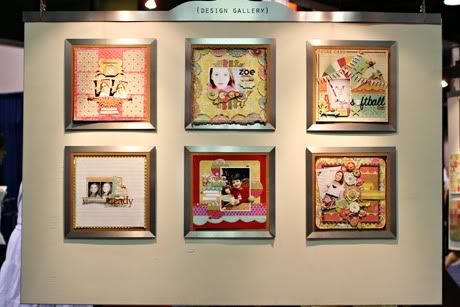 Next up are the older projects that I had yet to share with you all on here. :P So sorry about that! But here they are!
The first one is a album I made to first help me plan Jed's and my official wedding and then after the wedding it can easily transition into our actual wedding album. :D *Now you may be wondering if you are a blog follower what is going on because Jed and I are already married? The simple way to put it is we eloped! We didn't let anyone know until a few months later when we were already married. :D They knew we were going to get married, but just not right then and most certainly not without the whole family! So we made a promise to the family to have an actual celebration wedding where the whole family can get together to celebrate with us! And that is what I mean by planning our "wedding"* Anyway I made this with a few different Crate Paper lines (
Pink Plum
,
Paper Doll
and
Lillian
) and some things from my stash that I thought mixed in nicely. :D First few pics are the cover and close ups. Oh BTW this binder I got at Target for $3! I upcycled it! :D Fun stuff. And what is even more awesome is that it is made out of all 100% recycled papers so I feel doubley good about it! LOL!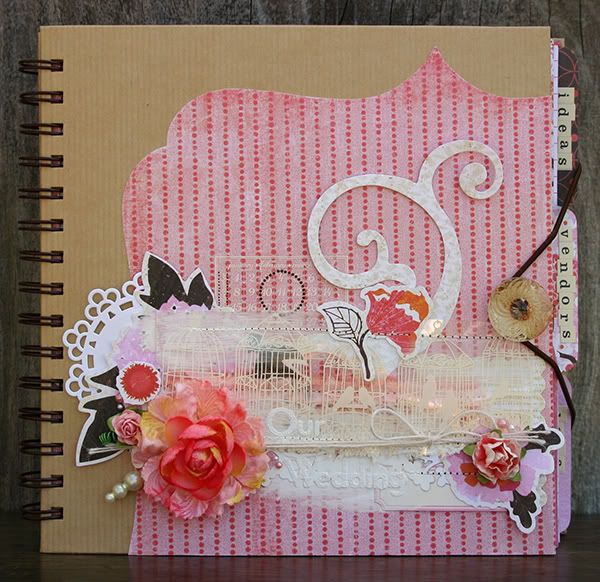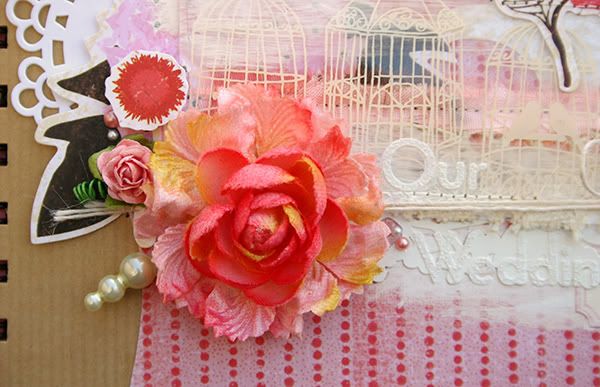 First inside page. The half circle across the right page is actually a pocket. :D So it is handy for putting all sorts of little paper things in to remember to look at.
Next up is the middle folder that I always want to break down and cry about. :P Creedence took a pencil to it! And it's not like an easy erase off sort of thing either. She full on gouged into the paper with that pencil, and there was no way I could hide it! So I tried painting over it and it just turned out like bleh. So sad!! My favorite page: RUINED! Oh well.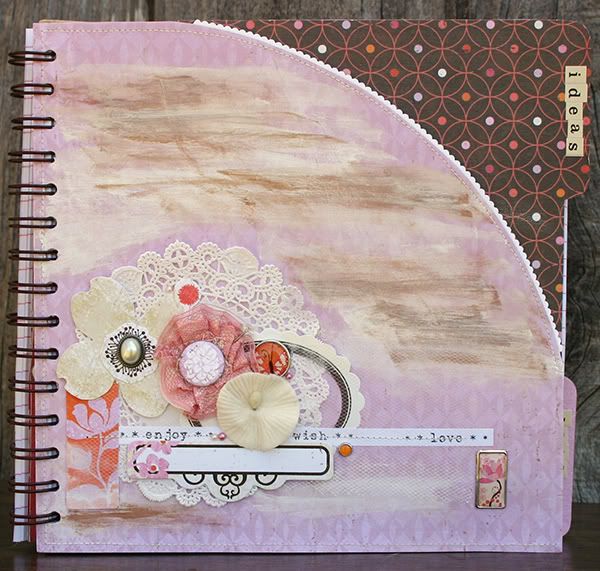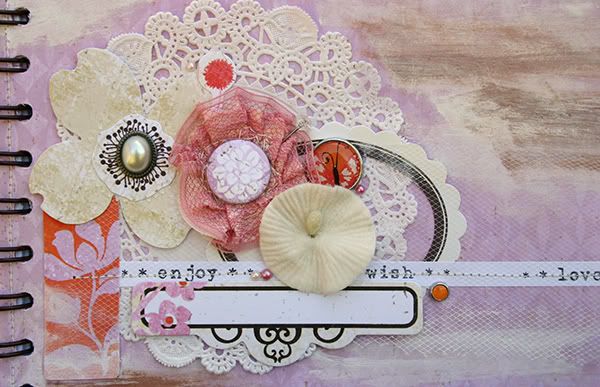 And lastly, the cute and simple page. :D I had a blast making this little album! Loads of fun!
And lastly, this LO is very near and dear to me. It is about my mom. And how I miss her so. I really wish she could be here, as I know she would just adore being a Grandma. She loved babies and little ones. Cree is getting a little bit older than baby stage but she is still little. My mom's fav age. :D
I used a butt load of products on this LO! LOL! I really wanted to do a list of all the products but it is just too crazy at the moment, and would take a lot longer than I have time for at this exact second to research and type up! :P So if you are desperately interested in any of things you see on this LO (or any project I have done and not given the products list for) then PLEASE don't hesitate to leave me a comment askin about it! :D I would be happy to answer. So many details and layers on here that I am not exactly sure how I even did it. LOL! But I have this LO sitting on my desk so that I can always have it to look at. I am planning on getting it hung soon in my craft/baby room. I think it will be perfect hung in there.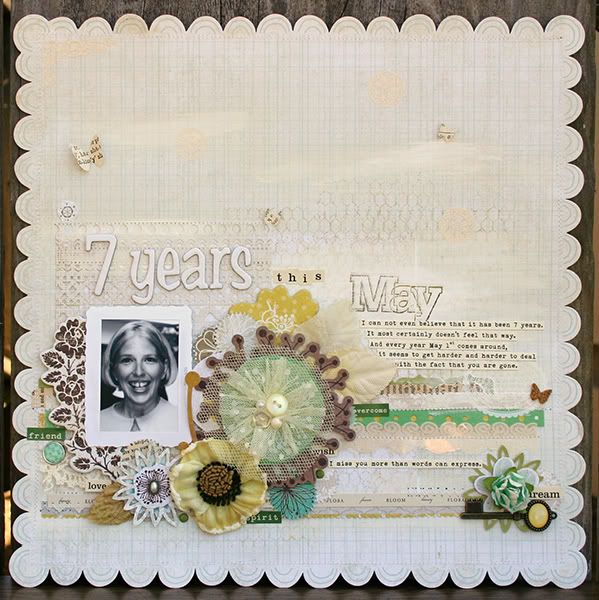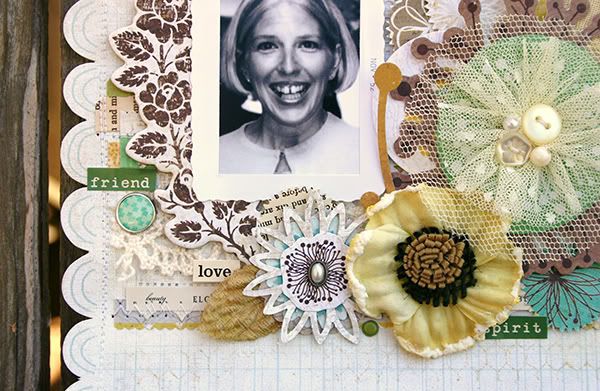 Well I am in the process right now with pre-scheduling some posts for the next week and maybe even later! It all depends on how much Cree will let me sit here on the comp. I have some projects to finish this weekend and Cree starts speech class again on Monday, so I am trying to get a few posts done before all that starts. Do let me know if there is anything particular you want me to cover or whatnot as I am pre-scheduling. I always just kinda mumble through my posts sharing my stuff, and don't really have any purpose behind them. LOL! Aside from sharing that is. :D I am going to do an update on my belly soon too! I have my 20 week ultrasound coming up and will share the pictures and whatnot as soon as that happens! :D Been feeling lots of moving around and everything! Which is always a wonderful feeling. But it is definitely starting to make me feel sick again! LOL! All the movement means this babe is pushing things around that don't particularly like it. But I am trying to enjoy it all before the wee one gets too big and it becomes just straight uncomfortable! :P
Til next time! Take care!
~Amy