A very good friend of mine left me a comment, reminding me that I am neglecting my blog. (
Thank you so much Sasha
!! It meant so much to me for you to give me a little kick in the butt! LOL!) Crazy thing is that I don't realize I'm doing it even when weeks have passed! :P My concept of time is very bad. And because I am always at home, I can almost never tell you what day of the week it is because it just really doesn't matter when it comes to the everyday things that I need to do. LOL! So the fact that weeks have passed is always a shocker to me! :P I really need to get a handle on that.
I was going to get posts prescheduled but finding time on the computer is just hard these days! And with Jed home now all the time, I feel like I have two toddlers here constantly pulling me away from the computer! LOL! Not that that is a bad thing, it just doesn't make for a good blogger.
Well a couple updates for you here: we did NOT find out the sex of the baby because the little stinker was in the worst position to try and determine! LOL! I kinda had a feeling when we went in that we were gonna come out of there still not knowing. And for some reason, with both Jed and myself, we really REALLY want to know this time! But the next available time for us to do it is when we have another ultrasound at like 30-something weeks. Which is 10 plus weeks away. I had really hoped to have the room set up with all the clothes and such by then but oh well. We will just have to do a last minute dash when we find out! :D
Next up, I have a few LOs to share that I made recently with the new Sweet Sue kit from Noel Mignon. There are still a few left in case you are interested!

This first one is for the newest challenge at Noel Mignon-"I Gotta Be Me"-where you are challenged to scrap your style. Hehe. Does this LO say enough about who I am or what?!! Everything is everywhere, but hey it all color coordinates!! LOL! No really, this challenge was truly a bit challenging for me because I find it impossible to pinpoint my exact scrapping style. The only way I can describe it is that I tend to 'fly by the seat of my pants!' :D It really all depends on what I am scrapping, how I feel right then, the products I am working with, and what I am inspired by as of recent! Which means that a LO could go a million different ways! I did a post over at Noel Mignon about this LO and the process through making it-check it out here. And in case you were wondering-Thursday afternoons are my day to post over there so you can expect a new post from me every week at that time. And if there is anything you wish my to cover over there, or on here for that matter-please don't hesitate to ask. :D I tend to get clueless on what to talk about. LOL!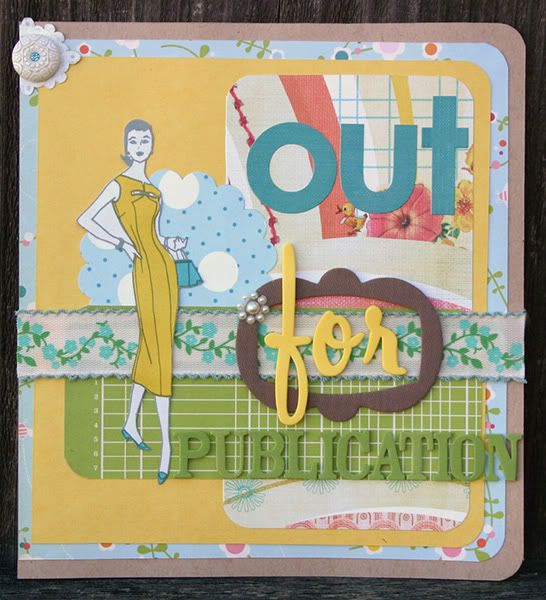 And some close ups:
And this LO is from the
previous challenge
where we were supposed to take Fall Fashion and use that as our inspo. :D It was a lot of fun too! I hadn't done a two pager in a long time! And I had never done a collage to this extent so it was most certainly challenging! That collage took the most time to make because my pics weren't lineing up right and nothing was working out like I wanted. :P But I stuck with it and kept going! It is far from perfect, so I am on the hunt for a good photo collage site-any suggestions would be awesome!!! :D I kept the embellishing really simple on this one, but did a lot of hand cutting.
Close ups: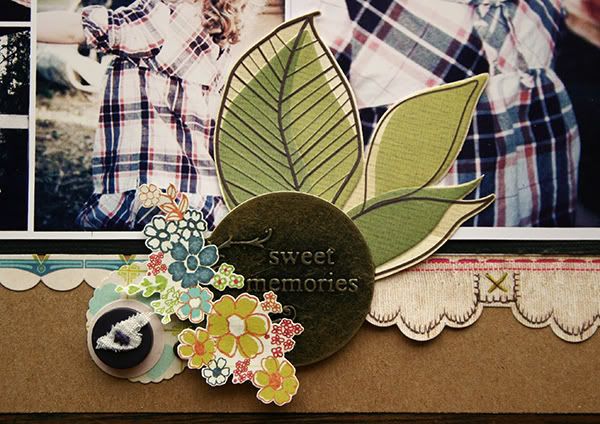 Now I still have tons more shares from previous Noel Mignon kits, but I will save those for other posts. Preorder just went up for the October Halloween kit-featuring manufacturers like Pink Paislee, Girl's Paperie, My Mind's Eye, We Are Memory Keepers, SEI and Making Memories! I can't wait to get mine!! So excited about it! Although I have no clue what I am going to scrap it with because I have no Halloween photos-except ones from when I was tiny! LOL! But I have plans for a banner, and a wreath hopefully and who knows what else. All that will be coming soon! I just have to get my kit first. LOL!
So recently I have been working like mad to get this house purged!!! Especially in my scraproom! LOL! Can you say nesting?! I have been itching to get the baby clothes out of the bags for almost a month now, but I truly want to wait until we know what it is before I start getting it all perfectly clean and set up. Logical thing to do, but so not easy to hold myself to. LOL! In my scraproom I have filled 9 12x12x4 inch boxes with stuff! Paper, and embies and tons of scrappy stuff that I just really REALLY don't need anymore. So expect a few giveaways coming up soon, and also I will be trying to sell the rest on Craigslist (with a link back to a blog of mine set up with all the images and prices of things), so I will let you all know when that happens in case you are interested in any of it. I hate in this economy right now to be like 'Hey, why don't you buy my stuff so that I have money!' but with Jed out of work, I am kinda left to do that. LOL! But trust me I will be giving LOTS of really good stuff away, so buying won't be your only way of getting things from me. :D Everything else in the house is getting put in the garage so that when it comes time for a garage sale it is all there and ready. :D My house is just too filled and it is driving me nuts to have to clean it all! LOL!
The need for simplicity is necessary for me now. I am at the point where I have to lay down several times a day in order to get my back to stop hurting, and that is really cutting into my productivity and bringing me down. So I think the best solution is to just get rid of a lot of stuff, so there is less to do. :D Makes sense to me.
On the scrappy side, I am working on finishing up a couple projects for Polka Dot Whimsy kit club-the September kit is so gorgeous and filled with fun stuff! :D At the same time I am working on some Cosmo stuff, and getting my Crate tutorial finalized. I am super busy on the scrappy front! Just not enough time to do everything that I want you know? :P Stayed up til almost 1 last night, and it kicked my butt. I haven't stayed up like that in months! But I got a little headway on projects. :D
For future posts I am getting some things together for inspiration posts! I have lots of things I have been bookmarking online for awesome decoration and project ideas that I want to share-even stuff for Christmas already!! So if you have anything certainly let me know, as I am always on the search for holiday ideas! :D
Well I should probably take off now, as it is snack time for both Cree and me. :D And I have a super dirty kitchen that is only going to get dirtier unless I do something about it.
Take care everyone! I will be back again real soon!