Hi Everyone!! I am going to start off slow and try not to overwhelm both you and myself! :P Because I have a lot of catching up to do as far as what I have to share LO wise! So we will just do small shares until it is all up. :D Sounds good!
Here I have a LO that I did for my most recent
Noel Mignon post
that talks about my fav kit item, the Maya Road Kraft Envelopes! As I say in the post I have about 3 full packs of these but I didn't actually ever use an envelope until I received a couple in my
Sunkissed kit
.
This was an extremely fun LO to do, as I love doing the patchwork, and the colors in the kit were so awesome all together that I think it just worked out well. :D This LO is about all the different emotions and things going through my head now knowing that we are expecting baby number 2.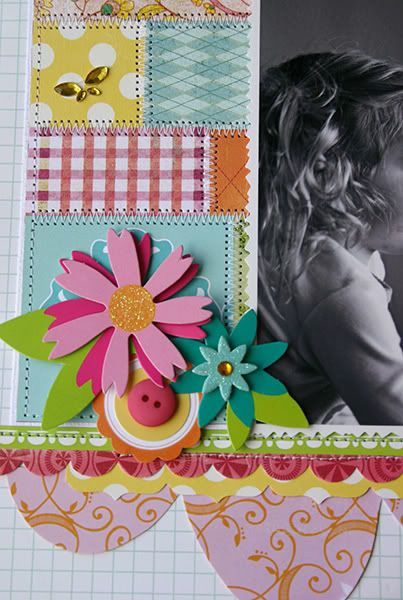 I worry for Creedence, I worry for the new baby as I am wiped out enough with Cree, and I am worried for me because I know this will mean a lot less me time. (wow that last one really sounds selfish! :( it's not meant to be, I just know that if I don't get a certain amount of time without a break to just be me then I start to go nuts. don't we all a little bit though?)
I guess I am just in worry mode. I worry about the delivery as I don't want it to be anything like it was with Cree.

I worry about the money of all this (our insurance doesn't cover maternity-and we knew that going into this-so that means it all comes out of pocket. Cree was in the NICU for 5 days because of a long and traumatic delivery. I know that if that happens again that we are going to be in some serious debt. :P Which we are more than willing to go into but it is just a scary thought. And on top of that if it is a boy we don't own anything boyish!!! LOL! I have so much pink from when Cree was little that we are kinda hoping for a girl just out of convenience! :D Makes me sound really cheap. :P)

Gah! You can see that this will never stop if I am allowed to go on all day! LOL! The worries just never end, but I am working real hard on not dwelling on anything, and spending these days that I have with Cree, as she is cuter than ever and is blossoming more and more everyday! Right now she is obbsessed with putting all the baby shoes she found in a bag on all of her dolls. She gave up a while ago on getting them on her feet, and realized that her dolls and stuffed animals fit them much better. But of course, mommy needs to be the one to put them on! LOL! So I am interrupted about 20 times an hour to put little bitty shoes back on feet that the shoes don't fit. :P I think a LO needs to be in the works here. :D

Back to the program now. :D I have a few things Noel Mignon related to share! :D First up, my friend from the Noel Mignon kit club DT, Brittny Lejeune, is hosting a mini book class called My Growing Up Book!!! It looks fantastic!! Click
this link
to go directly to her website and see all about it! Here is the poster!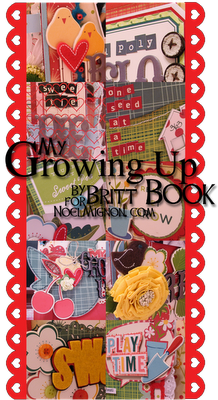 Better yet-she is giving away two instruction spots in the class for Free!!! Here is
the link
to the thread on the message board where you can enter to win! You have until August 7th to get two chances to win!! Good Luck!
And last I am happy to annouce that Noel Mignon kit club is going to be doing a Fun in the Sun Crop from August 9th to the 13th!!! Woohoo!!! I am so excited!!! I have never been a part of a crop so I am really looking forward to it! (Still not sure exactly how things work and what not but that is ok! I'll find out soon enough!) So save the dates! And I hope to see you there!! :D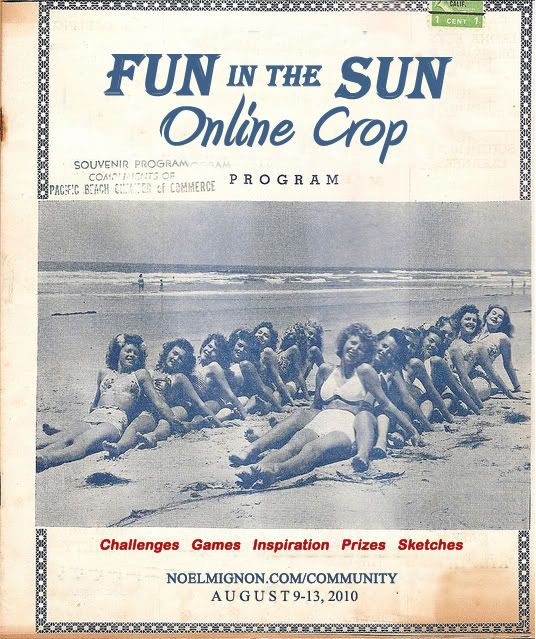 Well that is it from here! I will be back next time with my CHA stuff for Crate Paper (which was the only CHA stuff I got done! So glad a lot of the morning sickness is going away!). And I'll also catch you up on a few past LOs I still need to share. :D Take care!!!