Sharing all my Cosmo Cricket stuff today! :D I did a mix of stuff with the new and old (they always ask us to do some stuff with the old so people can try to see it in a new light ya know?). I didn't get to work with any of the paper from the Joy Ride collection so I only have two new layouts for the new collections, one for Material Girl and one for Garden Variety. All the rest are new layouts for older collections.

First up is Material Girl! I absolutely love love love this line! I can't say enough good things about this line. It speaks to my heart completely! :D And I had a ton of fun doing this layout! I'd be happy to do a tutorial on how I did it if anyone would like! :D
Supplies: Paper-all of the Cosmo Cricket Material Girl collection papers; Embellishments-Cosmo Cricket Material Girl Ready Set Chip, Ready Set Chip letters in Red Line; Tools and Other-Marvy 2 1/2 in scallop punch, Provo Craft mini scallop scissors, hole punch, (used a Crate Paper die cut paper as the template for the scallop circle), sewing machine and embroidery thread

Next up is Garden Variety. I went super simple on this one because I love the background paper and wanted it to be a focus of the layout. This is kind of my resolution page for 2010. It just listed tons of things that I want to work on, improve on and change. I wanted to use as many of the paper's patterns as I could, yet not use them-know what I mean? The theme for this line just didn't work with resolutions, but the colors are great! So I just used punches of the papers and lined them up. :D I really like how it turned out.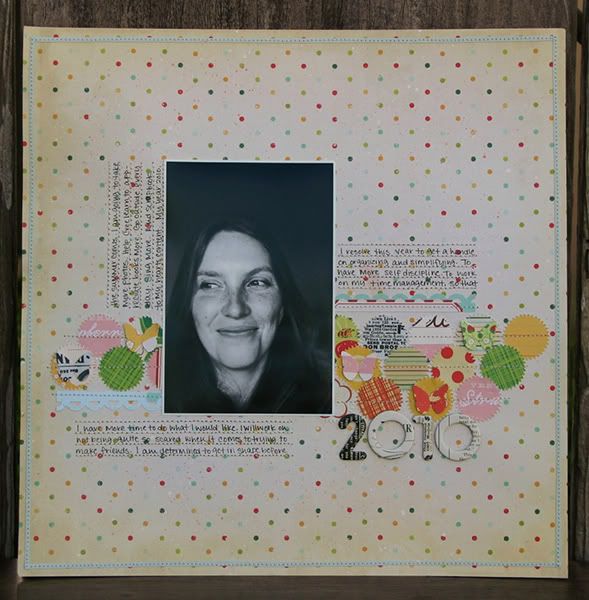 Supplies: Paper-I lost track on what papers I used and what ones I didn't :P I used almost all of the Garden Variety papers here. Embellishments-Ready Set Chip Letters Extra Extra; Tools and other-sewing machine, Martha Stewart punches Starburst and 3-in-1 Butterfly

This layout is my fav that I did. I love the muted colors and the little glassine circles. :D And I went a little punch happy too. :P Oh and once I get the Tiny Type stickers in my new box then I will be adding an m and a o after the 25. :D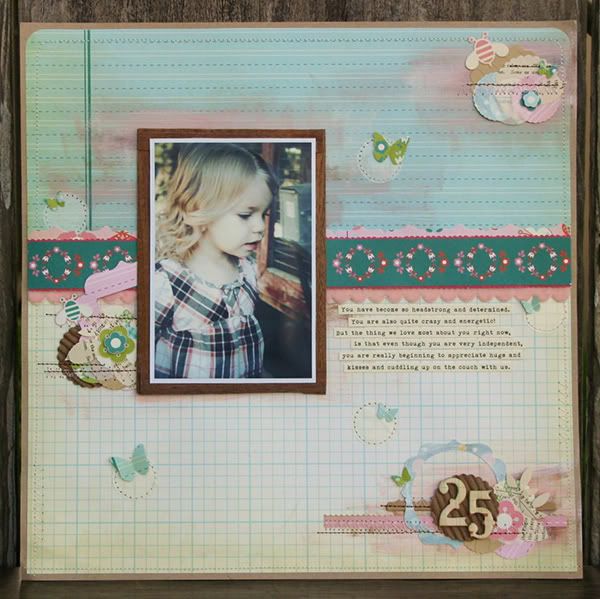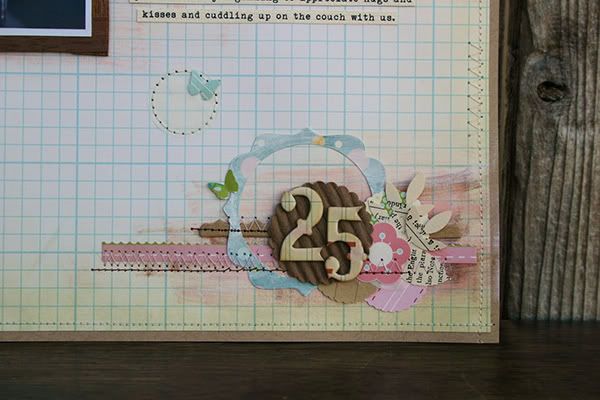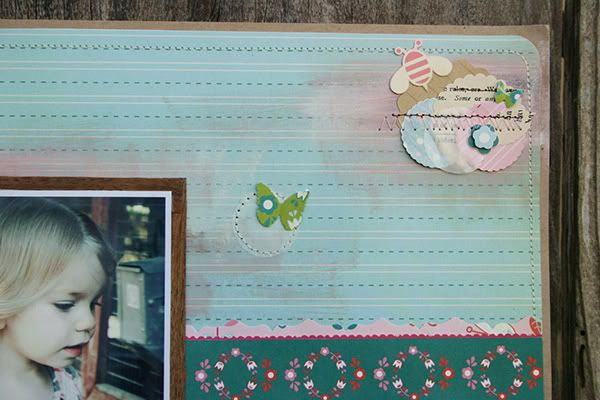 Supplies:Paper-Girl Friday "Monday" "Tuesday" "Wednesday" "Thursday" "Saturday" "Borders"; Embellishments-Girl Friday Pink Velvet Scallop ribbon, Ready Set Chip Letters Flour Sack, 7Gypsies Chipboard trim; Tools and other-Martha Stewart 3-in-1 Butterfly punch, 1 in circle punch, Rose leaf punch, Frond punch, 1 in Scallop punch, Marvy 2 1/2 in scallop punch, Provo Craft mini scallop scissors, Claudine Hellmuth paint in Sable Brown and Pink, Craft Supply white acrylic paint, sewing machine, glassine evelopes (punched), Starbucks coffeecup liners, vintage book paper


I had a lot of fun doing this LO! And it came together fast too. Very simple. Well fairly simple. No journaling. Just my motto for 2010. Bloom and Become.
Supplies: Paper-Earth Love "Relive" "Remember" "Repeat"; Embellishments-Earth Love Image Rub ons, Earth Love Alpha Rub ons, Boyfriend Ready Set Chip Alpha, Earth Love Cardstock Stickers, American Crafts Nutmeg Thicker, Craft Supply Acrylic White paint; Tools and other-EK Success tiny scallop edge punch, Provo Craft mini scallop scissors, Marth Stewart 3-in-1 Butterfly punch, Marvy 2 1/2 in scallop punch


And one of my new all time favs! This LO was a blast! Tons of layers and texture.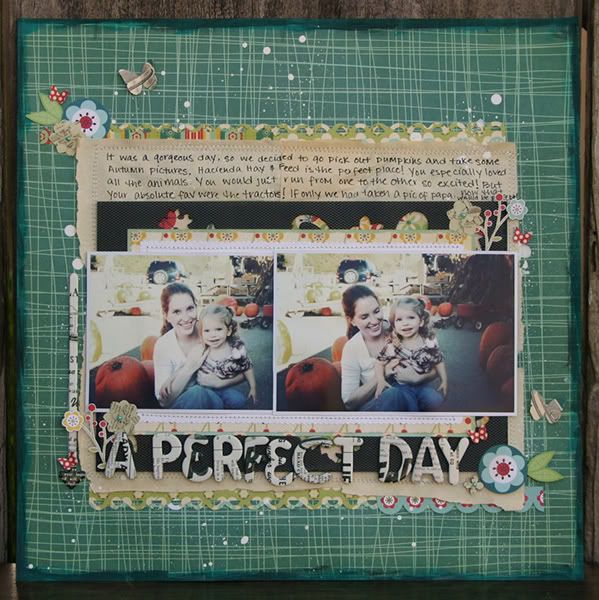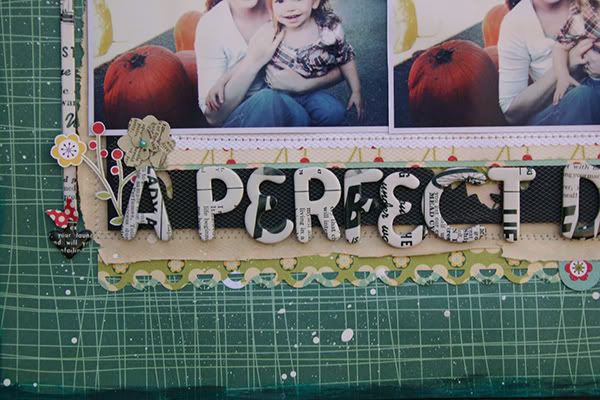 Supplies: Paper-all papers from Early Bird collection including the Borders and Elements; Embellishments-Ready Set Chip Extra Extra, Fleuriste Blackboard negative, Basic Grey Opaline Teal/Aquamarine; Tools and other-Fiskars Apron Lace punch, Martha Stewart Hydrangea punch and 3-in-1 Butterfly punch, Claudine Hellmuth paint in teal, Craft Supply paint in black and white, sewing machine, Provo Craft mini scallop scissors, packing paper
This has got to be my all time fav layout that I think I have ever done. :P I know I say that about quite a few but I this one is really special to me. Oddly enough though, Cosmo Cricket bought it from me for the CHA booth, and now I have to recreate it. LOL! Which is fine with me, I am supplied with more than enough product to do so. :D The journaling is from one of my fav songs, It's Amazing by Mindy Smith. It reads:
Can you see
It's amazing what you do to me
Took my heart and made me feel things
I never felt before
It's changing me
Switched direction so suddenly
Shook me up and threw me around
Helped me learn to breathe
It all in
When I was afraid to reach out
Oh, when I was the one to run
You came along with a new lease on love
To show me how it's done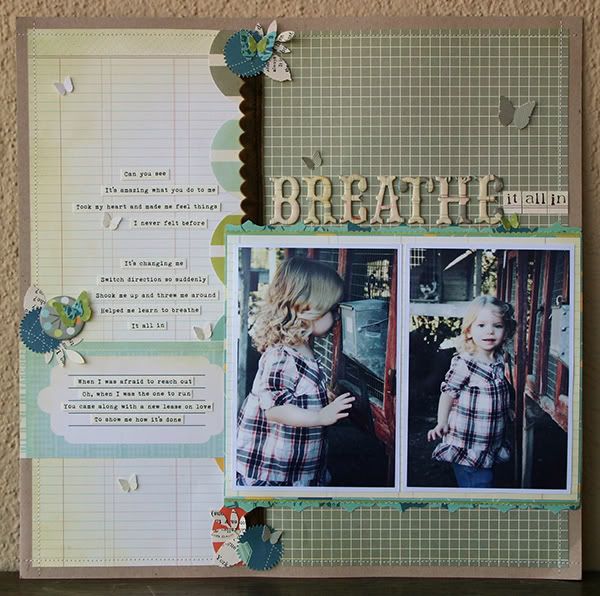 Supplies: Paper-all Boyfriend papers in collection including Elements; Embellishments- Boyfriend Ready Set Chipboard, Honey Pie brown scallop velvet ribbon, Ready Set Chip Letters Flour Sack; Tools and other-Martha Stewart punches Starburst, Rose Leaf, Frond, 3-in-1 Butterfly, Provo Craft mini scallop scissors, sewing machine


Whew! I can't even tell you how ridiculously long it has taken me to finish this post! LOL! I am still working on the CHA post but hopefully will have that finished by tomorrow evening. I am so excited for new stuff to come out! :D
On another note, I am going to soon begin the task of planning my wedding. *I'm so excited!* It is going to be a tiny thing, but I want it to be beautiful and meaningful. If you happen to know of any good DIY or inspiration sites for weddings I would appreciate it soooo much! I am clueless about how to plan, and about what exactly I would like for our special day. It is in December btw, so I have a bit of time. :D Thanks so much!!!