(And one more LO for Prima!!) But first I can believe I didn't realize I hadn't shared my CHA LOs for Prima! :P Yeah I have been that busy!! And I feel right now like I am in the middle of CHA all over again! I working nonstop trying to get stuff done, while life around me is being just as demanding!! Can't reveal anything that I am working on right now, but soon enough! :D (No clue when that will be but trust me when I know, you'll know!) Anyway, my desk looks almost exactly like the desk I posted in
this post
, but trust me it is a ton more organized!!! Now all I have to do is just package things back up when I am done with a LO and then Voila! it is clean again!!! :D Goodness that makes things so much easier. Now I just wish the house could be like that too. :P Well, moving on to my LOs. I had dreamed of getting so many more done for CHA but it just didn't happen. But I make myself feel better about this by repeating the saying 'Quality over Quantity'. LOL!
This first LO is a pretty artsy one. I had just got my Charcoal Maya Mist and was itching to use it! Also I had just got some Prima stamps (
these ones
) that I wanted to try too! Now the title/journaling on this LO hardly shows up in the picture (you have no idea how bummed I was about that, but just for the life of me could not make the letters show up!). So I included a close up picture below, so you can see what it looks like. :D I just used my Sakura White Gel pen and outlined the inside of some letters, let that dry and then did the same thing lightly with a thin black pen. Really liked the effect!! :D And there is a lot more texture to them than you can see in the picture. Anyway, the LO says: If I only could I'd be running up that hill, with no problem. That is part of the chorus to Kate Bush's song Running Up That Hill. I'd link you up but I can't find anything that has it for free. :P Anyway I love this song so much, I had to do a LO with it! :D Used lots of new and old on this LO.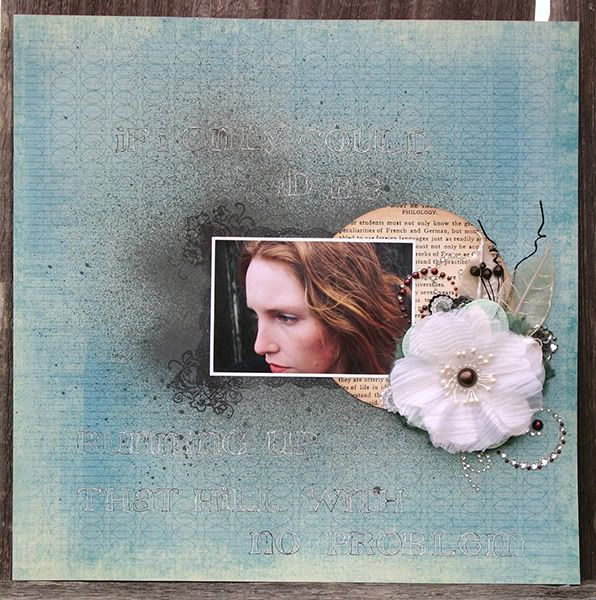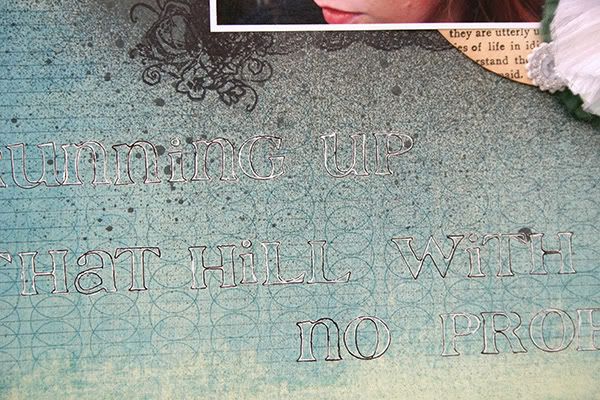 Supplies: Everything on this LO is Prima (except for the vintage book paper and Maya Road Charcoal mist)
This LO is one of the small additions I have made to Creedence's book. :P I still have what seems like a million to do! This is her 21 month page. Only a few things on this page are new. (The pink background paper, a pearl center and the main Trellis Rose). I love how this page turned out. :D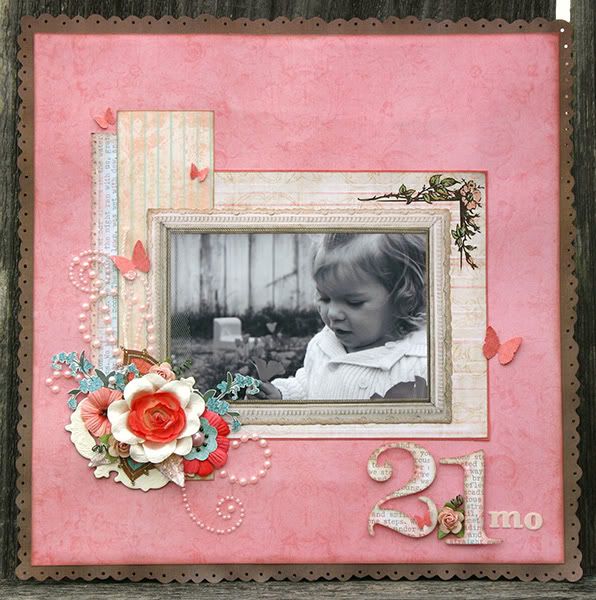 Supplies: Everything on this page is Prima (except for the blue flower cut outs which are Making Memories and the Tattered Angels chipboard)
This LO is only the second LO I have ever done about my mom. It has been 6 years since her passing and still it is so hard to do LOs about her. But they seem to help as well. This picture is my mom's graduation picture. She always told me that she wished she had known me then. The journaling reads: I wish I had known you then, and that you knew me now.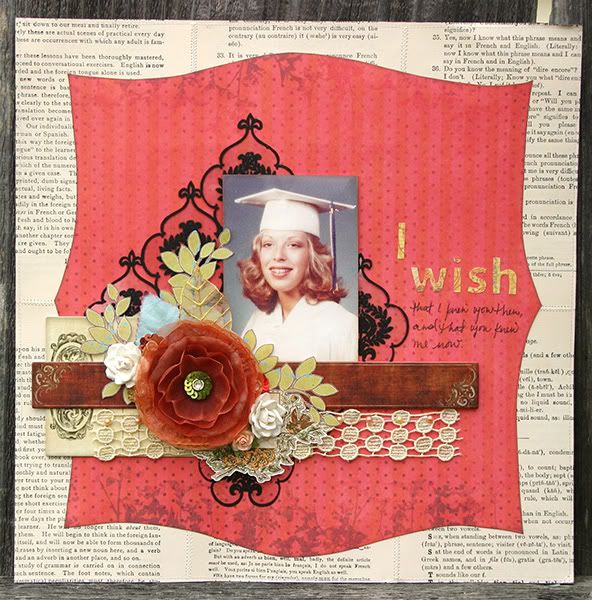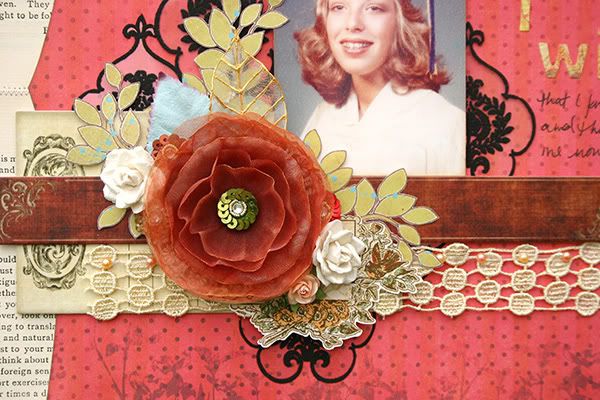 Supplies: Everything on here is Prima (except for the book paper in the background)
Now this LO was super fun to do! You might not believe me but the pink 21 month LO above is not 12x12 so I had to cut the pink paper down to size and could not for the life of me get it right! So I ended up with a million 1/4 cut offs of that paper, which on the backside is this lovely purple, pink and orange pattern!! :D It worked out wonderfully! Also I received a huge handful of the new painterly hydrangeas (which I didn't much know what to do with) and amazingly enough the colors matched perfectly with the paper! So instead of using the flowers for what they were intended I punched butterflies out of them!!! :D Love how this looks!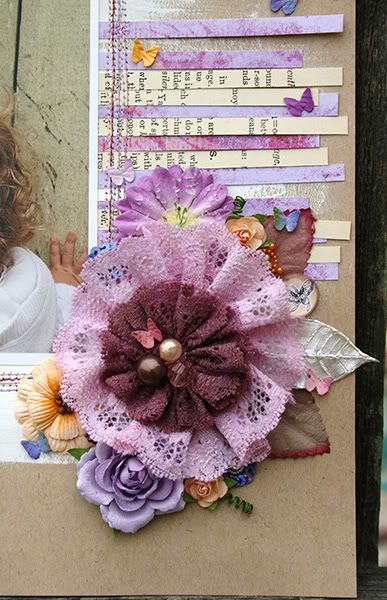 Supplies: Everything here is Prima (new and old), except for the paint, kraft cardstock, and book text.
Now I am going to share my September BAP LO! I didn't have it done in time for the blog but it made the newsletter. :P I have just been super busy (with things that I unfortunately can not show! :P) But be sure to play along with us this month because this sketch is awesome and I can guaratee that the prize is even more awesome!! :D Here is
the link
!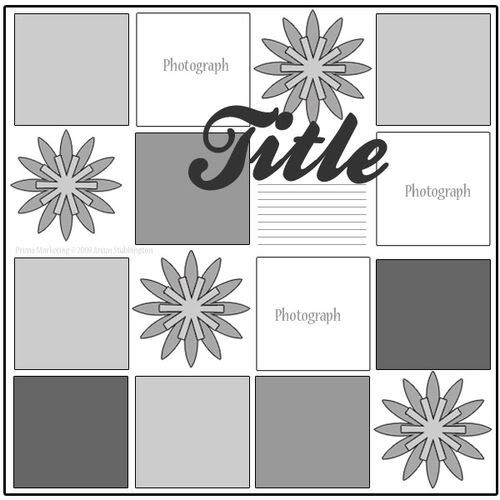 I had so much fun with this sketch!! But I decided early on that I wanted to try to follow it exactly! Which is not something I normally do with a sketch! :P I chose a cream background, but still wanted white to be a part of the LO. So I outlined everything paper in white with my gel pen! Love how this turned out!!!! (close ups are below) And then of course I had to use my sewing machine and stitch it all down! The sketch looked like a quilt to me so I wanted to put that into my LO. :D
Supplies: Everything is Prima, except for the cream cardstock and Tattered Angels chipboard frame.
Well that is all I got right now! I am going to be doing a post this weekend about some exciting news at Category Stories and a new Cosmo LO! :D And I promise I will come out of my hole now and be here! :D I feel like I have constantly been under a huge pile of paper and flowers, but I will be coming out now! :D Thanks for stayin with me! Hope everyone is well! See you this weekend! :D
~Amy