Back so soon?!! I know I am crazy sometimes! :P Anyway I wanted to share with you some fun and exciting news before it gets too far into the month! The new prompt is up at
Category Stories
and wanted to make sure you saw it! There are a couple of totally awesome things going on this month at CS!! Firstly, the sponsor for this month is the absolutely and totally amazing
Studio Calico Kit Club
!! And April and Scarlet (the fantastic owners of SC!) have provided us with (not only their amazing LOs for the Saturday Morning Cartoons prompt!) the gorgeous
September kit Cotillion
!!! *See Picture Below!* In the picture you will also see that they have three add ons for this month! Now
Foxtrot
is actually no longer available for purchase (it sold out fast), but
Tango
and
Waltz
are still there! And the second awesome thing going on this month is that the Category Stories blog is being featured in this month's
ScrapStreet online magazine
!!! The article was written by our very own
Stacey Michaud
, who is also a regular writer for the mag! Very cool! Thanks Stacey! And Thirdly, we are having a Guest Designer contest!!!! Totally aweseom right?! :D All you have to do is play along with us on both prompts this month and then email them to us along with a short bio, and then we are going to choose three ladies to be our guesties!!! :D So exciting! Really hope you all play along!
Here is my LO for this month's first prompt Saturday Morning Cartoons. I wasn't sure what to do with mine. We don't get any cable/channels/TV in our house, we only watch movies. We made this decision because we really didn't want to be spending all our time in front of the TV just watching for hours and hours, which we know we would end up doing!!! We have no control like that! So to save us the trouble of getting nothing done, we decided to not give ourselves that option. But this makes me sad, because when I was a kid watching cartoons and all my fav shows was such a magical thing for me! It helped inspire so much in my imagination! And I am realizing that I am really wanting this for my daughter. But at the same time I don't want her exposed to all the commercials and messages that TV sends! So you see, either way there is a down side to this. It's a Catch 22.
Hence the title of this LO.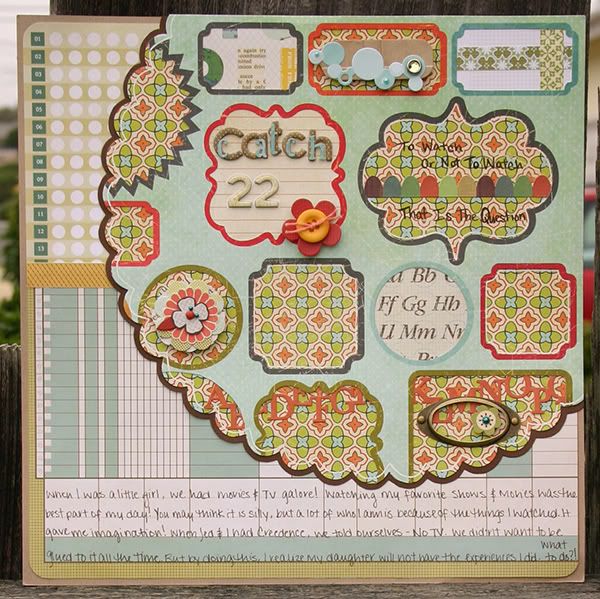 Supples:
Paper-Studio Calico exclusives, Making Memories, Collage Press (Die Cut sheet), Cosmo Cricket, Bazzill cardstock
Stickers-Sassafras Lass, Pink Paislee, Basic Grey, Heidi Swapp, K and Company
Brads-American Crafts, Pink Paislee
Pearls-Basic Grey
White Pen-Sakura
Frame-Making Memories
Punch-Martha Stewart
This next LO is one I did for an older prompt at Category Stories. Well not super old or anything, it was the second prompt for August and went live on the 15th of last month. It was
Pampering Me
. I made it using Cosmo Cricket's Early Bird line! The little cups were perfect for this! My LO was about what I do to pamper myself. And to be honest, it is really quite easy. I just have a simple cup of tea. Black tea with a little sugar and milk, and I'm good. :D I gotta share, I used two stamps on here that are exclusive
Studio Calico
stamps that I am just absolutely in love with! First, which you can barely see it because I used Distress Ink, is the
Coffee Stain stamp
(which I used as a tea stain stamp!! LOL!). Unfortunately this is sold out right now, but hopefully they will be getting more in. :D And the
Story Time alpha stamp
, which is still very much available! This alpha is so amazing, and the DT have used it in so many awesome ways that there is inspiration to last a life time! :D
Supplies:
Paper-Cosmo Cricket, Sassafras Lass, Bazzill cardstock
Die Cuts-K and Company (yellow tag and ruler measurement), Collage Press
Stickers-Cosmo Cricket
Chipboard-Cosmo Cricket
Stamps-Studio Calico exclusives
Ink-Stazon, Distress Ink
Pens-Sakura
Punch-Fiskars
Ok so that is all that I have at the moment. I am working right now on some Kitschy Digitals stuff and some Cosmo Cricket things! Hopefully I will have them done soon to share! Hope everyone is having a fabulous Labor Day weekend!!! And remember, be sure to play along with us at Category Stories!!! :D Take care!
~Amy