Hey Everyone!! How's it going?! Well it will come as no surprise to you that I have had this post in the works for a good while. You would think it wouldn't be so stinkin hard to update my own blog, instead of wasting hours looking at everyone else's!!! :P I guess I have just kinda been in veg mode for the last couple weeks. (which makes sense as to why I have no new scrappy goodness to show, and my house is a freakin mess!) LOL! And I also (this is for you Janine!) have no new pics of my space because it seems I just can not get it clean!!! I don't know what my deal is, but I keep trying to find the perfect spot for everything, then I take a look again at it all from a distance and say once more 'Do I really need all this stuff?!!', so then I start going through it again and chucking more things into a box and then realize I have more room so yay I need to redo things again. So hopefully this cycle will stop soon because my husband is going nuts with not being able to navigate the kitchen.
Anyway, enough of that. Let's get to some Cosmo shares! This below is everything that I made for the Cosmo CHA booth (although the little gift tag holder I spaced it and forgot to send!) :P
When I first opened The Boyfriend line I took a look at the stickers. I saw this one below (Got Tunes?) and totally thought of an iTunes Gift Card we got a while back! I thought this would be perfect for holding one of those gift cards! Only problem is I didn't make the slits right, so now I can't get a card in. :P Never made one of these before so hopefully next time will be easier.
Supplies:
Paper-Cosmo Cricket, Kraft cardstock
Stickers-Cosmo Cricket
Brads-stash (I am not sure where these came from?)
Ink-Color Box Cat's Eye Chalk ink
Ribbon(?)-This is actually the old drawstring to a pair of my sweat pants. (Don't worry, I remove the string before I even wear them the first time!)
This LO was also made with The Boyfriend line, but it is not boy themed at all! We wanted to show the versatility of the lines, so I did a LO about my sister and I when we were little. No journaling, just us. I don't know or remember anything from this time, we lived in Flagstaff, AZ for a year and I don't remember a bit of it, so I really wouldn't know what to say in journaling anyway. I just thought we looked cute and happy. Good times. :D (BTW doesn't that carseat look ancient??!!!!)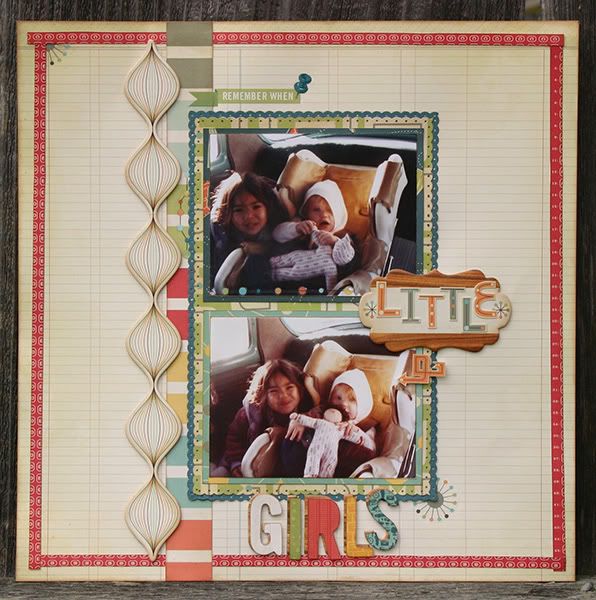 Supplies: Everything on here is Cosmo Cricket (Except for the dark teal cardstock, also I used an EK Success border punch)
This next LO I made using the Jolly by Golly line, and it totally looked different in my mind. I spent hours upon hours on this LO, only for it to not turn out at all like I wanted it to! Urgh! Don't you just hate that?! Well, I couldn't just abandon it, or even start a different one, I was so crunched for time and so spent on trying to make this vision come to life in this LO that I just needed to get this one done. I am ashamed to say that I let that happen, but sometimes you just gotta give and let it go, knowing full well that you will come back again another day and give it another try. I read a quote a long while ago and I can't remember who said it, but it goes-If you throw enough things at the wall, something is bound to stick. So You can full well expect to see me give this another try real soon!
Supplies:
Paper-Cosmo Cricket, Bazzill cardstock
Chipboard-Cosmo Cricket, American Crafts (thickers)
Rubons-Cosmo Cricket
Ribbon-Cosmo Cricket
Ink-Color Box Cat's Eye, Stazon
Pearls-Kaiser, K and Co
Stamps-Studio G
Button-Vintage
And here on this LO, is my most favorite picture of my sister. She was 23 months old here (before I was born), and just as cute as can be! Kept this LO very simple. Wanted most of the focus on the picture. But it is hard to take your eyes off the Earth Love line!!! :D

Supplies: Except for the Bazzill cardstock and the EK Success border punch I used on it, everything on here is Cosmo Cricket.
Now this LO is another that I sooo invisioned differently!!! I am not so good at being rushed and getting an idea just right as well. It takes a lot of moving things around and really looking at the LO before I glue anything down or make any decisions, but this LO I did in one day! That is crazy fast for me!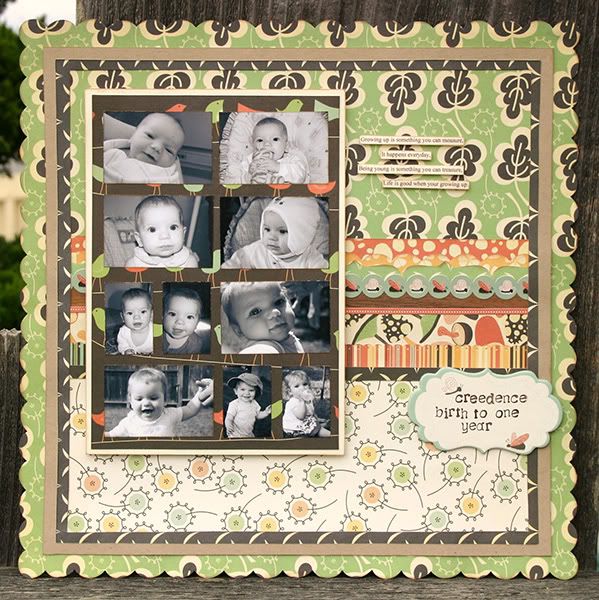 Supplies:
Paper-Cosmo Cricket, Bazzill cardstock
Chipboard-Cosmo Cricket
Stickers-Cosmo Cricket
Punch-EK Success
Ink-Stazon, Color Box Cat's Eye Chalk ink
Stamp-Studio G

And it is no surprise that Cosmo had some of their older, yet still popular, lines featured at this last CHA. For things that their new lines did not cover (end of summer, halloween, traditional Christmas colors and so on), their older lines make up for that in abundance!!!
I created here a LO for the Girl Friday line. It is about myself. Where I am now, emotionally and mentally. What it is that I want and any goals I may still have for myself. And the fact that I have no clue on any of those. I was on a path before I met Jed (that was more than 3 years ago now), and then when I met him I started a new path. I was going to school and had ambitions of getting a job as a Clinical Technician! But then another path started, and I became a mother. My world changed in an instant. I am loving the changes that have happened in me, but they are a hard adjustment because now I am having to look at things differently. My goals before are not accessible anymore, but I know, I feel, that I still have goals that I would like to achieve. I just have to figure out what they are. It may seem strange to some of you that I wouldn't be able to figure these things out in an instant, but reading myself is the hardest thing I have to do everyday. But enough about that, this LO is pretty much me telling myself that I am not getting any younger, so if I am going to do anything with myself, I need to get on the ball and figure that out! I know I know you say I am only 25, but time has gone by real fast lately, so I have a sure feeling that I will be 35 before I even know it. Don't get me wrong, I have no problem getting older, it's just some things get a lot harder to do when you are older. So here you have it: my LO. I can't actually tell you what I wrote around the edges, because these LOs are still at the Cosmo warehouse and I didn't write my journaling down before I sent it off. :P And as you can tell it started to rain when I was taking the pic so there are a few rain drops here and there. :D
Supplies: Everything above is from the Girl Friday line by Cosmo Cricket (except the blue velvet scallop trim, that is from Get Happy by Cosmo Cricket).
This last LO was actually the first one that I made (I was waiting for the new realeases embies to arrive). I used the Haunted line for this LO. Cut my own shape and stitched the circle with my machine. The pictures of Creedence here are when she is about 2 months old. Man I miss her being that small! Where did the time go?!!! *tear!*
Supplies: Everything above is from the Haunted line by Cosmo Cricket (except for the pumpkin brad (Making Memories), the orange flower (Michael's) and the pearl pin (Maya Road).
Ok well I have all lined up a Prima post for next time, so stay tuned!! Also I just received the September Build-A-Page sketch and OMGOSH is it stunning!!! Can't wait to get started on that! Hope you are all well! Take care!
~Amy