:P One day I will be 100% on top of this whole silly thing! Until then I have some stuff to show ya! :D
First off I hope everyone had a wonderful National Scrapbooking Day!!!! :D I know I sure did! I scrapped the whole weekend away! I stationed myself at
Studio Calico
to participate in the awesome goings on there! They had lots of challenges with all the prizes being previous sold out add on kits! I felt mojo happenin, so I went with it! :D
This first LO I did combining three challenges-misting, self-portrait, and music inspired. I used the song Sugar by Tori Amos as inspiration. And tried my darndest to take a good and original self-portrait. Didn't really happen like I wanted. :P Oh well. I am kinda happy with the result pic. I am totally totally in love with the LO though! I used Studio Calico's Dec 08 main kit Center Stage and Feb 09 main kit Fortune Cookie. :D They mixed so well together!! (Just so you know the title of this LO reads: As Far As I Can Tell...I've Been Gone For Miles Now.)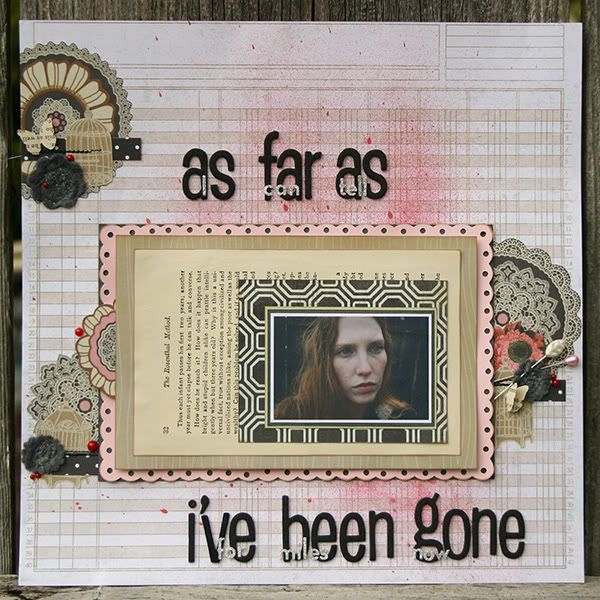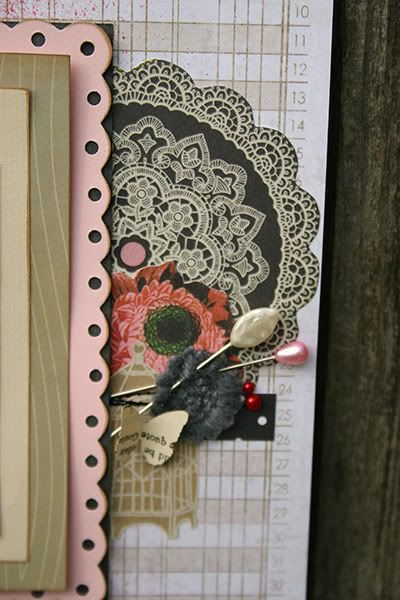 This next LO I actually created a little bit ago but just didn't get around yet to posting. :P But here it is now! I used Studio Calico's March main kit Garment District and April's add on kit Bo Peep. Love love love the color scheme on here!!!! I would paint my whole house in those colors if Jed would let me!!! And that also happens to be one of my fav pics of Cree, so this LO is especially lovely to me. :D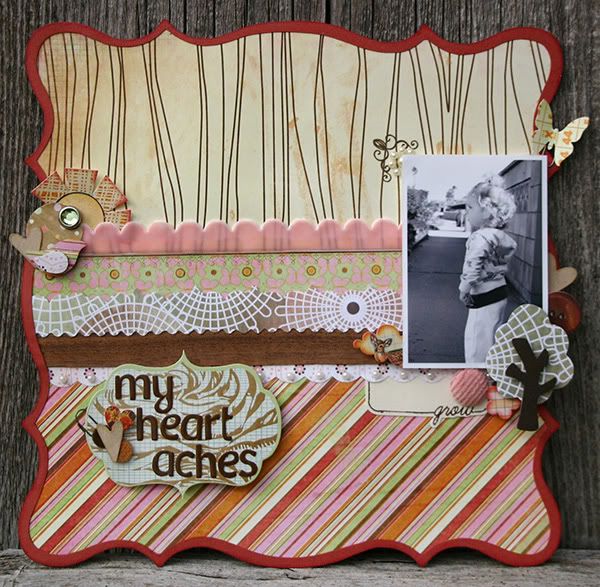 This LO I did for a vintage challenge. We were supposed to use something either really old in our stash or actual vintage items. I decided to just use actual vintage items (but it was so hard to determine what they would think was and older scrappy item). Here I used a page from an old French lesson book from 1897 (I know!!!) and three different vintage trims (the orange one, the pink crocheted one, and the pink velvet with crocheted trim). I really like the way this one turned out. And just in case you were wondering, those are my daughter's initials. CCDJ. :D I used for this LO Studio Calico's Nov main kit Fountain Square.
And this LO was for an ad inspiration!! The add had circles on it with just a little bit of writing at the top for a title so I did just that on my LO. So different for me but goodness it was so much fun!!! I love doing things outside of my comfort zone!! I used Studio Calico's April main kit Jack and Jill and add on Bo Peep.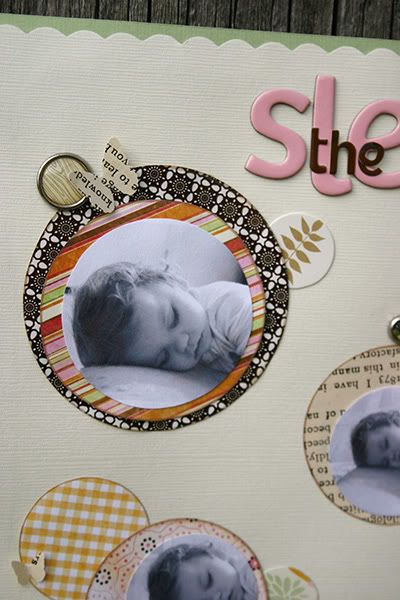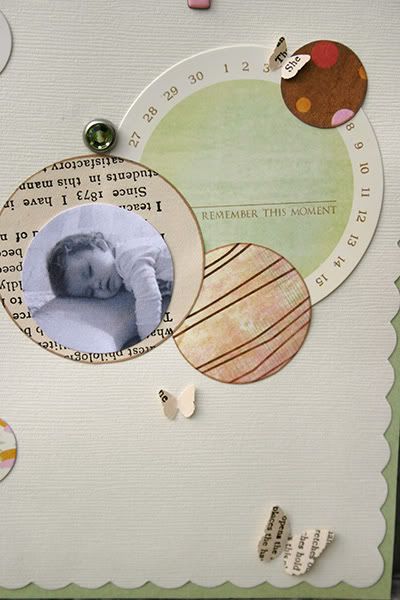 And last but not least, I have this LO. Did this one for a ledger challenge and a 'use more than 3 patterned papers' challenge. It also happens to be my current LO for
Category Stories 1st May prompt: Unexpected
. I decided to do my LO about all the things that did not go as planned with regards to having my daughter. (And there happened to be a lot of them!) But that we would not change a single bit of it! :D I used Studio Calico's Jan main kit Bibliography for this LO.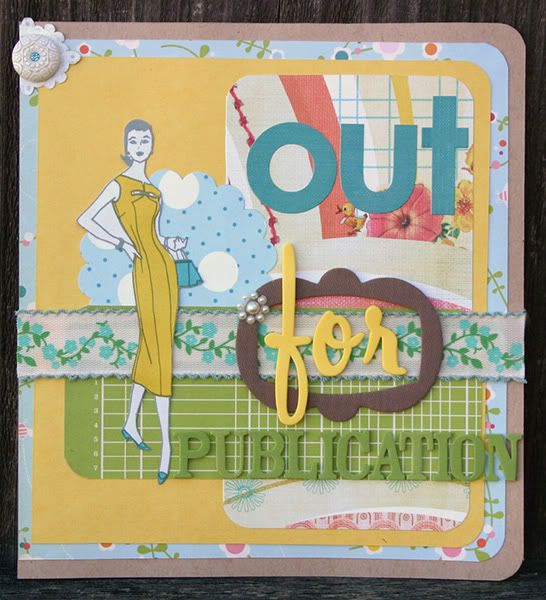 And I have to share: I had a wonderful and amazing surprise the other day! I got an email from Studio Calico advertising about their NSD challenges.
This is the email
. I was seriously stunned and shocked when I saw it!!! That is my LO that they used in the email!!!!!! I felt so honored by this! So so honored! So I am going to say
another
little Thank You to April and Scarlet for featuring my LO in their NSD events email!!!
Well I have lots more to share but I think I will wait till tomorrow evening to do so! I will have a Kitschy Digitals book that I made, some Prima stuff that should have been on here a long time ago and some stuff for Scrapbook Nook-plus info on an awesome Contest going on over there!!!! So stay tuned....I'll be right back! (tomorrow night!) :D
Take care! ~Amy