GAHHHHHHHHH! Hi! Ok so *ahem* these posts just don't happen as often as I would like, so I end up having to show you massive amounts of stuff so that I can catch up. And believe it or not, I am actually going to have to do several of these. :P
Let's get started!
First I have a color book I made for my daughter using Kitschy Digitals!!! I hadn't done anything for Danielle for a little bit so this was long overdue!! I used a million of her kits and also changed some of the elements so that I had more shades of each color to work with (which is really hard to imagine because her kits are so extremely colorful!). I made all the pages flat on purpose so that I could slip them into page protectors and have it be smooth (otherwise my daughter would try to chew off anything coming off the page!). After I put them in the sleeves I sewed around them so that they would be snug in there and then trimmed off the rest of the protector. It has already withstood some food, all I had to do was just wipe it off!! :D And she still has not been able to rip it apart!! I sware I have the world's greatest destructo baby alive! She breaks into and tears apart everything! All products for this book (except the Cosmo Cricket album) I printed at home onto cardstock and handcut. All the Kitschy Digital kits can be found
right here
, and also if you are not so keen on cutting it all out yourself or using your ink to print then there is a new
Goods shop
!! So perfect!! Danielle thinks of everything!! :D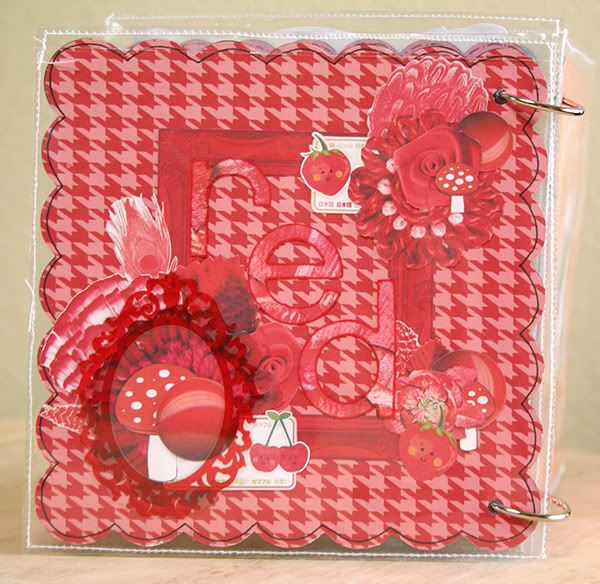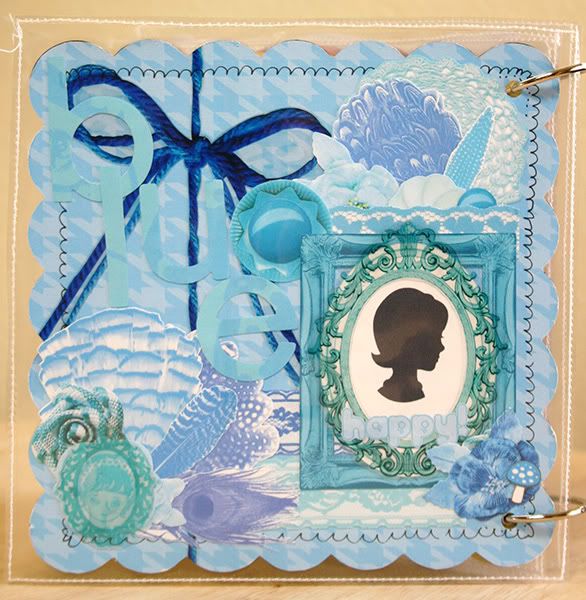 Next up, I have a book I wanted to show you that I made with my SBN April kit. It is my gardening journal!!!! That's right! I now have a garden! :D So excited! I found this journal at Target for $3 and it is 100% recycled!! How cool is that?! I went and bought like 4 more because I love them so much! It was super easy to take apart and cover and then put back together.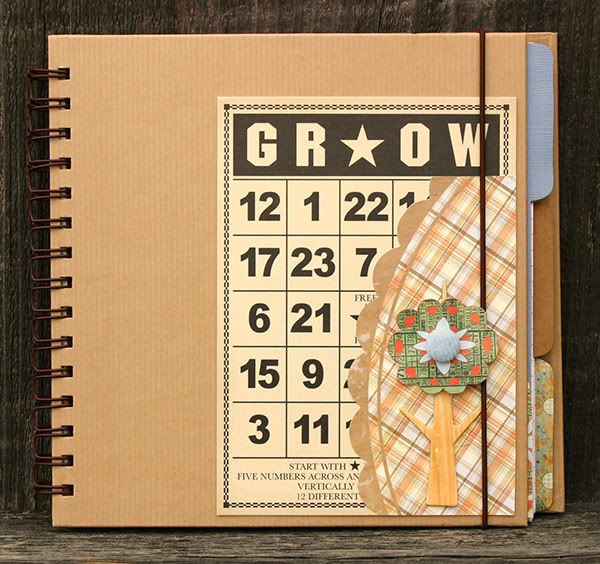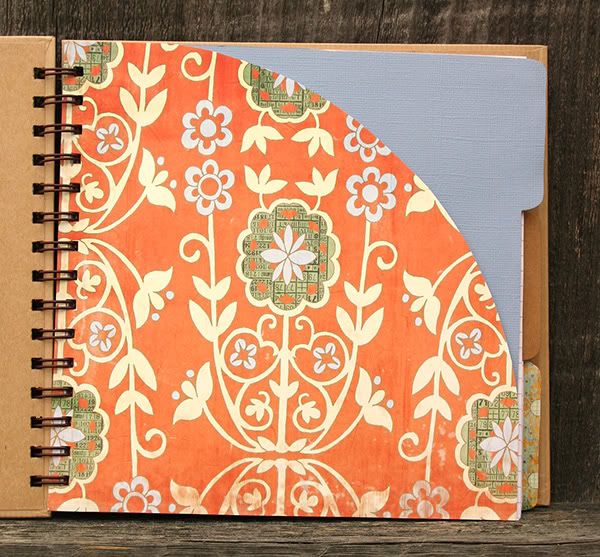 (And yes I know I am missing an E there! I was waiting on my Chit Chat thickers to come in but was not patiend enough and took the pics anyway! :P)
Paper- Bazzill, Pink Paislee
Stickers-Pink Paislee
Chipboard-Pink Paislee
Letter Stickers-American Crafts, Pink Paislee
Brad-Pink Paislee
Bingo Card-Jenni Bowlin
Pearls-K and Co
Rub Ons-Pink Paislee
These next LOs were all made with the Scrapbook Nook May kit (which sold out really fast!).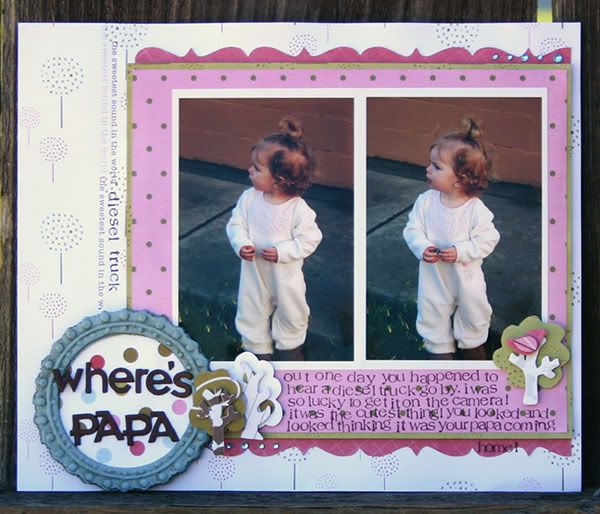 Supplies:
Paper-Lily Bee
Chipboard-Maya Road
Frame-Making Memories
Rhinestones-Kaiser
Letter stickers-Basic Grey
Rub ons-Lily Bee

Letter Stamps-Studio G
This LO here is one of my favs. :D

Supplies:
Paper-Lily Bee, Bazzill
Die cuts-Lily Bee
Buttons-assorted
Flowers-Maya Road
Rhinestones-Kaiser

Rub ons-Lily Bee
Chipboard letters-Basic Grey
Ribbon-stash

We recently have been having a little competition at the Nook (it is closed for entering anymore, but you can still play along for fun!
go here
). My challenge was to create a LO without any adhesive! You could use things that were already self adhesive when you buy them but you could not use any other kind of adhesive to glue things down. (That meant no glue sticks/bottles, rollers or pop dots!) Not as easy as you would think!! I did a few examples to show the girls what they could do. :D
This one had everything handstitched, threaded through, pinned or stapled to it. Everything!
Supplies:
Paper-Lily Bee
Diecut-Lily Bee

Flowers-Maya Road

Rhinestones-Kaiser
Buttons-assorted
Baker's Twine-Martha Stewart
Butterflies and flower punches-Martha Stewart
Apron Lace Punch-Fiskars
Ribbons-Maya Road, American Crafts

Chipboard Letters-Basic Grey
This Lo is also another fav because I just love how the colors turned out. This was another example for my No Adhesive challenge. Everything is machine stitched or hand stitched on.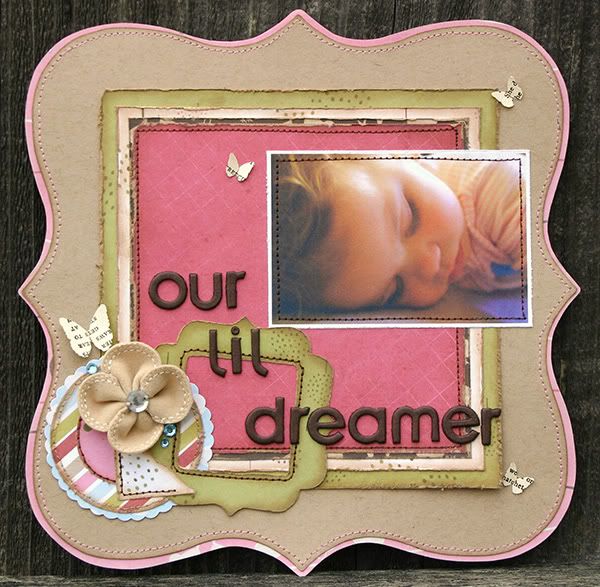 Supplies:
Paper-Lily Bee
Flower-Maya Road
Rhinestones-Kaiser
Chipboard Letters-Basic Grey
Butterflies-Martha Stewart punch out of an old book
Now we move onto the Oh So Fabulous June kit!!!! Ahhh I can not tell you how much I am in love with this kit! It is just packed with fabulous things! It features the new Cosmo Cricket Early Bird collection, with 2 sets of Thickers (that's right!), Chatterbox embies and some Jenni Bowlin tickets and American Crafts ribbon and Maya Road pins!!!! Gahh I am in love with it! Seriously can not say enough amazing things about this kit! So get yours NOW because they are going fast!
Go here
!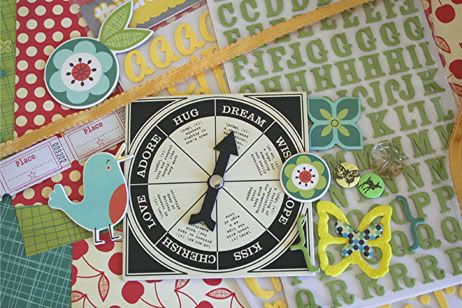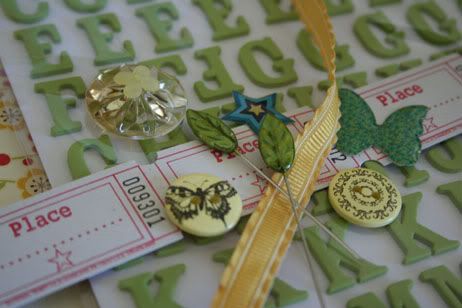 Here is the first thing that I created with it! I thought I would try my hand at inchies for the first time and goodness they are a lot smaller than I thought they would be! :P Silly I know but I have just never thought of it before! :D Jed so kindly pointed out to me that I did good by doing 9 boxes and I was like what? Huh? Oh yeah! I soooo planned that! (NOT!!!) LOL! It just sorta worked out awesome huh? Too fun to do!
Ok I am going to now do a massive post of all my Prima stuff so far! I know! Seriously! How horrible can I be that I still have not shown those?!! blah. That is all I have to say about it.
This LO is using the Oh So Fabulous Rebellious collection! This is a LO I did with an old photo of me back in my single and super crazy days. :P
Supplies: Everything on here is Prima (except for the teal cardstock).

This is a recent LO I did of Creedence. I took this little picture of her when she came and sat next to me on the step. She loves to just come and do that and it is so freakin adorable!!!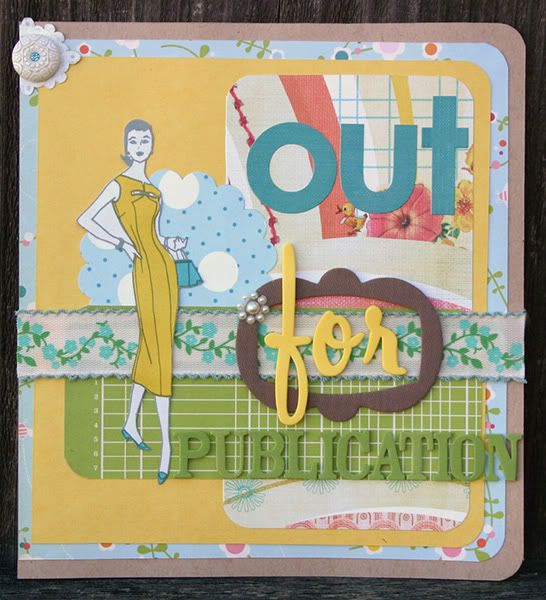 Supplies: Everything on here is Prima (except for the vintage trims and Maya Road and Singer pins).
This LO I made for the May Build a Page. :D It is called Day One because this is a picture of our daughter at only a few hours old (if even that!). I intended on doing journaling on the bottom right of the page but I can't narrow down what I want to say to a small enough amount so that it will fit!! So the journaling is still in the works with this one. :P

Supplies: All products are Prima (except for pink velvet trim).

And here is a close up.
This is the first LO I ever created for Prima. :D I had to use really old papers that I had because I still hadn't got my DT box, but I have to admit this is probably my fav that I have done for Prima. And I have used those papers (which is the Breathe collection btw) on almost every LO since. :D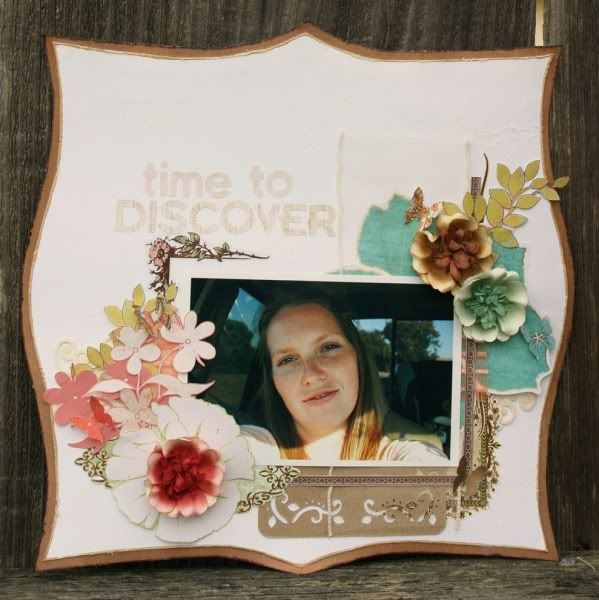 Supplies: Everything here is Prima (except for the vintage trims). :D
Ok well if you are still here, then Yay!!!!! LOL! These next two I made with the Studio Calico May kit Playground (which is now sold out)! The Studio Calico exclusive papers in this kit are so crazy bright that it almost makes you take a step back! I didn't want to tamper with them because I just truly wasn't sure if I could do them justice and make them look good! But I busted in to the kit anyway! hehe. And I also got in my order (from their shop!) the Apron Lace Punch!!!! *giddy over here!) I used it on everything once I got it! Anyway these two LOs I did for a Lift challenge that was going on over at Studio Calico (
here
and
here
). The first LO is a lift of Scarlet's Dreamer LO and the second is April's Delightful LO.

This first LO desperately needs some journaling, so I am still working on that. :D That is our nickname for Creedence. Munch. It is short for Munchkin.
This LO is of my sister and me. It is probably my fav LO to date. :D Journaling reads: You would never guess it to see us two together, but yep we are sisters. Without a doubt whatsoever.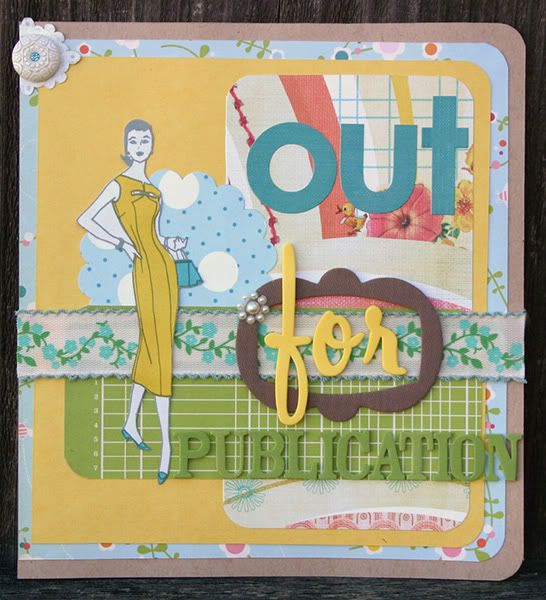 And Last But Not Least...... there is a new category up at
Category Stories
!!!! :D It is:
Dream Job
! Now this is something that I haven't really communicated to too many people, hardly any as a matter of fact. But this below is my dream job. I have desired it since I was 14. (Dont' laugh at me.)
*Edited June 3rd, 2009 at 11:35 am* I can't believe that I didn't include these, but at the same time I am not surprised because I have been so hither thither lately being distracted with a cluttered mind!! I have to give credit to
Tara Anderson
for the inspiration for the black rubons on a black background (as seen on
this stunning LO
of hers), and to
Vania Zouravliov
for the artwork he did for the
Mediaeval Baebes
album The Rose.
Ok there we go! You made it through. Now prepare yourself for another one of these coming up soon. :D
Take care! ~Amy