HA!!!! What do you think?!!! Better? Yes! I have to thank dear
Sasha
for giving me the suggestion of changing my template!! It did the trick in a snap!! I really don't know why I hadn't thought of that before. :P I guess that just shows how brain dead I can be sometimes! LOL! Anyway posts are going to be great from now on! I do need to tweak the coloring a bit but for a few days until I can get to it this is how it is going to be.
So this post is all about the Scrapbook Nook!!! I have so much to show you and catch up with telling you! DT projects from both February and March and also pictures of the new kit!!! And let me tell you this is the best kit ever!!! It is so jam packed I can hardly believe it! I have already created three LOs with this and I just got it a few days ago! I am going to be taking pics of the LOs tomorrow so that is another post still to come. :D
First off we will catch up on February. :D This is the first LO I have done about Jed and I getting married. Very simple and to the point. And I love the photo of us so much I think I have scraped with it like 5 other times so far!! LOL! *Just to clear the air that is not a photo of us when we got married. This photo is from a little while after that we took ourselves. I actually remembered the camera when we got married but totally forgot the photo cartridge so we don't have any photos from the actual ceremony! Funny I know but so classic of me.*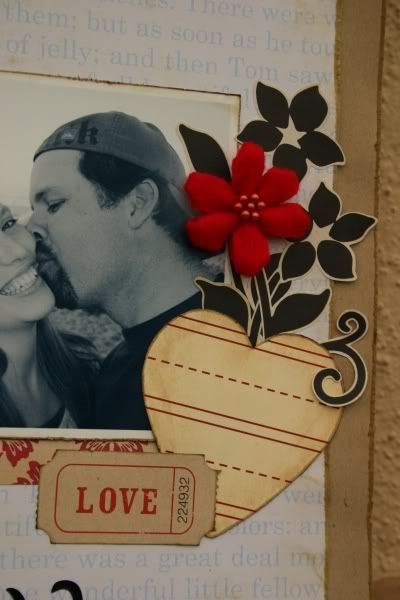 And I am going to start doing a new feature on my blogs whenever I post a LO or project. I am going to start giving a list of supplies! Yay! I see other people do this and I really like it because then I can track down those awesome things that they use! So here is the first one for the LO above...

Supplies: Paper-Kraft cardstock, Jenni Bowlin
Calendar-Jenni Bowlin
Ticket-Making Memories
Letter stickers-American Craft
Flowers-Maya Road

This next project I actually did for both Scrapbook Nook and the February Date Night category over at Category Stories. It is a little coupon book that I gave to my husband! :D He is not actually going to do anything with it, and his reasoning makes sense. He says that it doesn't matter what night he might decide to use one of those I will always have some excuse or need to do something with Cree, the house or scrapping. :P So it is a little more for show and fun than actually being useful. I don't by any means neglect him or anything so he doesn't feel too much need for this book anyway. :D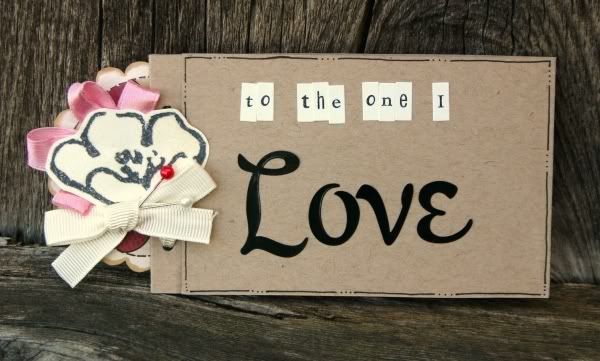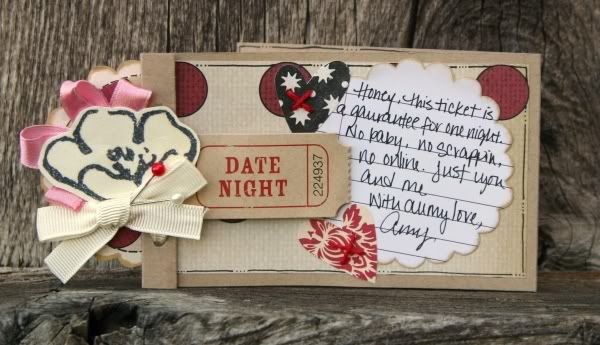 Supplies: Paper-Kraft cardstock, Jenni Bowlin
Tickets- Making Memories
Pink Ribbon- Making Memories packaging :D
Other-grosgrain muslin ribbon, stick pins, embroidery thread

This next one is a little LO I did of Cree and her first hairdo! She looked like a Who from Whoville when I did it so I had to take a pic and document that! She looks so tiny there! Wow I can't believe how much they change in such a short period of time!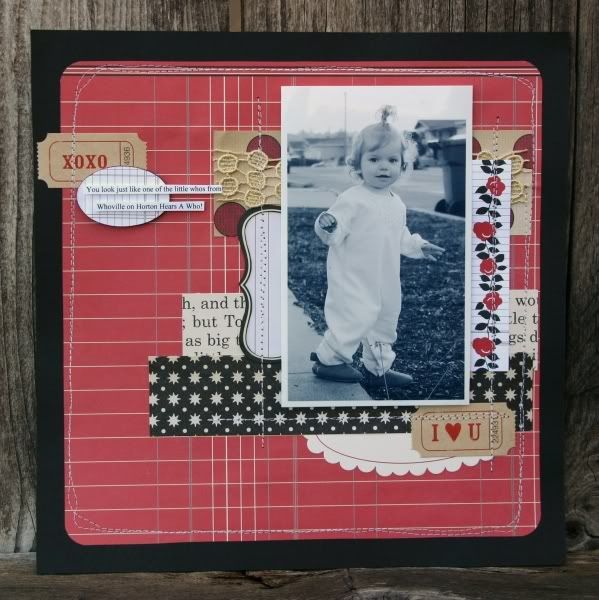 Supplies: Paper-Jenni Bowlin, Black cardstock
Journaling tags-Jenni Bowlin
Tickets-Making Memories
Ribbon-Prima

Now moving on to the March kit!!! Yay!!! This is such a gorgeous kit! And there are still a few available! Click here to get it! And there are also still a few of the addons available too! This kit is perfect for a lot of things but is specially made for celebrating a wedding! It is the Everafter line from Cosmo Cricket!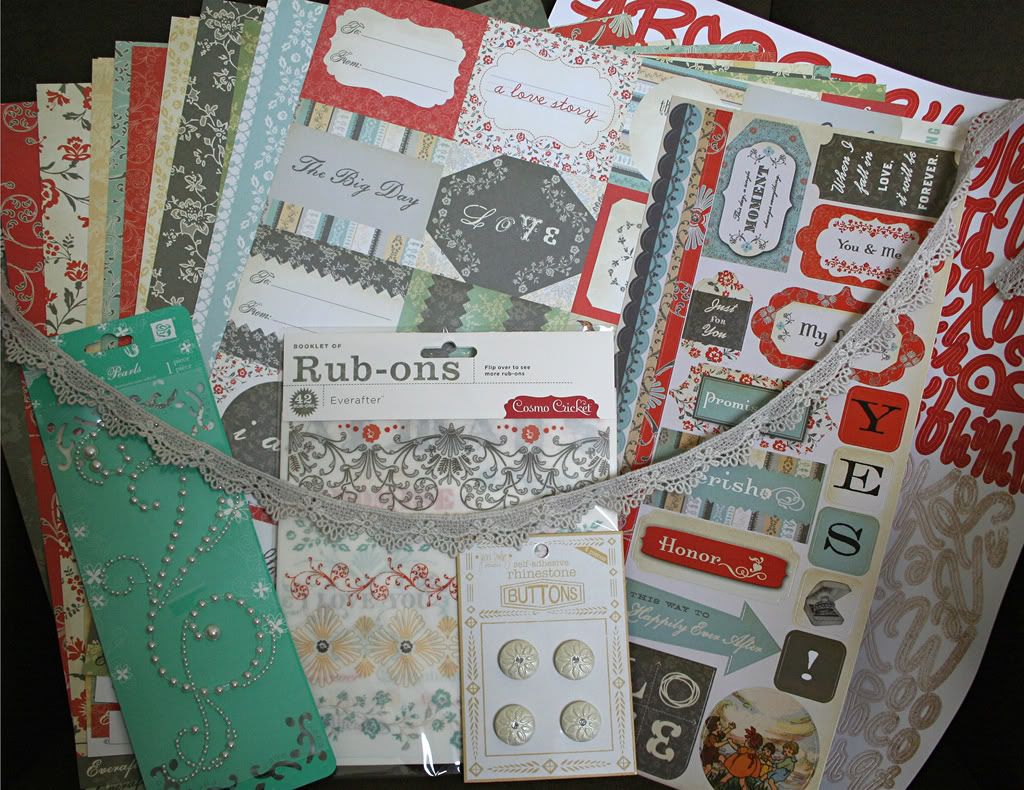 Complete Contents: 12 double sided cardstock weight paper from Cosmo Cricket
1 double sided cardstock weight border paper from Cosmo Cricket
1 double side cardstock weight journaling cards from Cosmo Cricket
1 package of rubons from Cosmo Cricket
1 sticker sheet (sayings) Cosmo Cricket
1 fancy lace from Prima
1 say it in Pearls from Prima
1 sheet of Alpha Stickers from Basic Grey two colors
1 package of buttons from Jenni Bowlin

This is a tiny LO I did of Cree and Jed. Such a wonderful picture! That is her favorite place to be!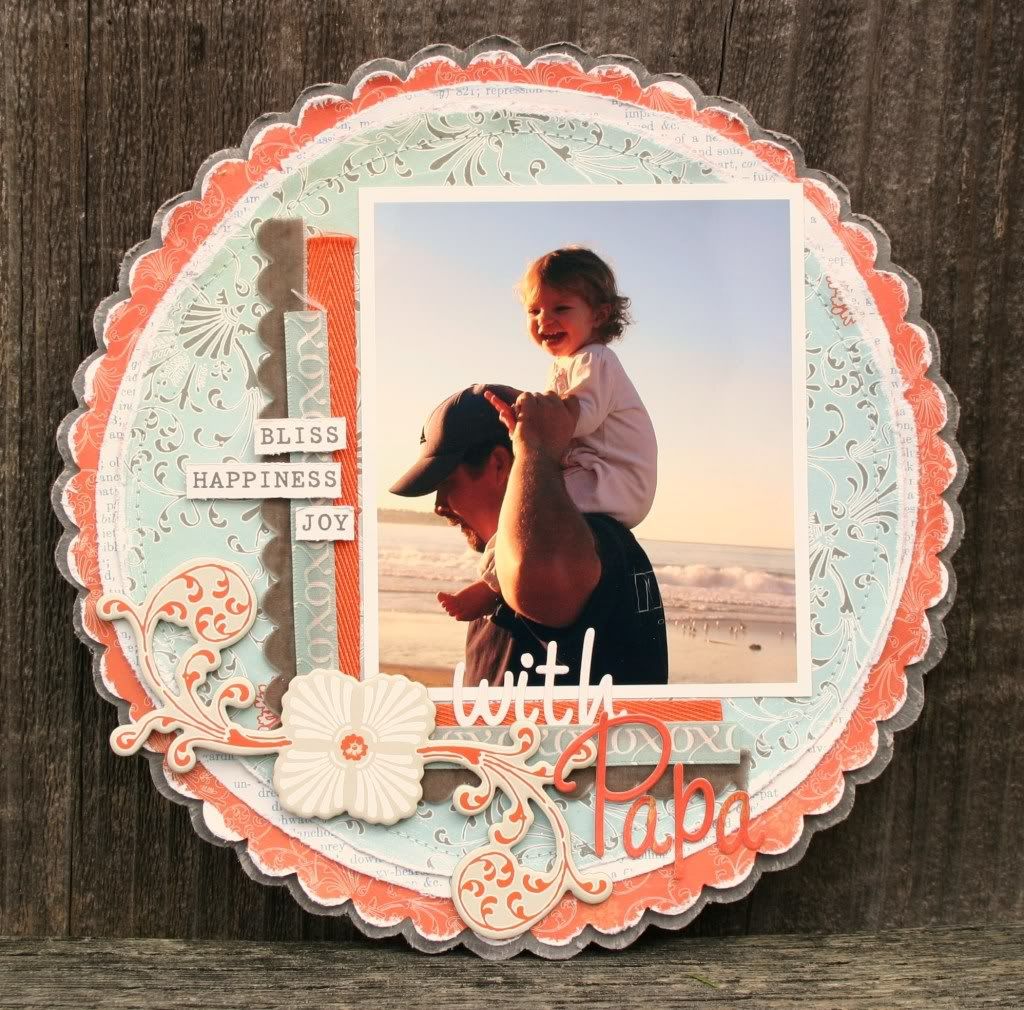 Supplies: Paper-Cosmo Cricket, Making Memories, Grey cardstock
Chipboard-Cosmo Cricket
Word Sayings-Cosmo Cricket
Ribbon-Cosmo Cricket
Letter stickers-Basic Grey
This LO was actually a lot of work that you don't see. LOL! Don't you hate it when you work sooo hard on something that is super complicated and it just doesn't come out as intense and complex as you thought it would? hehe. Anyway. I did a lot of sewing on the tulle to paper underneath what you see and also the whole piece is raised up super duper tall so that all those chipboard pieces and flowers and things could fit under there and still have the top layer flat and not bulky. :D Did any of that make any sense? But still I really like how this one turned out. This is another photo that I am using to no end because I just love it! And it has been working great with the last few kits I have gotten so why not? The glittered swirls in case you are wondering are actually the plastic backing on the Prima pearl swirls and I just filled the little dot indentations with fabric paint (clear glitter filled) and then covered it with glitter! :D I really like how it turned out! And it made those swirls last twice as long!

Supplies: Paper-Cosmo Cricket
Ribbon-Prima, Making Memories
Chipboard-Cosmo Cricket
Rubons-Cosmo Cricket
Swirls-Prima packaging with Pink Paislee glitter on them!
Letter stickers-Basic Grey
Other-Vintage tulle, Millinery flowers

Now here are a whole bunch of photos of a class I gave over at the Scrapbook Nook! It was my turn to do an altered project class on the Nook boards and this is what I came up with! I wear scarves and sweaters all the time so having something small to embellish them with sounded perfect to me! Check out the class link above for instructions on how to make all of these little brooches!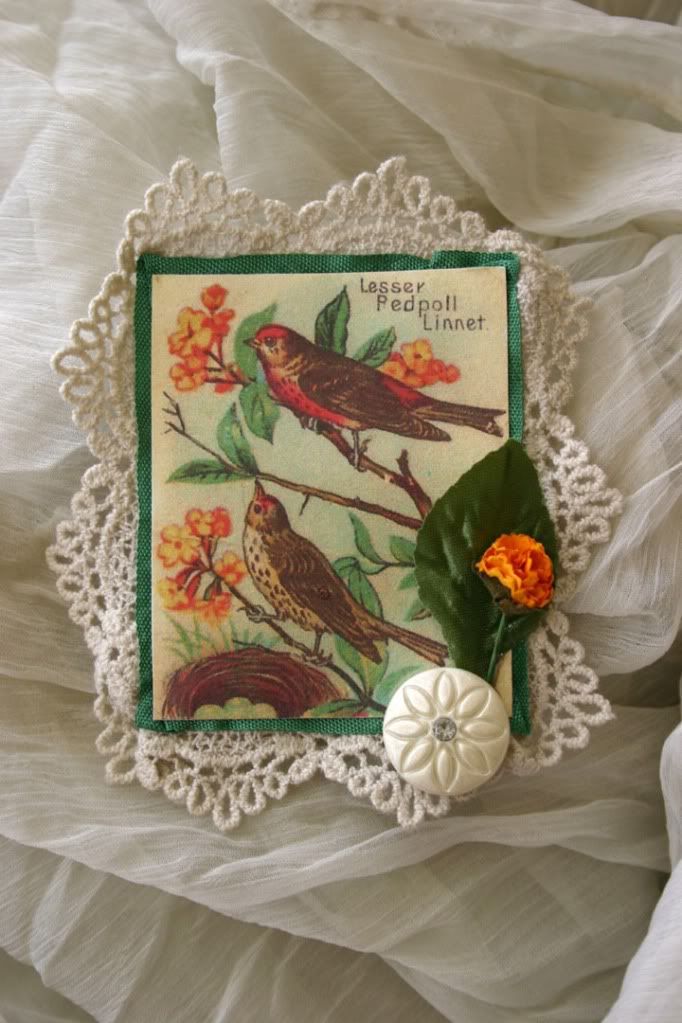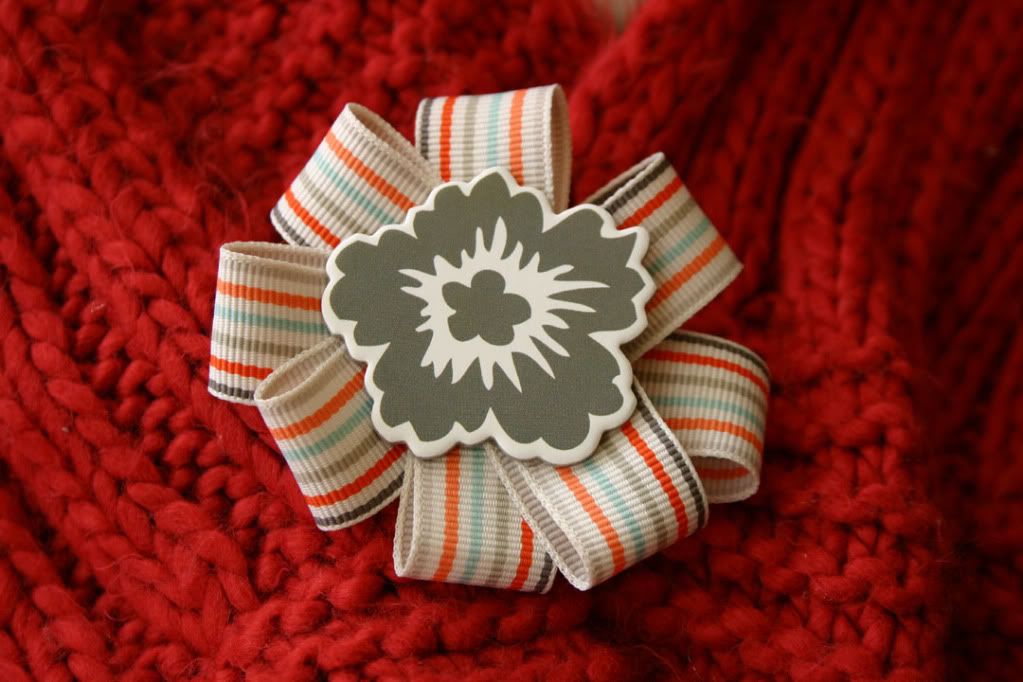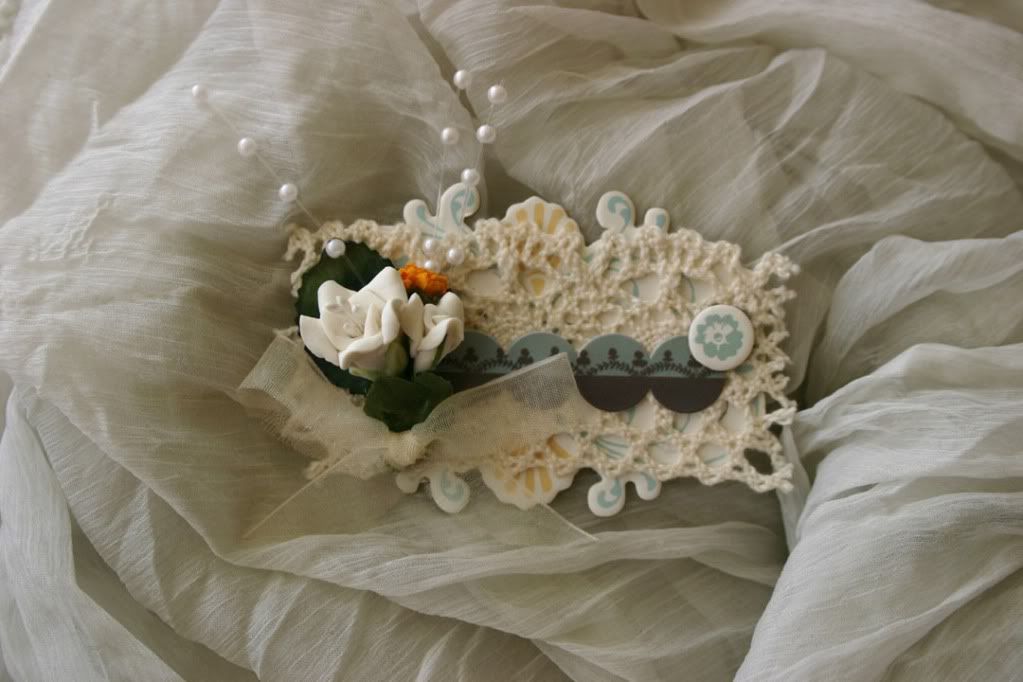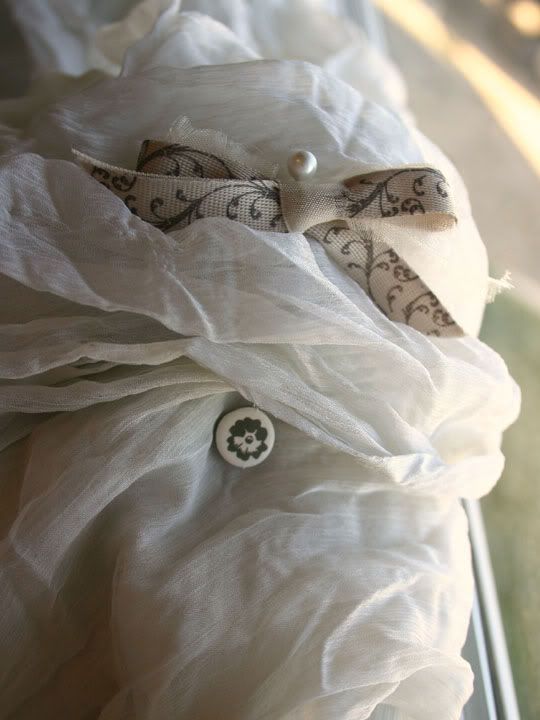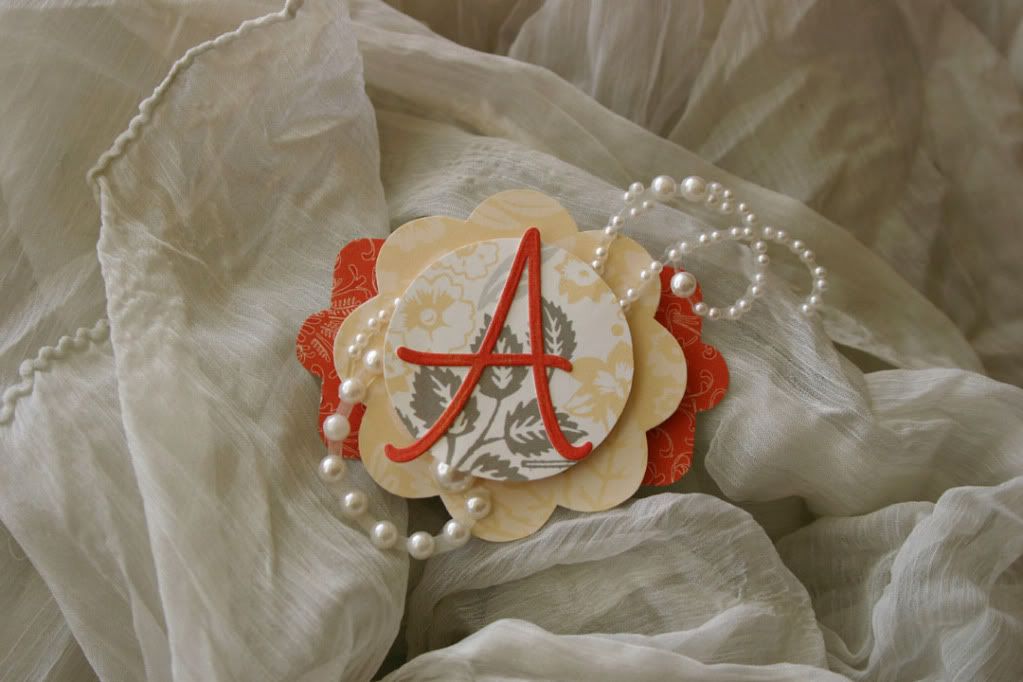 Supplies:
Paper: Cosmo Cricket
Chipboard: Cosmo Cricket
Ribbon: Cosmo Cricket, Prima, Making Memories
Pearls: Prima, my own stash (pearl sprigs)
Letter stickers: Basic Grey
Buttons: Jenni Bowlin
Other: vintage ribbon and lace, millinery flowers, pin backs(for attaching to the back of the brooch so that it will go on a sweater or something)

This next project is something very special to me! This little book is about the evening that Jed and I got married! It is addressed to my family because this is a little thing that I made to help soften the blow that we got married! Yeah that is right! My family didn't know! This was to help them not feel quite so left out. :P We are going to be having a bigger ceremony and everything down the road so they will for sure all be there but this is for them in the meantime.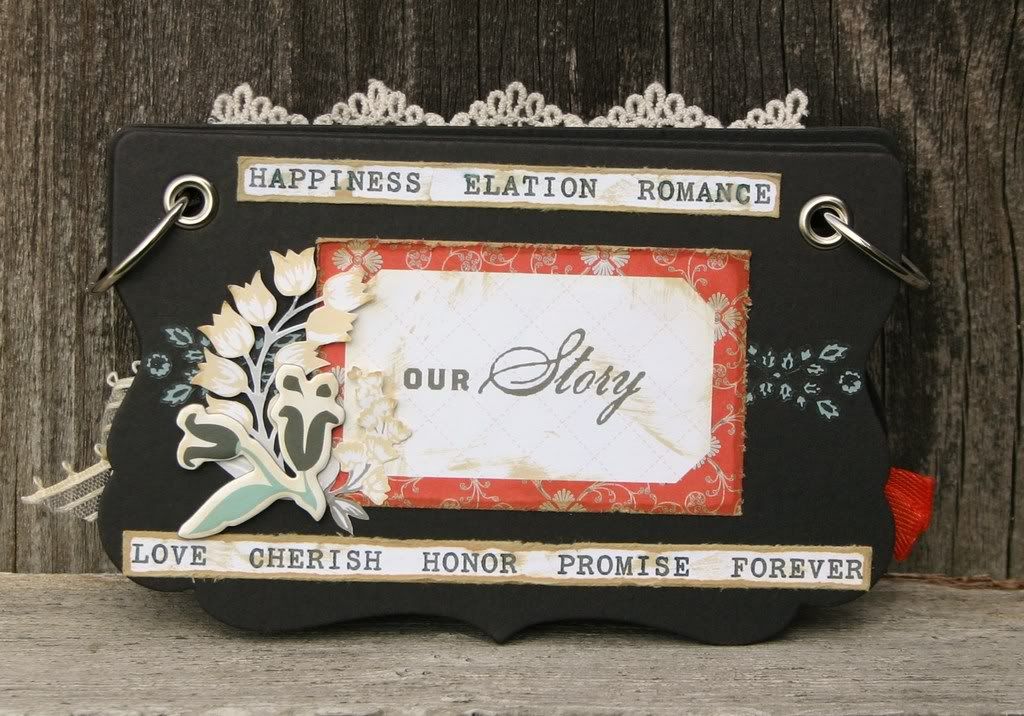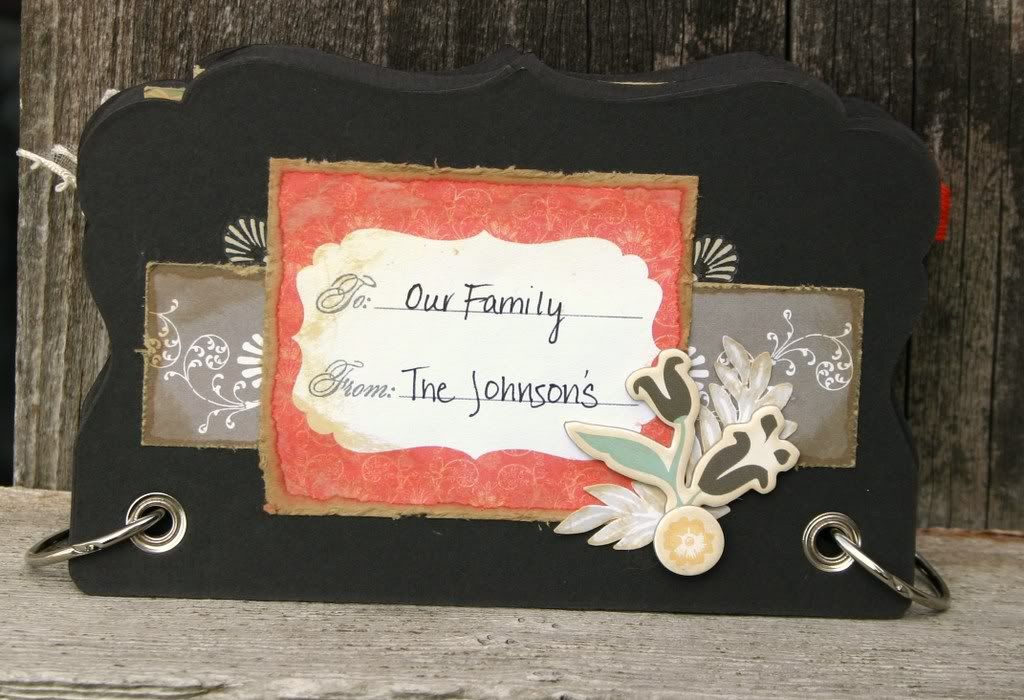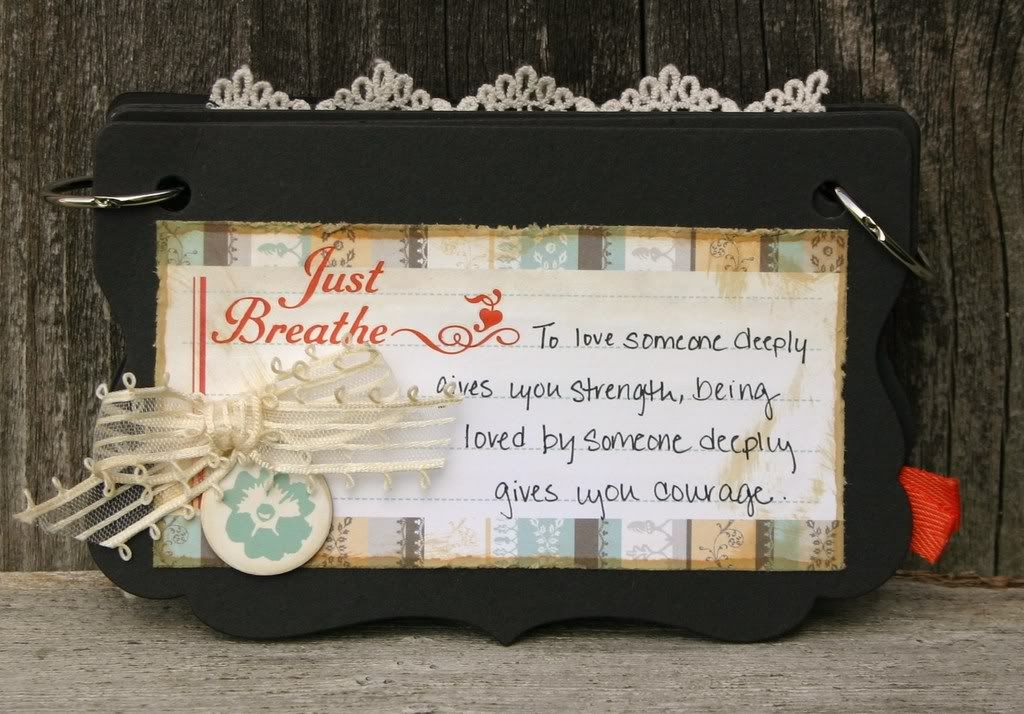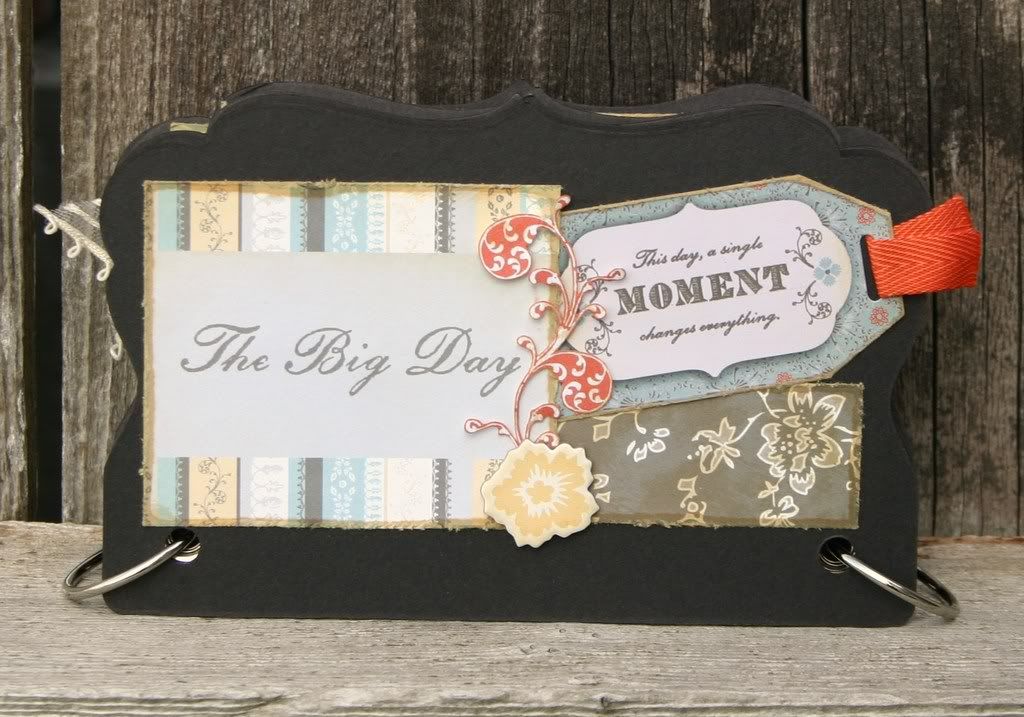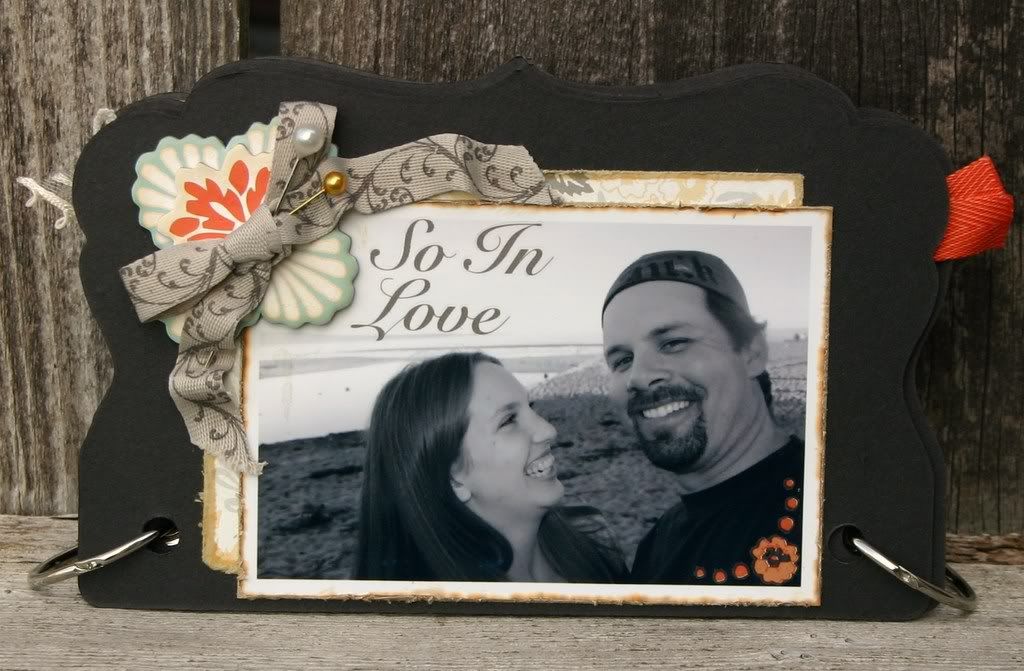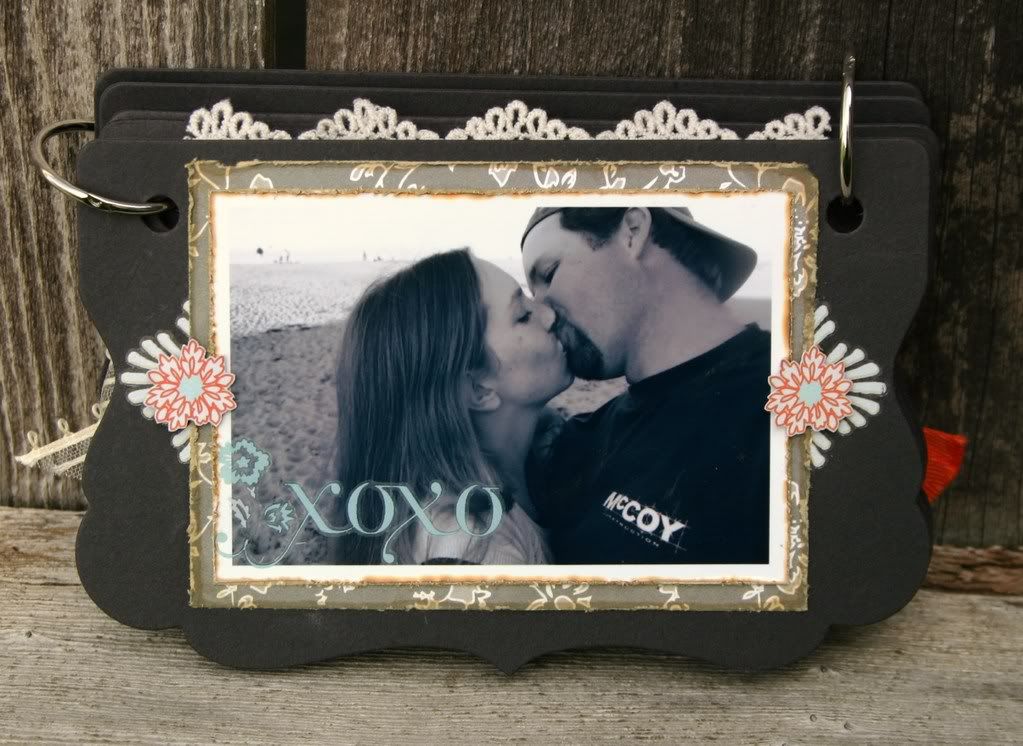 Supplies:
Paper: Cosmo Cricket
Chipboard: Cosmo Cricket
Sticker: Cosmo Cricket
Letter stickers: Basic Grey
Ribbons: Cosmo Cricket, Prima
Rubons: Cosmo Cricket
Buttons: Jenni Bowlin
Other items: vintage ribbons, stick pins
Now we are moving onto the new
April Kit
over at The Scrapbook Nook! I seriously can not say enough good things about this kit!!! I love it soo much!!!! It was a exactly what I needed to get my scrappy butt in gear! And get some mojo going! :D

Complete list of contents:
10 sheets of paper in the Pink Paislee Winsome "Captivating line"
4 sheets of die cut paper
elegant maya road pearl pins
1 yard of American Crafts ruffle ribbon
1 yard of American Crafts brown argyle ribbon
1 Pink Paislee sticker book- including an alphabet, journaling spaces & borders!
1 package of Pink Paislee Captivating Brads
Maya Road calendar/date "A Year to Remember" sheer embellishments
2 lovely Prima Bonnet Blossoms
2 sheets of bazzill cardstock

This was the first LO that I did with the kit! Love love love this kit! The picture of Creedence didn't turn out quite so well in this picture but that is ok. You get the gists of her want to go running off into the water! It was actually really difficult to keep her out of it that day so we finally just gave up and let her get soaked! She was also having a ball trying to get some of the birds there on the beach! She is so funny to watch!
Supplies:
Paper: Pink Paislee, Kraft cardstock
Ribbon: American Crafts
Stickers: Pink Paislee
Pearls: Prima
Flower: Prima
Pearl Pin: Maya Road
Letters: Pink Paislee, American Crafts
Brad: Pink Paislee
Rubon: Pink Paislee
Chipboard: Pink Paislee
This LO happens to be a
Janine Langer
lift! I lifted a LO in
this post
! I just love the design of that LO so much I had to do my own version of it! I turned it and switched some things up, added a couple things and did some things different but still very much the same design. Love lifting because it is so fun to see the changes that get made and it is so inspirational! This LO is one of three that I have made for Cree's album which is really really bad! I need to move backward and start doing some of the older months so that I can get caught up! Ahh! Love how this LO turned out though!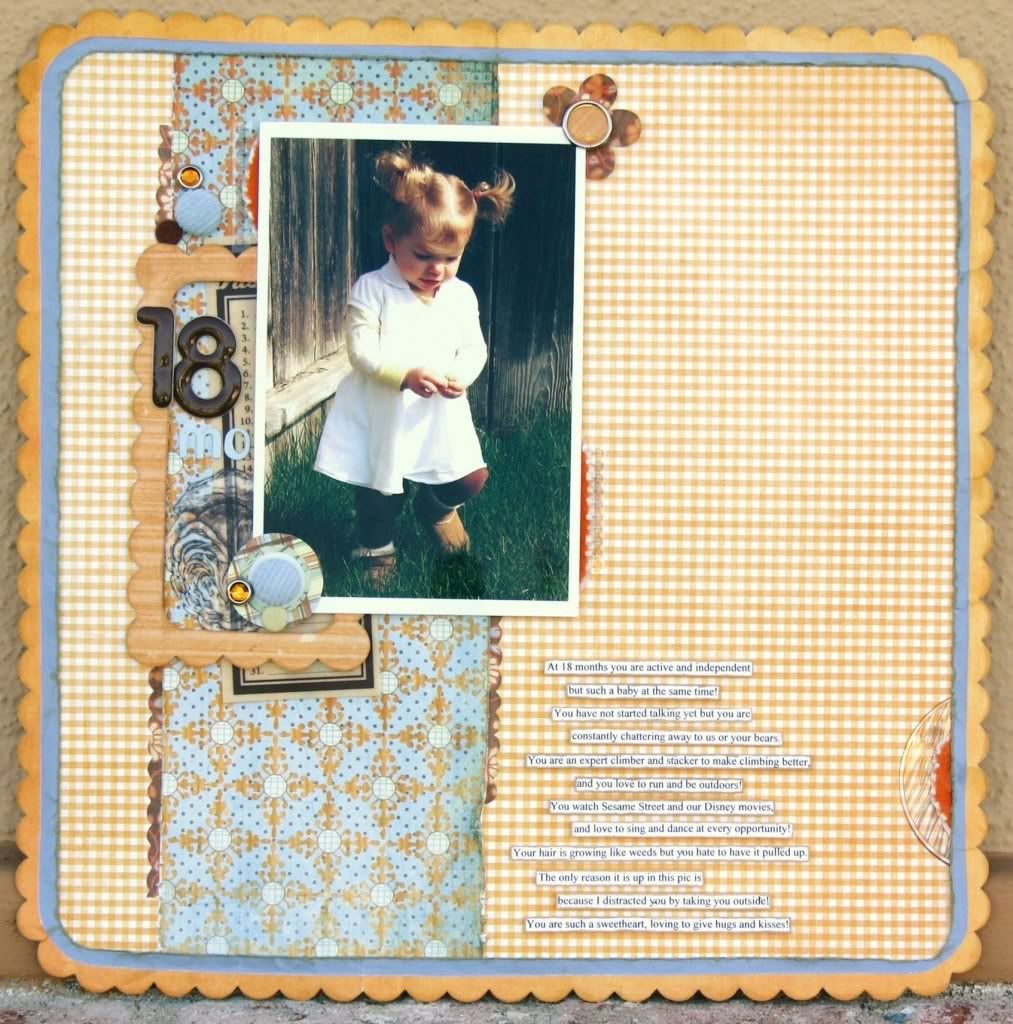 Supplies: Paper: Pink Paislee, Bazzill cardstock Letters: Pink Paislee, American Crafts Brads: Pink Paislee Rubons: Pink Paislee Sheers: Maya Road Ribbon: American Crafts
This LO is from a sketch over at
Pencil Lines
! It is
sketch number 120
! Love that one! And love Pencil Lines! So much inspiration over there! This is actually the second LO I have done using this sketch but I never got the first one 100% finished so once that is done it will make it onto the blog. :P This LO is documenting the fact that I am not so sure I will remember all of these little things my daughter does. She is changing so much and so fast these days that they are seriously a blur and that makes me very sad. I am really really going to start working on recording the little things. Because they mean the most to me.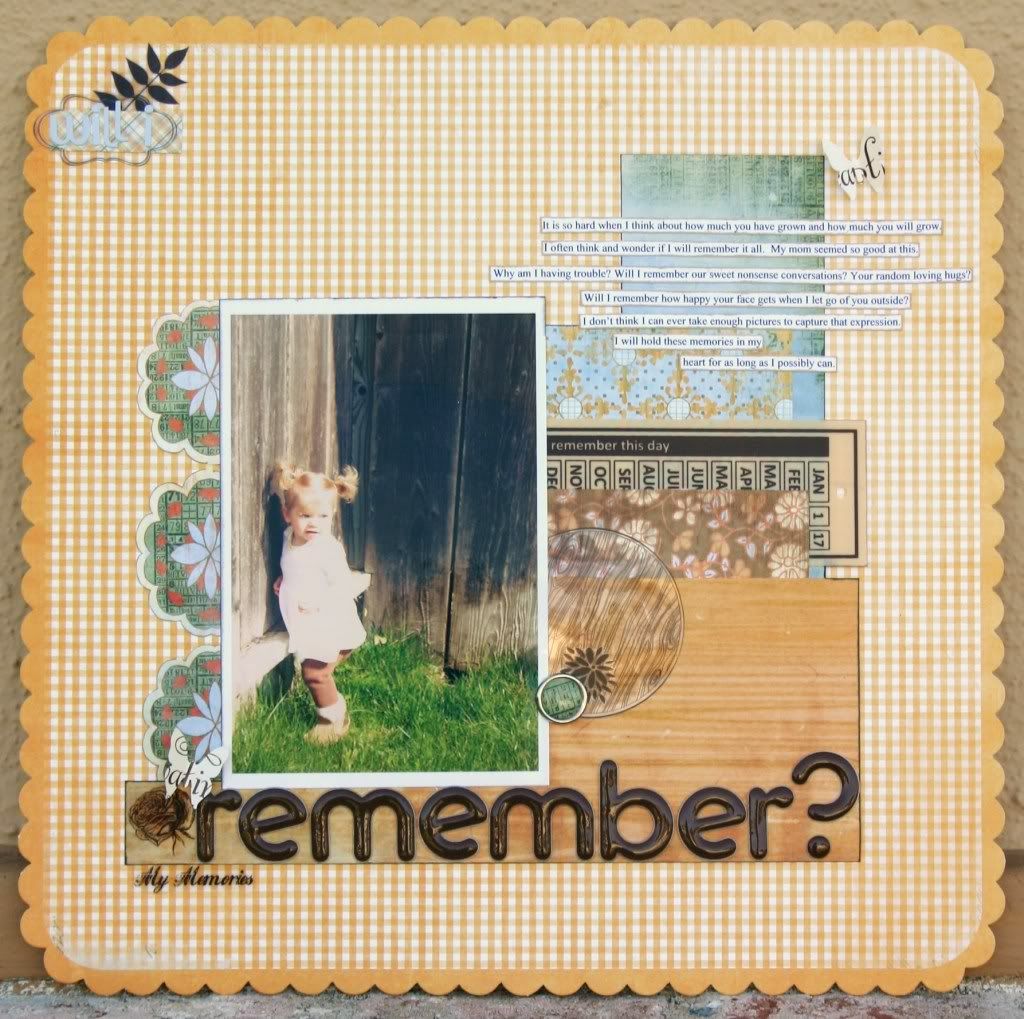 Supplies: Paper: Pink Paislee Rubons: Pink Paislee Brads: Pink Paislee Sheers: Maya Road Letters: American Crafts, Pink Paislee
Ok so that is all I have for right now!!! Yay!!! I am all caught up on my Scrapbook Nook stuff to show ya!!! I will have some more stuff very soon though! Thanks for being patient! ~Amy