How exciting is this?!! Two fantastic companies teaming up to make one fabulous feature!
Prima
and
Tattered Angels
are going to be bringing you absolutely amazing projects every Monday of April!!! These will be from both the Prima DT and the TA DT! You do not want to miss any of these!!
I did two projects for my Monday feature! This first one I used the Glimmer Mist Jazz Blue. Which is so super pretty! Love that blue! I used a Scroll screen on the paper but because the paper is so dark I don't think it showed up very well at all! :P Oh well this was my first attempt at Glimmer Mist! Well because I also tried to put it on 'too thick' (meaning I just sprayed too many times all over it!) my paper buckled as it dried! Again oh well. It's a learning experience. I used a lot of different things on this LO but almost every single one of them got covered with the Glimmer Mist! I sprayed all the flowers, the burlap, the journaling tag, the pearls, the leaves, and I 'inked' the letters!!!!!! This LO, just in case you were wondering, documents how my husband bought me a gift certificate for my birthday last November to a tattoo parlor around here. And I still have not used it!! I am just wanting a piercing, not a tattoo, but I just can't get myself to do it! I have wanted to get a nose piercing for a long time now but am just so nervous! This gift certificate made me realize just how on the fence I am about it! :P I know it will happen someday. Just not sure what day that will be.
Supplies: all Prima
My second project for the Prima/TA promo is a hanging piece of decor I aptly named Love. You may notice but it was a little difficult to get those frames to sit straight as my ribbon kept giving every now and then! :P Oh well. I used the Scarlet Glimmer Mist on, again, almost everything! Even the frames but I wiped that off quickly because it just didn't do what I thought it would. But it turned out awesome because it gave them a slightly pinkish tint! Now to find a suitable place to hang this in my home without Creedence-the climbing monkey!-being able to get it!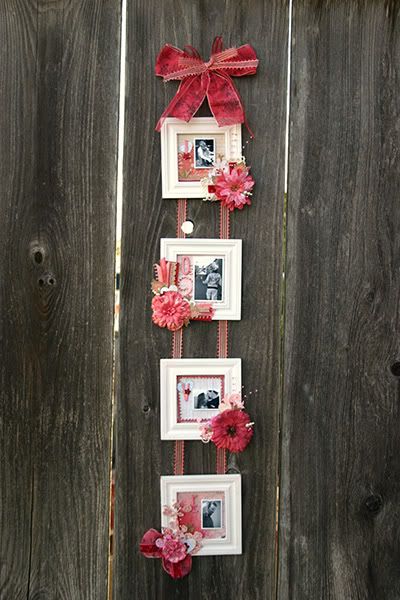 Supplies:
All papers, flowers, felt, stamen, rhinestones, pearl swirls, leaves, and the dark red velvet ribbon are Prima products. Everything else is from my own stash (all ribbons-majority of them vintage, pins-maya road and singer, and pearl sprigs-bought at Michael's).
Be sure to check out the amazing Tattered Angels DT projects too!!
Cheryl McAdam
also has a few AMAZING projects featuring Prima and Tattered Angels that she has posted on her blog!
And also our dear Prima DT Coordinator Sharon Laakkonen did some absolutely stunning projects which are also up on the
Prima blog
!!! Be sure to take a look at those too because they are so inspiring!!
Now how about something for you?!! Sound awesome huh? All you have to do is keep checking the Prima blog for the awesome projects that both the Prima and TA DTs come up with every Monday this month! Then on the third Monday you will have the chance to enter into a drawing to win the awesome kit below!! The give-away will include Prima Paintables, Voila die-cut strips, lots of white flowers, Tattered Angels Glimmer Screens, two bottles of Glimmer Mist and a few Framed Fonts!
I am really really looking forward to doing some more projects using these awesome TA products!! They are so versatile that the possibilities are endless!! I only dabbled a little bit into the extreme art of using these so I can't wait to get more in depth and try lots of other techniques!! And remember to keep checking back in at the Prima blog for more inspiration and for a chance to win the kit above!!
Take care!
~Amy