Well. I can't believe that it has been over a month. Can you? I guess all it takes are holidays and every person in the family getting sick (and yourself twice!) to let a whole month go by. The sad part is I barely got anything done during that time!! I didn't cook Thanksgiving dinner. I haven't decorated the house for the holidays (which are now just, literally, around the corner). And I have hardly done any scrappin! I only just broke into my
Oct
and
Nov
kits from
Label Tulip
two nights ago!!! Well I am not going to let things slide anymore. I am working hard now to do some decorations for the house. I have nothing to show for it yet but I know I will soon! Tomorrow is the day we are to get the tree out and decorate. Jed is a little, well a little more than a little, under the weather tonight so we shall see how he does tomorrow. Once I get pics of the house all festive I will put them on here! And I promise before Christmas!! Ha!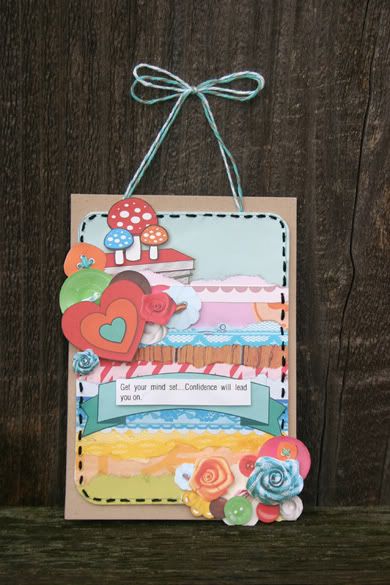 Well this first project is one that I did for
Kitschy Digitals
! I found this deer at Borders and just fell in love because I knew it's color was perfect for these collections!! This is supposed to look like a wee surreal environment that you put in a bookshelf. It's really actually a big thing and pretty fragile too. I am going to have to find a shelf with room quite high off the ground so that Cree can't get to it. It also proved difficult to photograph because there is so much space between the frame and the deer. So with that explained.... The first photo is focused on the deer. The second photo is focused on the frame. And the third photo is a close up of the deer's "scarf", because she has to be wearing a scarf right?! One of the ribbons and both the ribbon flowers on the frame are the patterned paper and lace from the kits printed onto fabric. I love doing that because it gives you so much more ability to make your own embellishments!! The next two mini LOs I did again using a mix of the kits. The first one features a fortune I got at my favorite chinese food restaurant and it was so inspirational and so what I needed to hear that I scrapped it! The next one is actually a
PencilLines sketch
! Sketch number
110
to be exact. It's a little wonky compared to the sketch and is a lot busier than my usualy stuff. Don't get me wrong I cover my pages with stuff but not all over the place like I did on this one. Just little clusters here and there. All in all though I like what I did with this one! It's funky and different and bright and no to mention colorful!!! Loving the colors that these kits give!! Definitly check out these kits because they are so so so awesome and versatile and work so well with each other! Take a look at them
here!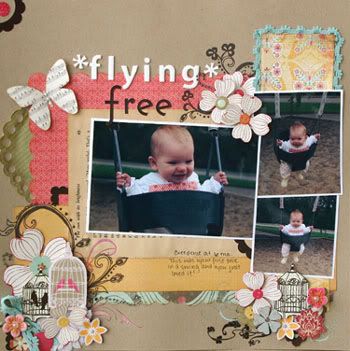 So this LO here is the first one I have done in a real long time!!! And HOLY COW get this! I did it in two very small crafting nights! That is killer fast for me! It is a little bit off kinda sorta but hey I really like how it turned out and I especially like the color combos! I used my September, October and November kits for this! I have actually done this LO (not just for me of course) but for two challenges!! I used the
Prima Build-A-Page
sketch for this month and also the prompt from
We Kit You Not
! The Prima sketch is pretty straight forward but the challenge at We Kit You Not had you use an old kit and a new kit. This was easy for me because I had so many laying around! All I can say though is that I can't wait for the next challenge and I think I am going to start using sketches more often! Even if they don't look anything alike it's a lot easier to start somewhere when you have a guide!

Well it is sad to say but that is all from me today! Wish me luck on the challenges! Happy Holidays to everyone and I hope you all stay safe and sound!!!! Take care

~Amy~