Many a thing has been happening at our house. I had family visiting and they were here for almost two and a half weeks. It threw off our schedule to an extreme but it was wonderful to see them, so we didn't mind. My daughter (who is 10 months today!) has learned to walk. Now that has been a pretty stressful thing, not just for her but for all involved. It has affected everything else..sleeping, eating, other milestones that she has now forgotten that I have to try and reteach! Goodness it is cute though! She is so tiny that it makes it hilarious to see her walking around the house with her bottle like she owns the place! She kinda does though hehe. I have also started doing a lot of reorganizing of the house. We have a lot of stuff and I am still trying to figure out how we got it all. And to add another thing onto my list, I have been trying to get back into shape. I am back to the weight I want to be at but not the physical condition I want. I am seriously out of shape! It will be a hard struggle that will take all my discipline.
I have been doing more scrappin' though! Most of the time it is in the late wee hours but hey it's free time and it's mine, so I take it. This first layout is one that I did for a site that I just discovered! It is called
OneLittleWord
. They give you one word I think one average per week and it has to be the main title of your layout. There is so much amazing talent on that site that I couldn't help but be inspired!! Definitely check it out! I did a lot of distressing and inking on this page, which you know I love to do. It is a self portrait LO. Took the pic myself hehe. I am holding my hair back because it was quite wiley.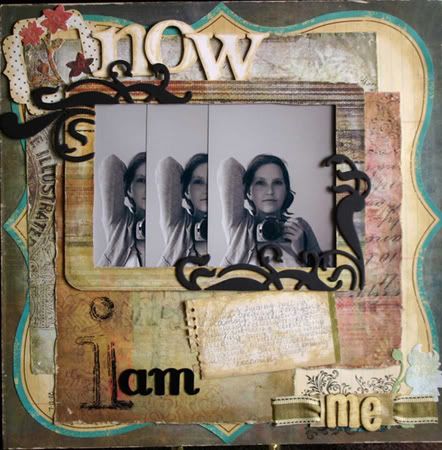 The journaling spot is actually a collection of words that is supposed to go inbetween the am and me. It says, "handling finding fueling chasing creating forgetting screaming analyzing seeing fulfilling feeling distracting asking stretching verbalizing obeying loving hearing wanting celebrating realizing ignoring shushing understanding discovering sacrificing knowing enjoying respecting becoming". I am quite happy with how this LO turned out. It is a true reflection of me right now.


This LO I did for the Xmas in July challenge at Scrapbook N Bits. We were supposed to use christmas paper for a non-christmas theme LO. I made the flowers out of the paper too so that I would try to keep it as much xmas supplies as possible. This LO came together so quick (one night) and so well I was just stoked when I was done! It is a very fun challenge and I had such a great time participating! The competition is going on till the 27th so go over and check it out!



These next few photos are a few cards I did just recently. I am having a lot more fun doing cards lately and get so excited when I am going to do more. The first one is so simple with just cardstock, a stamp and a rub on but I thought it turned out very nice. The last ones I made using my Wild Saffron collection. I love this collection but never have any good pics to put it to. So it turned out quite well being used for cards. Again, lots of fun making these and I can't wait to do some more!