Hi Everyone!!! Lots going on today, so I am going to have a couple posts go live today. I have winners to announce, layout shares and super duper huge awesome blog hop that I am so honored to be a part of!!! :D Let's get to it!
First up, so so sorry that I did not get on here sooner to tell you all the winners of my Scrapbook Trends April magazines! And I totally blew it when the munchkin drew names and didn't have my camera out. :P Which was probably best cause I was almost in tears when the names were finally drawn and all was said and done. I was so frustrated because Creedence just did not want to listen at all to my telling her to just pull ONE NAME AT A TIME, she wanted too much to just throw the whole bowl up in the air and have all the little papers go flying, and pretend like it was snowing on her. :P Bless her little heart, she just loves to have fun! Needless to say though I think I will have Jed pull names for future giveaways from now on. And something awesome...I decided to do three names instead of just two!! :D So there is one more lucky winner! Yay!
Here they are:
Glue Meets Paper
said...
wow Amy great post :) Your little ones are too adorable! No surprise they picked that pretty little girl for the cover! And btw when I saw your picture I thought "wow she looks GREAT for having such a young baby" and then I read how you're still unhappy with how you look. So let me just say I completely understand that feeling (i have so much more to lose and my baby is already 8 months eek) but you really look fabulous. OH and your layout is so darling....love it! Alright- long comment for a long blog post :)
May 8, 2011 10:51 AM
Katey
said...
great photos! congrats on the layout on the layout!
May 18, 2011 9:01 PM
Olivia
said...
Wow Amy, what a beautiful layout with the patchwork heart! Your Easter looks like it was fun, love the cute photos of Creedence's expressions :)Hope that you had a lovely Mother's Day xx
May 8, 2011 3:30 PM
Yay to the lucky ladies!! Congrats! If you ladies could all email me (
09122007@sbcglobal.net
) your addresses I will get these off to you ASAP! :D Thank you to all who left comments!! I will have more giveaways coming real soon!
I also wanted to thank you all for your wonderful comments about how I look. :D They really made me feel so much better, as I had been really low lately. You all are wonderful!!! Thank you!!! *HUGS!* I have started really watching what I eat (as I had been eating a ton of
this
lately!) and been trying hard to kick my butt in gear with working out, but I am determined not to be watching the scale. I need to get back in shape and not be so focused on the losing weight part. It is unrealistic for me to automatically assume that once I am back to my previous weight I will be able to fit all the pants I wore just out of hight school. Laugh!! What truly is just silly. I know that things have changed since I had the girls. Things shifted that are never gonna move back! So I need to just come to terms with that. :D But being healthy is a goal I can achieve. And that is what I will be working towards.
Everyone is good here, just chuggin along. Jed has grand plans for the house and is getting an itch to start them, so we are in the middle of combining our offices right now. Thought this would be a lot easier than it turned to be. I knew it would be madness!! So now my scrap room (which was somewhat close to being done) now got turned upside down again, and has about half of Jed's stuff in with it too. :P This did not make some of my pending deadlines very easy!! :( But I am working on it.
Speaking of scrapiness stuff, I have a share for you all! :D It is a layout I did for the new Noel Mignon challenge which is all about
Birthdays
! My layout was late (thanks to my missing mojo) so it is not on the challenge post, but it is up on the Noel Mignon blog. :D I used the new Mary Ellen kit for this layout! Love that kit!!!!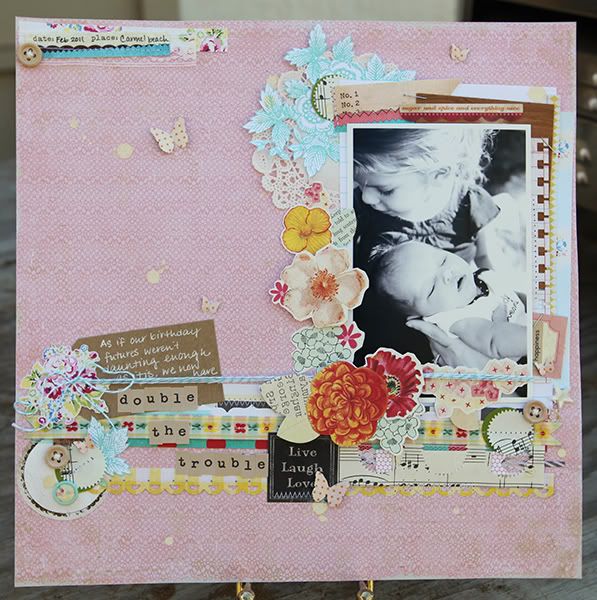 This layout is filled with so many layers! It was a lot of fun to make, but took quite a bit of planning! :D I put this in for the Elle's Studio call, didn't make it though. :( I will keep trying for that team though cause I want it soo much! :D Really love the colors in this kit! I hope to get a couple more layouts done with it before the new kit arrives!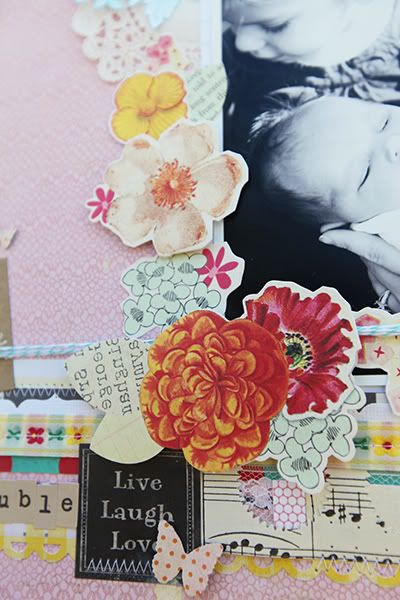 That's all I have right now so I will be back soon with more scrappy shares and picture updates!
I have also posted info in another post on the totally awesome blog hop so be sure to check that out!! :D

Take care!
~Amy