Yay!!! I can finally share my excitement!! This is gonna be so fun!
A little while ago I was contacted by the amazing and awesome
Amy Heller
, asking if I wanted to be a part of an Elmer's + X-ACTO Craft and Tell Blog Hop she was hosting! Of course I said YES!! I was so honored that she asked me, as I not only love her work but adore her as well! She is the sweetest and nicest and is serioulsy talented!! I have been super giddy ever since I got her email! :D I received my box about a week later, WOW I couldn't believe some of the stuff in there! Some things really cool, some so super useful, and others that I have never used before in my life so this was certainly a fun and new experience! And I have had a blast! I will have some sneaks to show you real soon, but they just aren't quite ready yet. :D The full reveal will happen soon.... First off it is time for you guys to have some fun!!!
On Saturday and Sunday, June 11-12, mark your calendars, because some of the most talented ladies out there will be bringing you layouts, cards, altered items and mini albums all created with Elmer's + X-ACTO's specially designed adhesives and cutting tools, perfect for paper crafting aficionados such as yourself!
Amy Heller
is going to be announcing a new member of the Elmer's + X-ACTO Craft & Tell Blog Hop Team via
Facebook
and
Twitter
each day (so make sure you are friends with her there/or following her there). Each day the person she announces will have a post on their blog, maybe even with a sneak peak of one of their projects that will be shown in its entirety during our hop! It is going to be a lot of fun seeing what all the amazing ladies on this team have in store for you!! :D
Not only will there be TONS of inspiration, but Amy will be giving away two spectacular prize packages (U.S. residents only) provided by Elmer's + X-ACTO!!! HUGE!!! Here's a look at what Elmer's + X-ACTO will be giving away that weekend!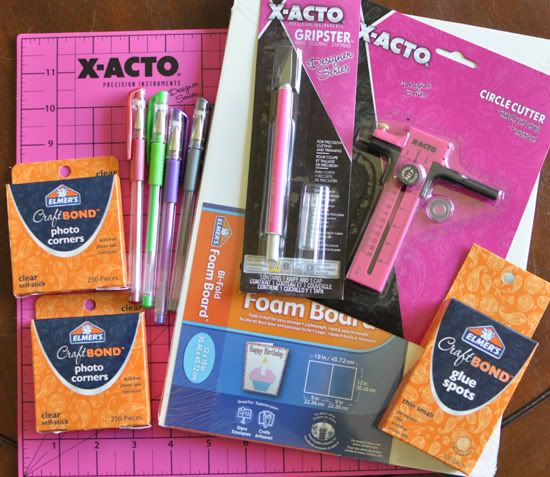 Prize Pack #1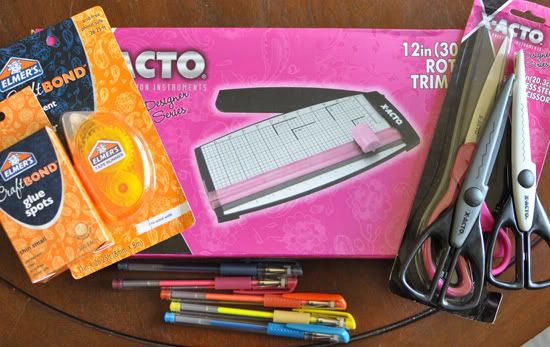 Prize Pack #2
Totally AWESOME right?!!
Remember this will all start on Saturday the 11th!! So make sure you check out
Amy Heller's blog
on that day to begin hopping through our blogs!! :D
In the meantime, make sure you "Like" Elmer's and Xacto on Facebook and follow them on Twitter:
FacebookElmer's :
http://www.facebook.com/Elmers
X-Acto :
http://www.facebook.com/XACTO
TwitterElmer's :
http://twitter.com/#!/elmers
Woohoo Can't wait til the 11th!! Hope you all have fun and I'll wish you luck!! :D
~Amy