Hi! Well I really thought I would have pictures to share by now but they haven't made it on here yet. I am going to be taking more tomorrow and do some editing so hopefully I will have updated pictures real soon! :D Until then, I have some layouts to share with you all. See layouts are actually easier to do than take pictures cause I do my crafting at night when the little ones are sleeping, so I get more done then. During the day if I try to take pictures of the munch she usually has several things going on that keep the pics from turning out like I would want-super messy hair, food on face, absolutely no clothes on (this one happens a lot. I turn around and poof! she is naked again!), or just doesn't want me to take pictures. :P I need to get over the fact that pictures are not always going to be perfect every time! And focus more on documenting the everyday. I really really need to do this.
I have a busy weekend coming up as it is massive house cleaning time here at the Johnson house. I have neglected the house long enough this week, and it is just too much right now! I can't stand it anymore, so a huge cleaning is in our future and that will hopefully make it easier for me to take pictures cause I won't be worrying about getting that messy pile or those dishes in the shot. :P Laugh!
So on the scrappy side, I decided to throw my name in the hat for the Lily Bee Design Team call. :D I really love their products, and am always so inspired by their current DT that I thought I would give it a go. Unfortunately though I really don't have a whole lot of their past few releases (just what I have gotten in kits) so I had to work with some old OLD product for one of my submission LOs. I don't think they will mind though. :D It was not at all required for submitters to use new product. So here are the two LOs I sent over this evening.
This first one I used the This & That collection, and it is about my two girls getting along as sisters. They are just doing wonderfully together, and I couldn't be more happy! (I used my Jump and Jive kit by Noel Mignon to make this-there are still some left!!)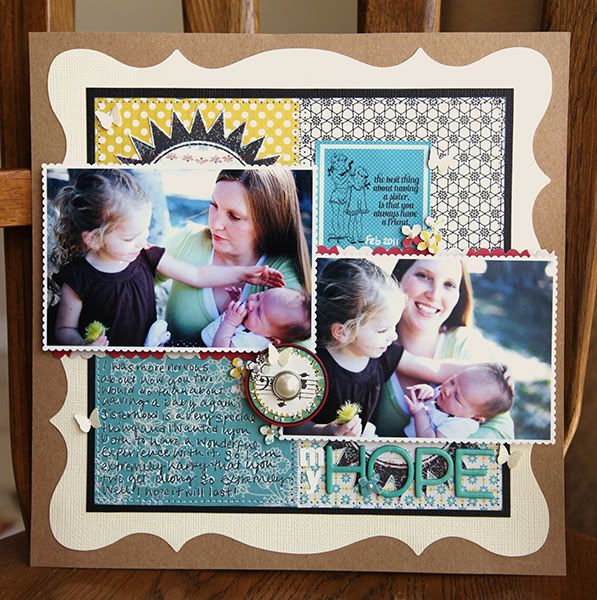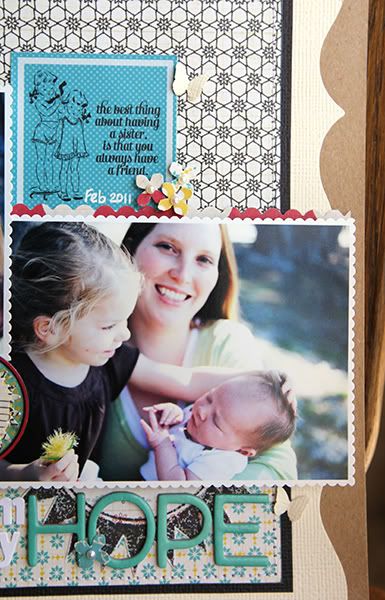 And this next LO I decided to go very neutral on the background cause I wanted lots of color pops, and used flowers to do this. So I relied heavily on the Lily Bee papers as neutrals to balance my LO and also give those colorful flowers something to bouce off of. :D I really love how this LO turned out, although it still needs journaling-which will go on the left hand side written in black. I am still trying to figure out all I want to say so that is why I left it blank for now. :D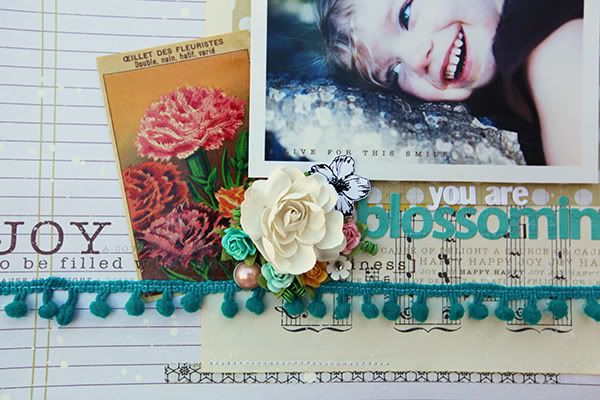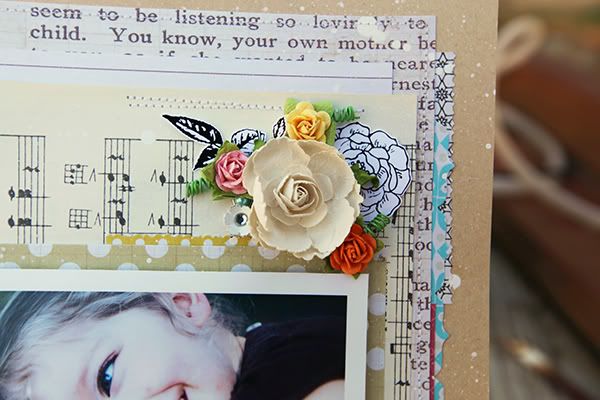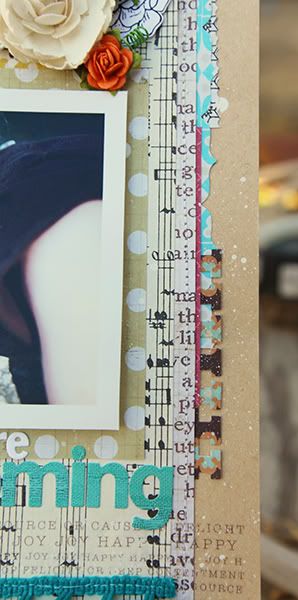 So keeping my fingers crossed and wishing good luck to all who applied!! Can't wait to find out who they pick for the new team! :D In other scrappy news, I have something pretty awesome to announce! I found out the other day from my good friend Noel that I made the cover of Scrapbook Trends April edition! I was thrilled!! This is seriously a scrappy milestone for me-and I never thought I would have this opportunity! But here it is:
I can't even believe it! Thank you thank you thank you a million times over to Pam Baird at Scrapbook Trends! She is the sweetest! It will be a little bit before this mag is in my hands, but I can wait. :D Well that is all I have right now, I will be back with more scrappy shares this weekend, as this has been a busy crafting week! :D Hope all is well with you all! Take care! ~Amy