Well hi! Did everyone have a great couple months?!! :P
Things have been up and down over here. The holidays were chaotic, and when I say holidays I mean all the way back to November. That month held quite a few important events, and 2 colds that knocked us all out. There are three birthdays in my family in that month, and there is also Thanksgiving, so there ended up being lots of visiting going on! :D Aside from the horrible colds we got, it was a very lovely November. But busy, as the month flew by and I hardly noticed! LOL!

Then came December, and I had really hoped a lot more things would have happened in December than they actually did. I had hoped that Jed would have a job by that month, so that a normal Christmas could happen. With him being out of work, it put a huge damper on my Christmas spirit. It is a little difficult hanging a wreath and decorating a tree and wrapping presents if you are unsure as to what the next month holds for you financially. But I really tried to keep my spirits up! :D I baked with my Aunt and Creedence, and enjoyed yummy Christmas bread for days afterward!
Spent a couple quiet nights-even though we traveled to family-with my family and Jed's family, and my Dad came to visit. Towards the end of the month, I began to see that certain things were not needed at all to make my Christmas a wonderful one. I am blessed that I was able to spend the Holiday with my family, for they are my entire world! I realized that I have some of the most wonderful friends online that I could ever ask for, an invaluable gift that I cherish dearly. And I am one month closer to the birth of this dear little one, that is getting bigger by the second! At 37 weeks, I am really quite ready to see her!
That's right! It is a girl! I totally forgot that I hadn't revealed that yet on my blog. :P I have begun hanging all the clothes and organizing all the little stacks and piles of things in their baskets. It is so convenient that we are having another girl, so I didn't actually need to buy anything for the baby as I already had it all! :D And it has been really nice to go back through these little things, remembering the first time Creedence wore them. Good memories.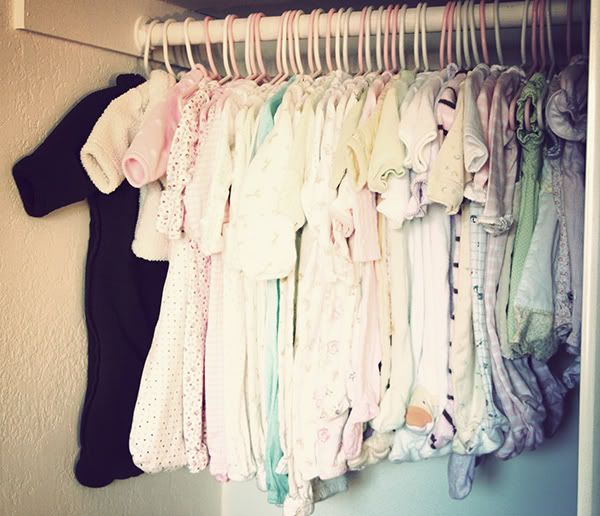 I should have updated this blog a really long time ago, but motivation has just been hard to find these last few months. And I don't just mean with blogging, no it has been a struggle with almost everything!! LOL! But the end is in sight, and my energy and body will return to normal. :D
Signed onto the message boards today and got a shock that holy cow it is the 31st of December and people are doing their New Year's resolutions and stuff!! Is it pathetic that I only just remembered New Year's Resolutions happen right now? Seeing people talk about it made me go OMGOSH I totally forgot those existed. LOL! I do have some resolutions though! There are lots of things I want to do differently this next year.
1. Simplify all things in my life. Mainly the stuff in my home. I want to downsize all of everything we own! But also I want to simplify a lot of my processes here at home. Like when laundry comes out of the dryer-fold it right then and put it away. It is done in 5 minutes and won't come back to torment me later! Those types of things make my life soooo much simpler! But those acts can't be done without my next resolution...
2. Have more Self-Discipline! I need to stop being lazy, and just do what needs to be done without complaining or procrastinating. Seems like such an easy thing to say, but it has been very hard to implement into my life! But I need this very much right now in order to stay on top of things and not get overwhelmed. I try to just keep looking at the positive that will come of it!
3. I need to blog more. MUCH more. LOL! I am a slacker blogger, and that just won't cut it anymore. So I will be setting a schedule for myself, and will be using my second resolution to help stay on top of it!
4. Make 2 quilts. I have been meaning to do this for a long time but am so scared. I just need to take the plunge and make my daughters' quilts, or else I know they will never get done. I really want to do this, and I am going to try doing them without stressing too badly.
5. I also want to knit more. I start projects and then don't finish them. They just sorta get set aside until I think of something I want to use that yarn for and so I rip that project apart to start a new one. No more of this either. I will knit more, and I will finish my projects.
6. This last resolution is something that has long been needed. Jed and I have had 4 'dates' since our daughter Creedence was born 3 years ago. Every other moment spent together, we have been with Creedence too. I want to make a habit of 'date nights' for Jed and I. We need this for our relationship, and I think when the new baby comes, it will be even more important.
There are a few scrappy resolutions I have as well:
1. I want to stay more on top of my commitments. This is very important.
2. I want to keep a log of all my finished projects, along with their supply lists so that they will be easier to blog and share. :D
3. I HAVE to put all my LOs away in albums. If this means that the only scrapbooking allowance I get for the whole year goes toward albums to make sure that I actually have albums to put my LOs away, then so be it.
4. Use my stash, sell my stash or just give it away. LOTS of my stash. It is just waaaay too big for one little scrapper to need. This one will be a benefit to both you AND me! :D
What are your resolutions for the year? One other thing I want to do for the year of 2011 is
OLW
. I have been thinking about this for a little bit and am really excited to start. I will talk more about it soon. :D
So to keep the tradition, I have here my Favs from 2010! LOs I mean. :D I still had an impossible time narrowing it down to 10, so I gave up and did what I did last year and just picked my favs. Last time I had 21. LOL! This year I have 25. I know, not much progress huh?!! But I just couldn't help it! There are a few in the bunch that have never been shown on my blog, partially because I just hadn't put them up yet and also because they were secret until recently. Since the secret ones have recently been published, and the book has already made it through it's first publication, I think it is alright for me to share them here. :D Here we go!

One of my last LOs for Prima. I really loved making this LO. The color combo is so different, but I had a blast! It is layers and layers of textures and papers and flowers. And even though it has flowers on it, I still think it came out pretty good for a masculine LO. :D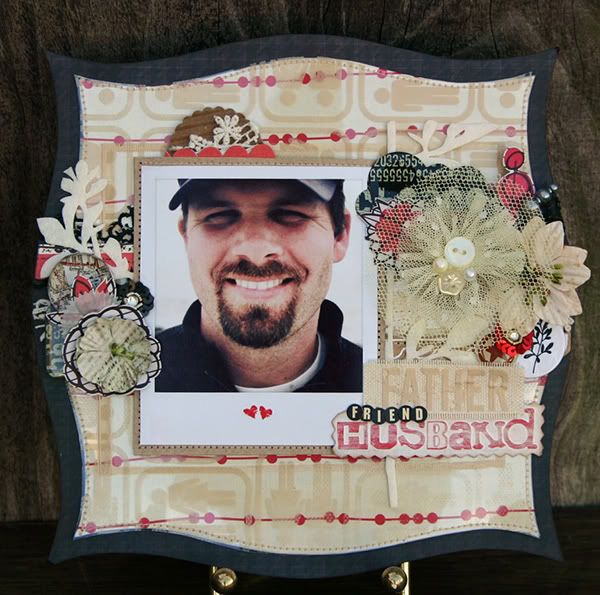 This Artist Printer's Tray was a labor of love. Each one of these ATCs was a joy to make, and I hope to repeat this project again real soon! I have a few ideas that I will share when I get it started!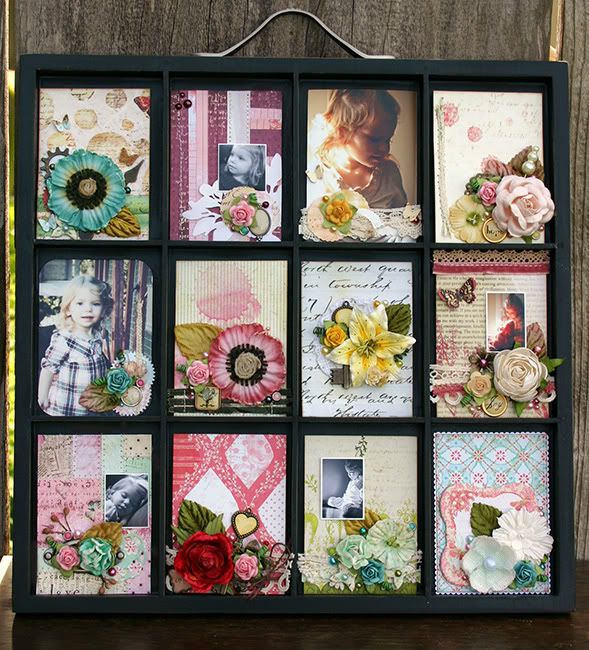 These next three LOs were made for the Prima Idea book that came out this year. I put so much heart into these, and I am very happy to be able to share them on my blog now. :D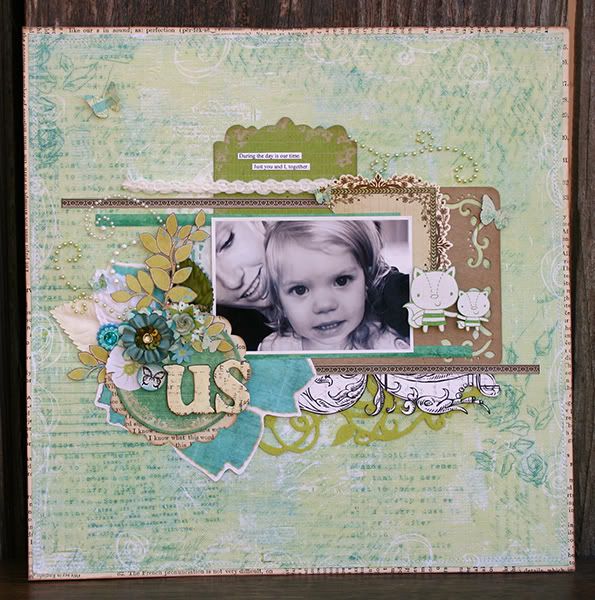 This LO is sized 8x8 and is probably one of my favs that I have ever made of that size. It was just a hap-hazard throw it together kind of LO, but I had a blast doing it! And those pictures of Creedence just crack me up, because those kinds of images are 90% of the shots that I get from her! She is a crazy thing when you pull the camera out.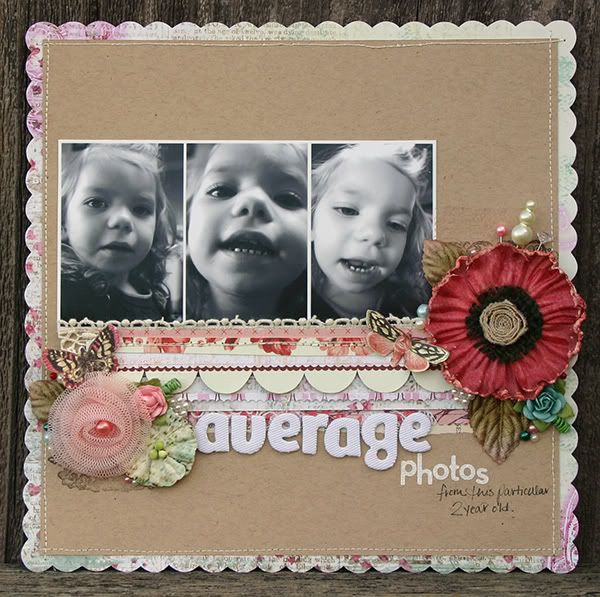 This LO was a struggle. Not to make, but to get back into my hands. I almost lost it, but fought hard to get it back here with me again. And I am so glad that I did, because this LO means more to me than almost any other LO I have ever made.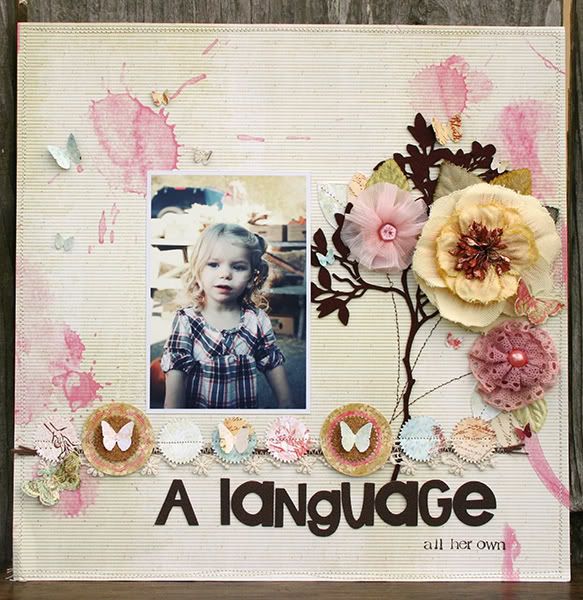 We have now left the realm of Prima, and have moved into Crate Paper! :D This little LO below (I really hope I can share!) I made for this last CHA, and am actually still waiting for it to debut on the blog, but I think it has been long enough that it is ok for me to show. :D I love this simple little LO.
The next Crate Paper LO I have here to show is this one. I love the colors. And I know my mom would have too. I miss her terrible, and that is why I made this LO.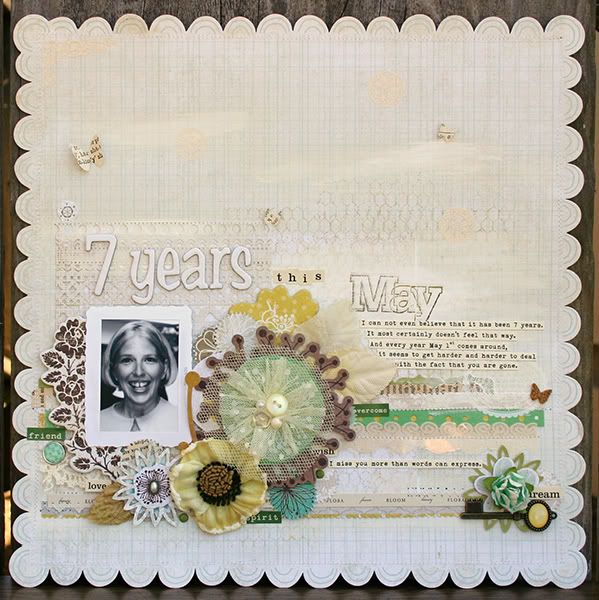 And these next three little frames I made just recently. They are the only holiday decor that made it up this year, but they brought so much happiness, that I still have them hanging in my room! :D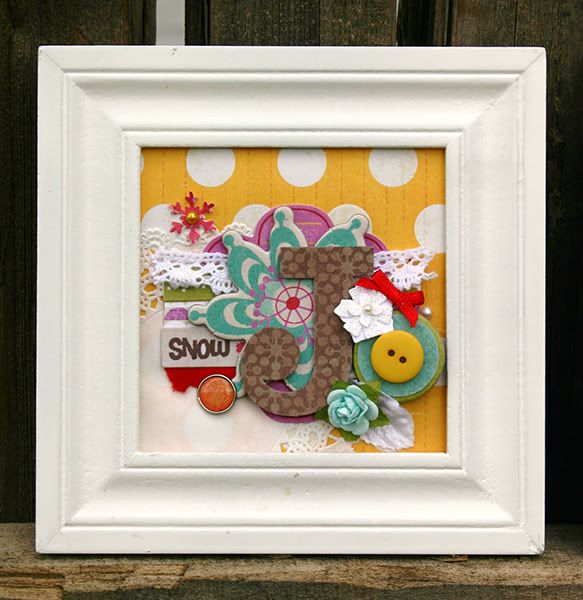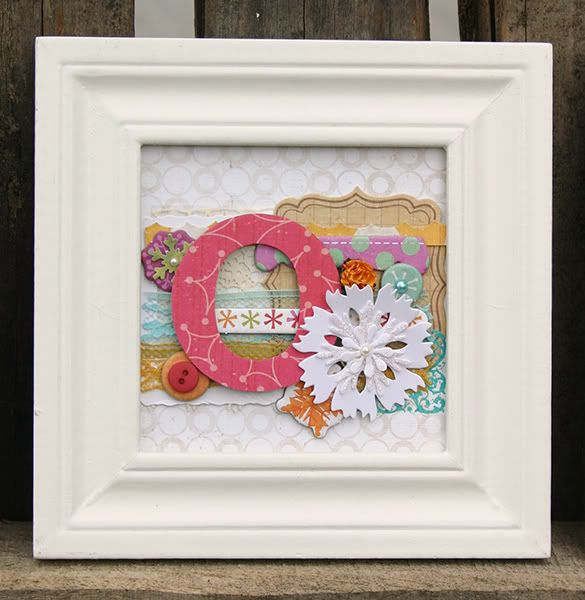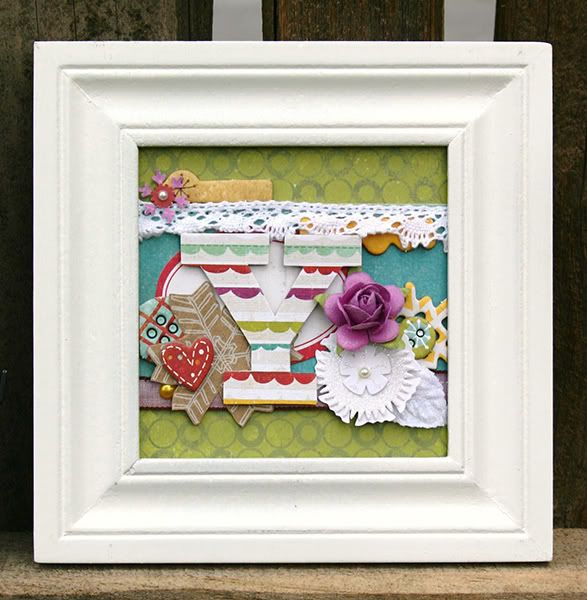 Even though I wasn't actually with Polka Dot Whimsy kit club for very long, there are several LOs I made for them that I really adore. :D They are all sized 8x8 or something similar.
And here we move onto all my Cosmo Cricket LOs! This first one is one of my absolute favs from this year! Love that Material Girl line!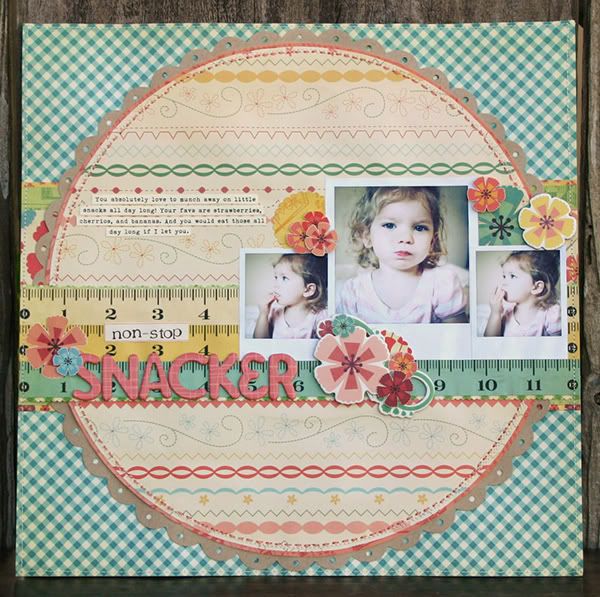 I love the picture on this next LO. And all the layers and paint on this LO were just a lot of fun to do. It just works. :D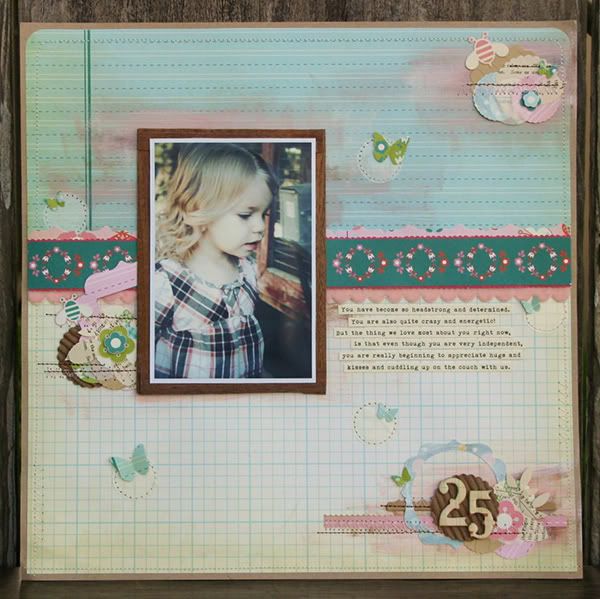 This next LO was a lot of fun too! The process of layering everything was very therapeutic! :D I love LOs like that.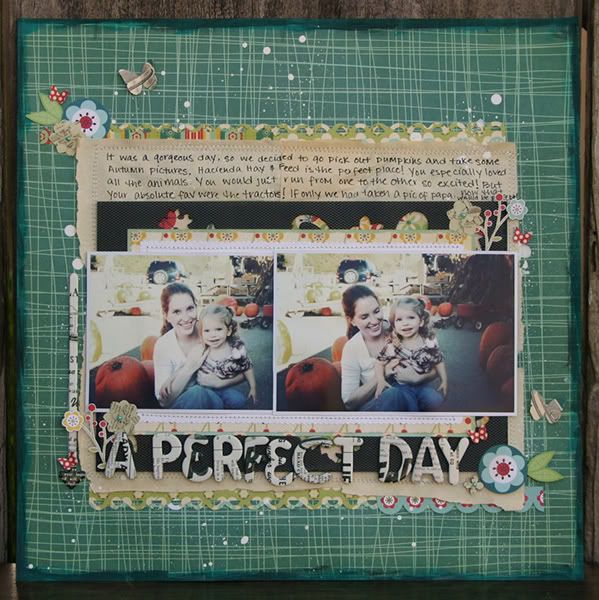 This little LO is simple and clean. And documents a new beginning for my little one.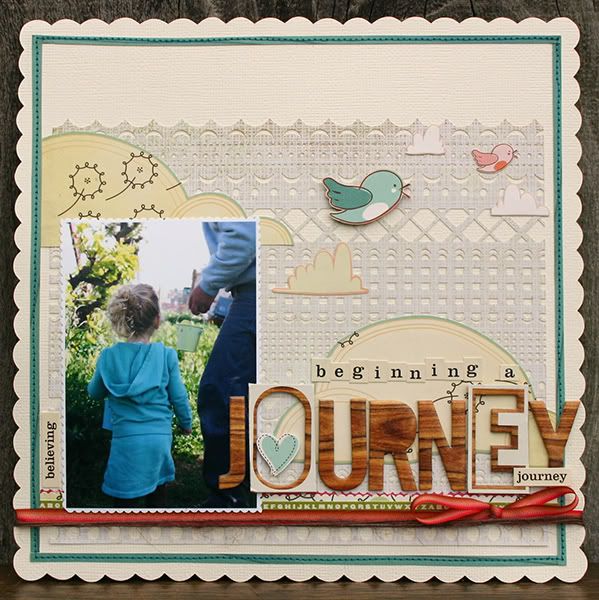 This LO was bought by Cosmo Cricket because they liked it so much, yet I kind of regret letting them do so because I really like it too!! I am going to try and recreate it soon, because I really miss it! :P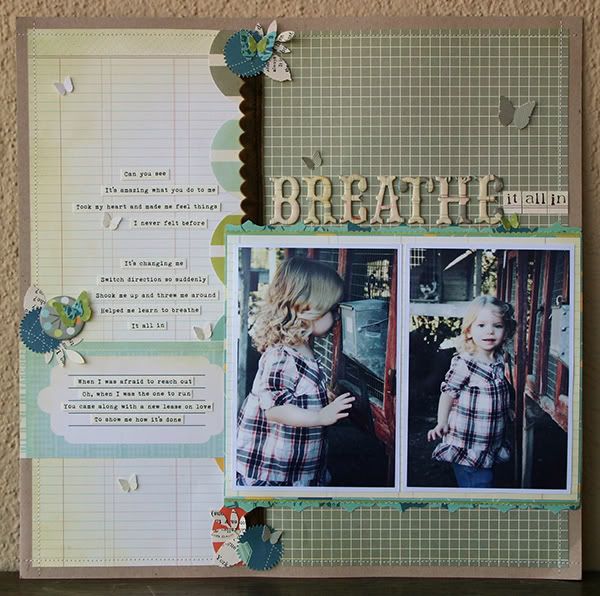 This is another little one, and it was a blast because I went overload on my punches! LOL! Certainly one of my favs from this year. :D
I was surprised at how well this LO turned out coming from the Joyride collection, which I didn't think would be a very easy collection for me to work with. But it is one of my all time favs. Love the colors in this collection!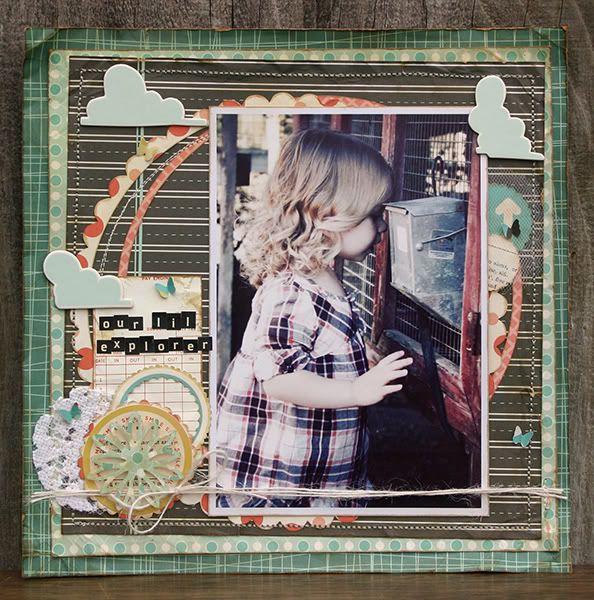 This is a LO I made fairly recently, and have it on display in my home cause it just makes me so happy! :D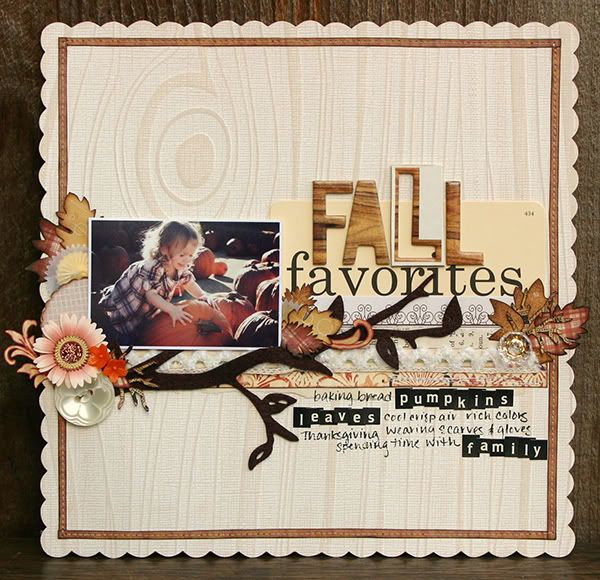 And this last LO for Cosmo Cricket just makes me feel at peace. Even though the subject of the LO is not peaceful at all! LOL! The colors are just serene and lovely. And those are some of my fav pictures of Creedence ever. :D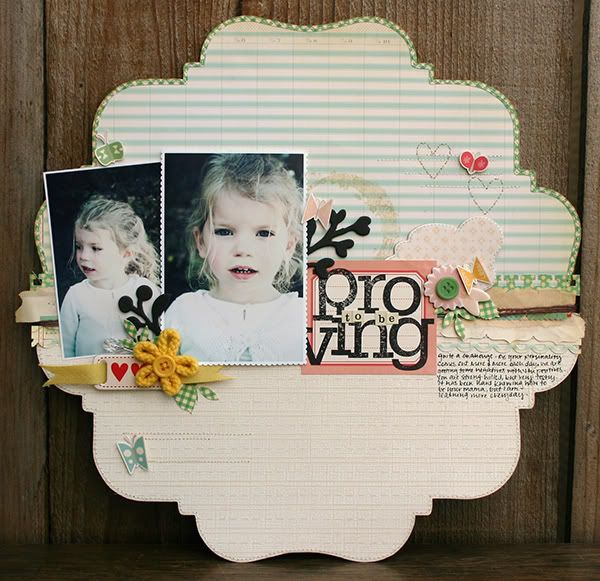 Last but not least, the first LO I did about our soon-to-be-here bitty one, made with Noel Mignon's Dear Diary kit. I poured my heart out on this LO because I needed to verbalize a lot of the fears and stresses that I had been feeling, in order to realize that this baby is such a blessing and that no matter what it brings will be wonderful. I think the biggest thing it will bring to each of us in the family is growth.