Hi! Wow! May came really fast huh?! I can't believe this year is going by as fast as it is. :P Well I have lots and lots to talk about today so prepare yourself for a long post! :D
First I am going to share some LOs with you so here we go:
About freakin time I shared my April LOs for Polka Dot Whimsy huh?! So without further ado:
This is a little hanging that I made for my daughter's room! :D That Webster's Pages paper was too cute, I couldn't resist! Although this has yet to make it up on Cree's wall, as I am soooo afraid she is gonna figure out something to stand on in order to get it down and rip it apart. She is that kind of kid. Always has been. But that means that her walls are bare until she can learn to leave things alone. :P
close up: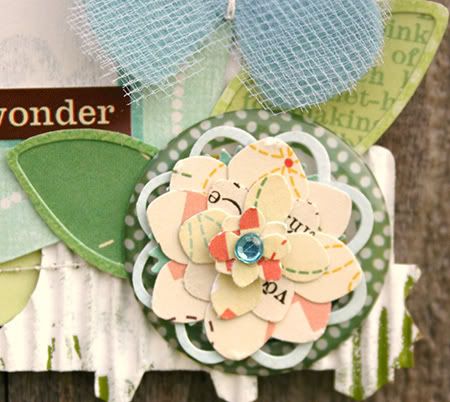 This next LO I absolutely adore! I love the colors. Love love love! I am going to frame this in my scrap area! :D That is how much I love this LO. The picture was the inspiration for the LO. It is a gorgeous shot by
Sue FitzGerald
, who is not only an amazing photographer but a stellar scrapbooker too! When I saw this picture of the daisy I couldn't resist getting her permission to use it on a LO! I love it! If she sold it in prints, I would buy one for every room in my house! :D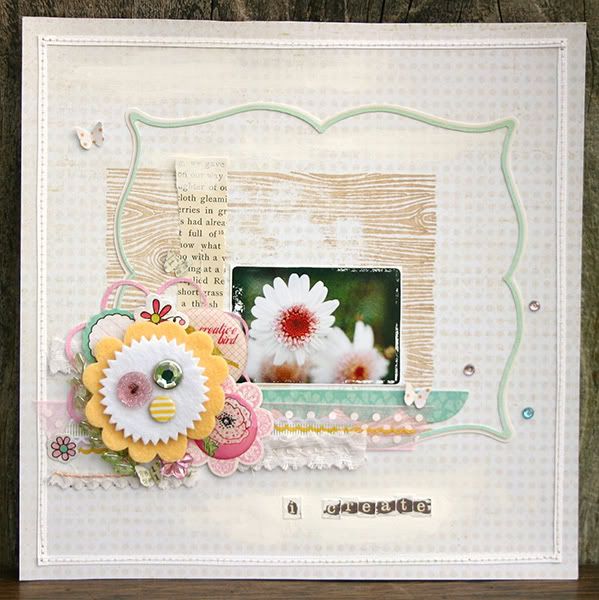 close up: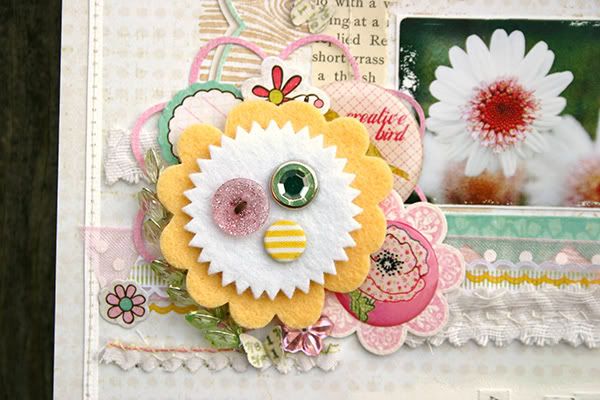 And this LO was so much fun to do! This is a picture of my Mom (on the left) and Aunt Patti (on the right) in 1977. When I found the photo in a box of photos I immediately knew I had to use it! And pairing the picture with the GCD packaging was perfect! The packaging has this super retro feel to it, so I cut out all the flowers and everything, and just love how it turned out. I wish my mom could see it though.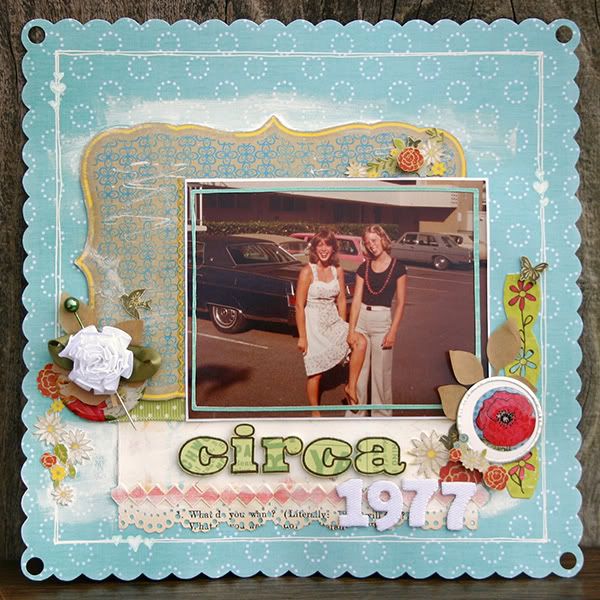 close ups: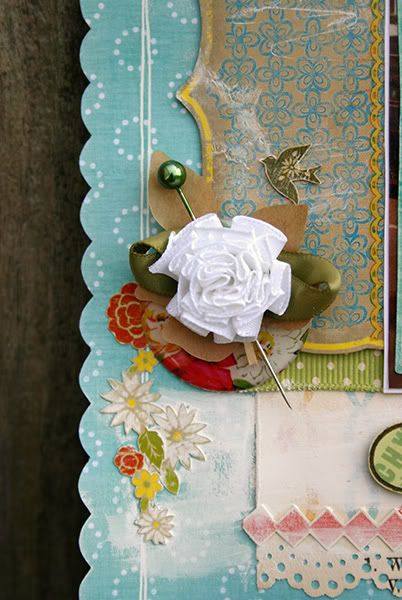 Onto my Cosmo Cricket shares from last Saturday's post on the
Cosmo blog
. I made these two little LOs (yes they are 8x8s!) to try and show ways of using your little scrap papers that I know we all have lying around! :D Or at least I do! LOL! *Funny note about my post this last Saturday-I didn't get my husband to proof read it before I sent it off to be posted. And it has seriously about
40 typos
in it!!! I was cringing and holding my head in my hands by the second paragraph because I was so embarrassed. LOL!
On the first LO I have used little strips of paper that were left over from trimming to create my border and a color pop! I also used the border strips -that I actually find a little hard to use (I just can't figure out the best way to get them on the LOs!)-and hand cut the little characters and shapes out to create my embellishments. :D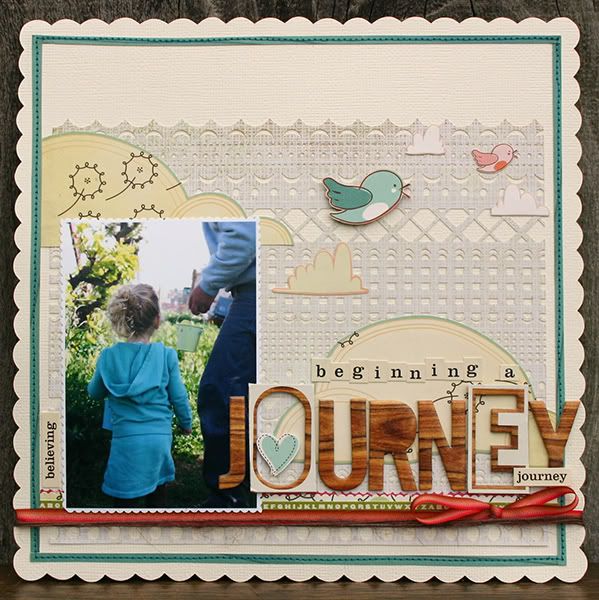 close up: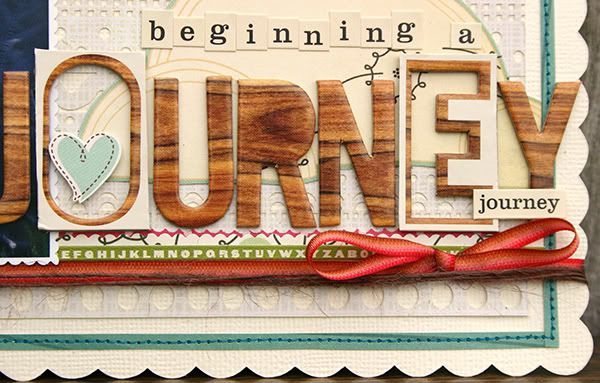 Supplies: Paper- Cosmo Cricket Nutmeg "Acorn" "Borders", Cosmo Cricket Nutmeg Mini Deck, Cosmo Cricket Girl Friday "Saturday", Cosmo Cricket Earth Love "Remember", Basic Grey Nook and Pantry Yellow/Cream Doily; Embies-Cosmo Cricket Girl Friday cardstock stickers, Cosmo Cricket Cream Tiny Type stickers, Cosmo Cricket Boyfriend chipboard letters, Martha Stewart ribbon, Studio Calico brown jute; Tools-Provo Craft Mini Scallop Decorative scissors
This next LO mainly uses punches to help get rid of scraps! :D This LO was a lot of fun to do. I used my Martha Stewart Starburst punch to create the circles for the border-I used a repositional glue to apply them to the large circle, then when they were in place I stitched around the whole thing. Everything else was hand cut or punched out in some way. :D Super fun!

close ups: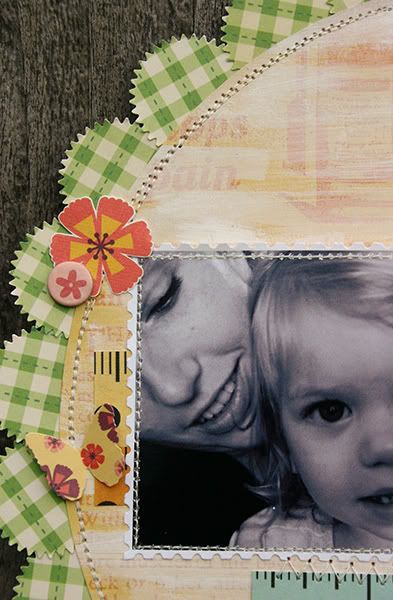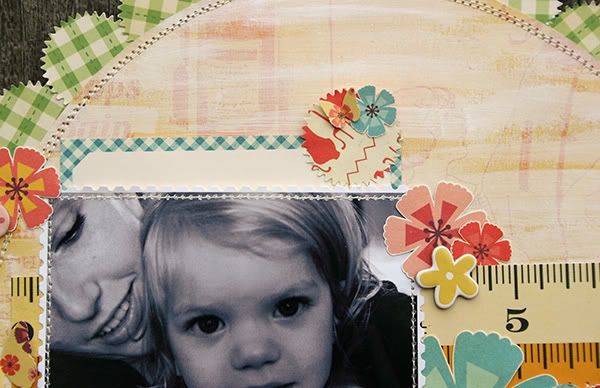 Supplies: Paper-Cosmo Cricket Material Girl "Measuring Up" "In Stitches" "Calico" "Tailor Made" "Inspiration" "Elements"; Embies-Cosmo Cricket Cream Tiny Type stickers, Cosmo Cricket Material Girl Ready Set Chipboard shapes, Cosmo Cricket Ready Set Chip Pink Oak, Prima Cameo Rose Mandarin, Prima Velvet Heirloom leaves Meadow; Tools-Martha Stewart Medallion punch, Martha Stewart Startburst punch, Marvy 1 1/2 in Scallop punch, Martha Stewart 3-in-1 punch, Provo Crafts Mini Scallop deocrative scissors
This LO is on the
Cosmo Cricket blog
today for a
color combo challenge
we have going on for National Scrapbooking day! I got the idea for the stitched grid from one of the LOs in
Elizabeth Kartchner's 52 More Scrapbooking Challenges book
. It was a LO done by
Cindy Tobey
. :D I loved the idea so I had to give it a try! It was tedious but I love how it looks! :D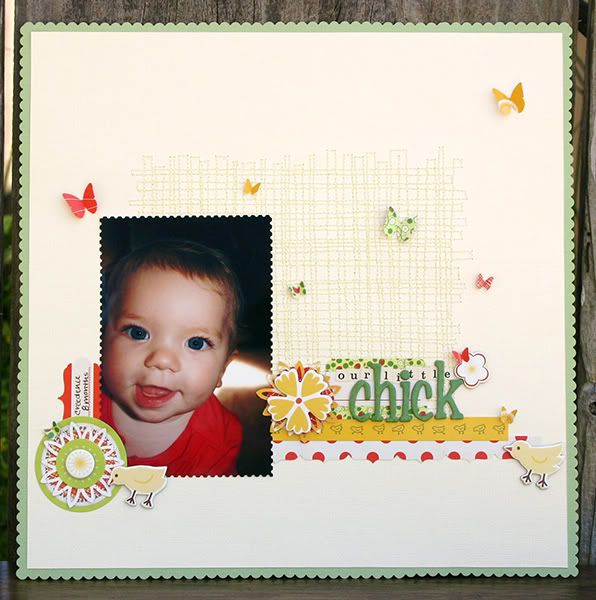 close ups: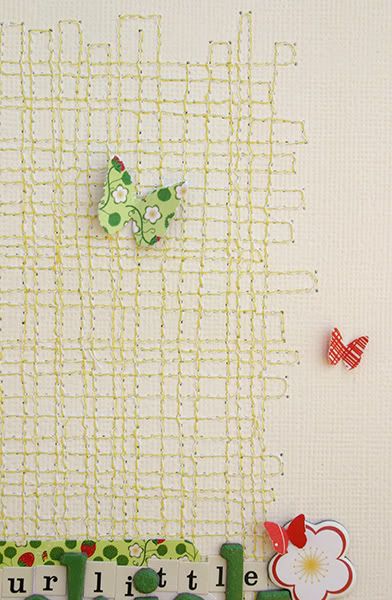 Supplies: Paper-Cosmo Cricket Garden Variety "Tossed Salad" "Sunshine" "Sunday Picnic" "Elements"; Embies-Cosmo Cricket Garden Variety cardstock stickers, Cosmo Cricket Garden Variety chipboard shapes, Cosmo Cricket Cream Tiny Type, Cosmo Cricket Material Girl chipboard shapes, American Crafts Nutmeg green Thickers; Tools-Martha Stewart Chrysanthemum punch, Martha Stewart 3-in-1 Butterfly punch, Marvy 1 1/2 in Scallop circle punch
So be sure to participate in the color combo challenge, because your name will be drawn for an awesome prize! It is a crafting kit for a BRAND NEW line that Cosmo is debuting on Monday! It is called Delovely and it is gorgeous! Bright, and sweet and perfect for spring! I am going to be working on projects all weekend for the reveal on Monday! :D Can't wait to show you! You'll love it!

And last but not least, I wanted to also tell you about what
Crate Paper
is doing for National Scrapbooking Day! They are generously giving away a "Super Pink" 16GB 5th Generation iPod Nano!!!! In order to have a chance to win it, you have to participate in the Blinkie Treasure hunt!!! :D Check out the
Crate Paper blog
to see who from the contributors are participating and all the official rules to be able to play! :D I really really wanted to participate in the Blinkie Treasure hunt as well, but forces were against me on getting my LO done! :P I wasn't happy about that, but there are loads and loads of projects on the blog from the other contributors to help inspire you this weekend!
Well I hope you all have had a great day! Done lots and lots of scrapping! :D I will be back tomorrow with hopefully some more LOs and to tell you all what I did today. Nothing exciting, just stayed around the house but it is a special day today for my family, so I will share tomorrow how I celebrated it. :D Take care!
~Amy