Sadly it is true. I decided not to reapply for this next year with Prima. So many things are going on at home right now, and with Cree's current schedule (with speech classes and upcoming appointments, and who knows what that may follow from those), I thought it was best to just let the door close when it came time.


I have had an absolute blast this last year with Prima, and am going to miss it sooooo much! (I know my bank account will be hurting for it as I love their products so much too!) I want to Thank Prima soooo much for giving me the opportunity to design for them this last year. It has been an absolute honor to be on the team alongside so many amazing ladies!
So without further adieu-here are my last Prima LOs.
These first two were actually made a really long time ago! But I am just now able to show them. They still haven't made it up on the Prima blog, but that is ok. :D On this first one I had two things that I specifically needed to work with: the Flirty Little Secret papers and the Caliope chipboard. Both are older lines, but still very gorgeous. I also was trying to do a more grid kind of style, and actually really liked how it turned out-until I added the journaling strips. :P Now I really regret it. Oh well. Nothing will ever be perfect. LOL!

Supplies: Paper-Prima Rue 88 "Rendezvous", Prima Breathe Collection, Prima Flirty Little Secret "Ruby" "Frock", Prima Steel Toe Mary Janes "Her Perogative"; Embies-Prima 4 Seasons leaves, First Blush Rubons (Michael's Exclusive), Prima Lace Madeline, Prima Caliope Chipboard, Prima Camelot Roses Victoria (little green flower), Prima Dandies Flower, Prima Cabbage Rose Amber, Prima Cabbage Rose Light Pink, Prima Nursery Tales Green Rosette (Michael's Exclusive), Prima Windsor Rose Hampton; Tools-EK Success tiny dot border punch
And this is probably one of the only cards I have ever made that I like. :P LOL! I really am not good at making cards, and am quite embarrassed by the fact that this card took me about a week to do. Oh well. It is sweet, and I like the color pops so it was worth it. :D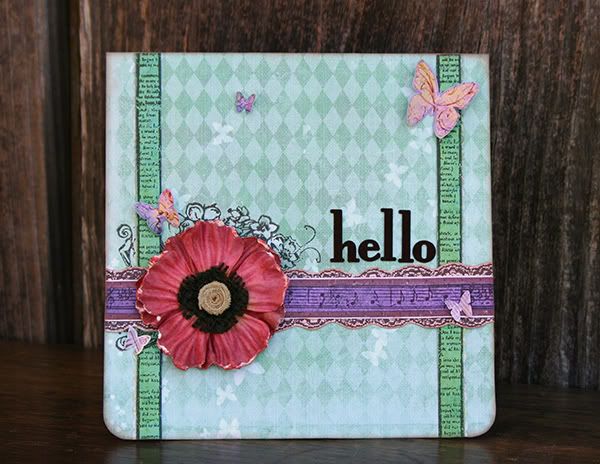 Supplies: Paper-Prima Indeed "Delighted" "Lilac Breeze" "Enchanted", Prima Paradise City "Fruity Jungle", Prima Flirty Little Secret "Memoirs"; Embies-Prima Whispered Words Flocked Alpha Brown, Prima Build A Frame Collection II Stamps, Prima Parlor Petals Dusty Rose
Next up is the LO I did for this last BAP. It went up on the blog a little bit ago, but I am only just now showing it. Whenever I pull out the camera anymore, these are the kinds of photos I get as she wants to be as close to it as possible so that she can see when the picture comes up on the back. Too funny! It is sweet, but makes for some pretty blurry and intensely close up photos! :P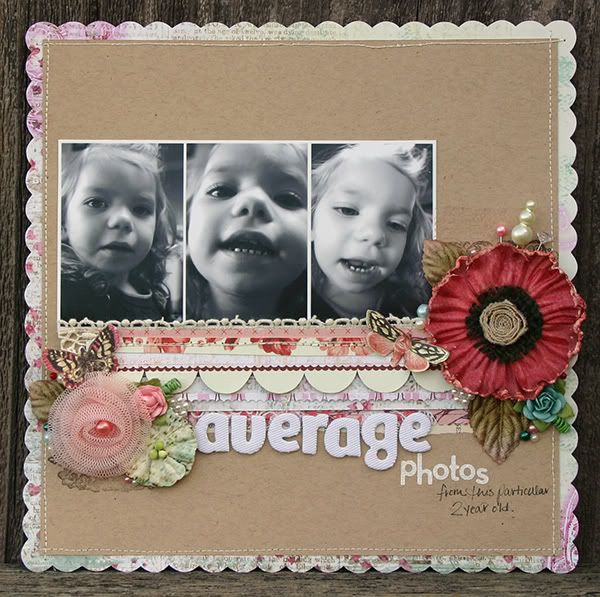 Supplies: Paper-Strawberry Kisses "Summer Picnic", Prima Paradise City "Island Beauty" "Fruity Jungle", Prima Wink "First Love", Prima Shabby Chic "Morning Poetry" (butterfly), Prima Shabby Chic "Majestic Breeze" (moth); Embies-Prima Newsprint stamp, Prima Tiny Frames stamp, Prima Eline Pearls Midnight, Prima Madrigal Maestro Mauve, Prima Parlor Petals Dusty Rose, Prima Michaels exclusive Spring Mix rose, Prima Gallery Roses Pierre, Making Memories Vintage Findings pearl flowers, Making Memories Metro White glitter alpha stickers, Making Memories Vintage Findings crystal pin, Basic Grey Opaline Rose pearls, KaiserCraft Rose pearls, Prima Heirloom Velvet leaves Meadow, Basic Grey Opaline Turquoise, Prima Lace, KaiserCrafts red pearls, Singer pink stick pin, American Crafts Delight thickers White
This LO I created just before CHA, so it has all older products on it. I only just recently got it in my galleries and such. It is about my husband. He is so wonderful. We have our bad days, more often than either of us want, but he is my best friend. Meeting him saved me from so many disastrous paths I was on. I am so lucky to have him. He says that he thinks he is too manly to have so many flowers on a LO about him, and said just for the sole purpose of making me laugh. He says so many things like that which leave me cracking up for hours. I had started with just a few things for this LOs color scheme, but as I kept searching in all my stuff I kept finding things that would fit, including the flowers, so I couldn't stop! LOL! The tab on the top of the photo is actually connected to a tag that pulls out from the back of the photo for journaling. :D This LO was a lot of fun to do and yes it is another 8x8 to add to my collection! LOL!
Supplies: Paper-Prima Blooming Retro "Origami Gardens" "Apple Tree" "Raindrop Sprinkles", Prima Rebellious "Toxic", Prima Youth Transparency "People"; Embies-Prima Gallery Roses Quillen, Prima Bonnet Blooms Gold Leather, Prima Artistry Flowers Scribe Trio, Prima Raja Center Red, Prima Raja Center Pewter, Prima Youth Epoxy stickers, Prima Felt Stems Cream, Prima Flower Center Classy Chipboard, Prima Canvas Tag, Prima Youth Rubons, Prima Wanderlust Pebble, Prima Red alpha, Maya Road Pewter pearl pin, Jenni Bowlin Reverse Black letter stickers
And last, but not least, my final LO. This LO makes me both happy and sad at the same time. I am happy that I have this LO, the colors I am absolutely thrilled about! Creating it was very freeing cause I just did what I felt. And it is about my dear daughter's made-up language. But I am sad because it reminds me of two LOs that I do not have anymore. Two that I will never have again. I created three for CHA, and only got this one back. But I am not going to dwell on that anymore. I really truly am very grateful to get this one, of all of them my favorite, back in my hands and to have for my daughter to be able to look at when she gets older. (I will just say that I have learned my lesson sooooo intensely that it really is essential to photograph your LOs before sending them off for CHA! And to create things for CHA that it really would be ok if they didn't get returned. :P)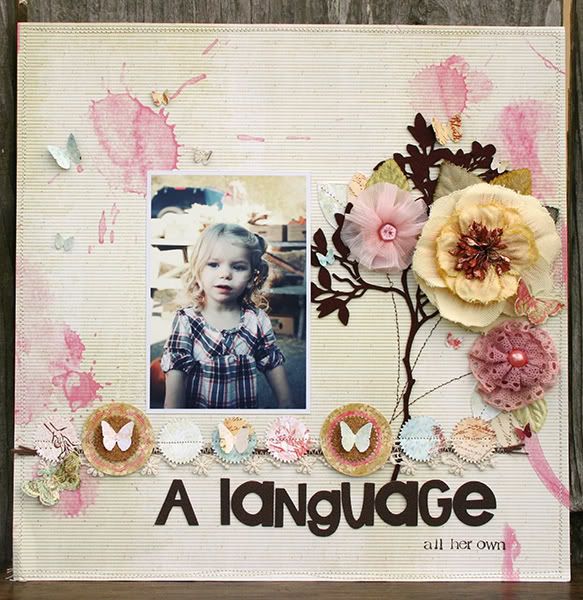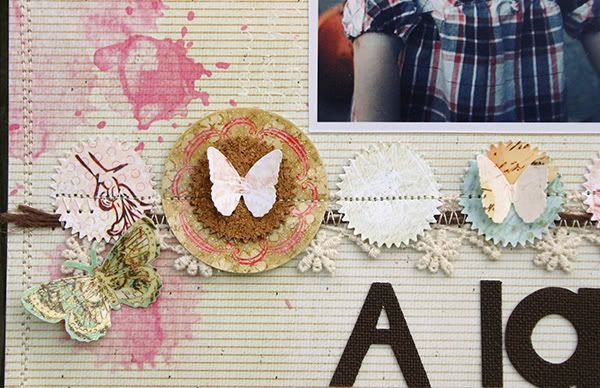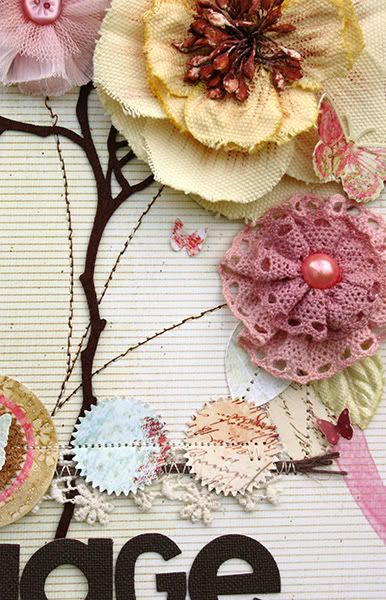 Supplies: Paper-Prima Shabby Chic "My Lovely", Prima Pastiche "Vintage Garden" "Love Letter" "Butterfly Wings" "Seaside"; Embies-Prima Raspberry Tea Glittered Stickers, Prima Devines Orchid Bush, Prima Alphabet Mocha, Prima Lace Nikki, Prima Madrigal Blossoms Maestro Mauve, Prima Calcutta Petals Maize, Prima 4 Seasons Velvet Leaves; Tools-Martha Stewart Starburst punch, Martha Stewart 3-in-1 Butterfly punch, sewing machine

Well that is it! :D There is a little pain in my heart that I won't be designing for them anymore (that is if I even made it again! :P), but it felt really good to go through all my stuff and down size my Prima stash finally! :D And you know what that means? I will be having a giveaway soon! :D That's right! It probably won't be for a couple weeks as I have quite a bit of other stuff to go through too, but I am getting the boxes together!
My next post I will be sharing my April Polka Dot Whimsy LOs with you! I should be getting my May kit in the mail about that time so hopefully I will have some sneaks for you too! Take care!
~Amy