:P so I am finally sharing on here where I work. Play. Scrap. whatever! I have a corner next to the kitchen and am quite ashamed that it has spread so far!! And that is not all of my scrap stuff. I have boxes and boxes of stuff that I keep meaning to give away to somewhere and also I have a closet with two 14 drawer tall rolling things (each drawer is between 2 and 3 inches tall), and both of those are jam-packed with stuff that I haven't touched in probably about a year! I am
not
joking!!! Really it is crazy. The only stuff I really do anything with are my DT stuff or kits. Which is sad because I buy stuff that I really like and tell myself that I really will use it, and then it just sits there and I feel really bad. Sooooo That is why I am taking Shimelle's class!! For this simple common sense rule that I have but for some reason can't seem to follow: I need to use my stuff. :P
Now the first challenge in the class is to show our stash. All of it. Well as I really don't want to go there because I know I will just be depressed-I am going to show my work area, which houses the majority of my stash. At least the stash that I would like to use. :D *That is a really big grin smile there!*
So here is my desk. The first shot is of my messy desk yesterday, and the second is of it cleaned up this morning. :D It got ravaged with my last few projects. I usually do a pretty good cleanup when I am done working on something, but it is not always possible, as I work on several things at once, which also makes my desk ten times more messy because I need that much more out.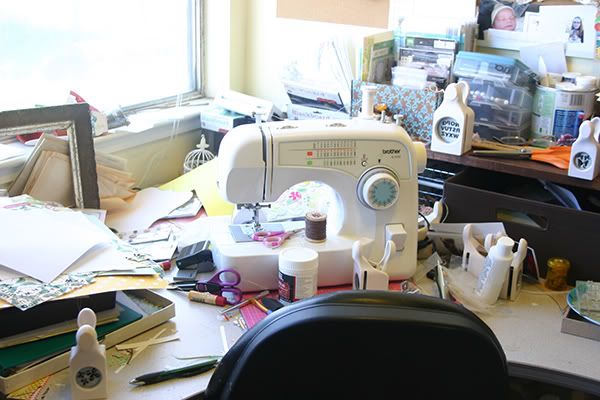 See: Nice and sparkly!! :D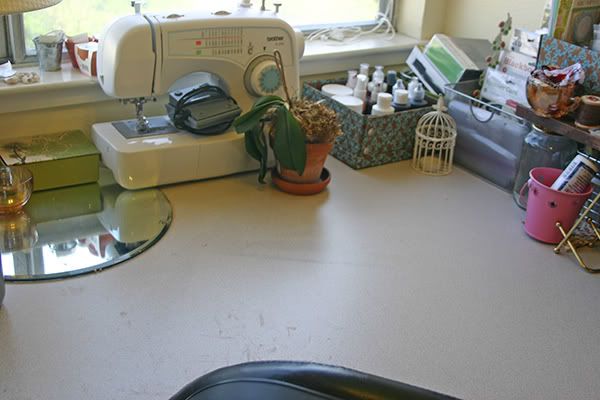 And this picture right here is of my little shelf that I created on my desk. I used a shelf from my bookcase (which you will see in just a minute) and glued spaghetti sauce jars to the bottom (only because I had lots of those on hand) and created this shelf. It works perfect for me. Uses what I have and I don't think it looks all that bad. Now all the junk I have put on it and under it, now that looks bad! :P But it works. I have all my sticker alphas and packaged cards (October Afternoon wild cards, Jenni Bowlin calendar cards, Elle studio cards, and blah blah blah) in the blue/brown print box on the far left top shelf, plus some journaling cards that have never been opened. I just like the way they look. LOL! Also it holds all my patterned Basic Grey chipboard alphas. Then the little snap container next to it on the right holds all my pens, little tools like exacto knife and bone folder, my paint brushes and sharpies. The next container over (which is a cleaned out baby formula container-using the good stuff, I know. LOL!) holds all my
Crafter's Pick The Ultimate glues
-upside down. :D Love that glue!!! And then next, as you can see, are colored pencils, regular pencils, and my necessaries bin-hand lotion, chapstick, and glasses. On the bottom, under the shelf, I have, starting at the left, a basket that holds all my self-adhesive and not self-adhesive rhinestones and pearls, and all my decorative stick pins. And I am addicted to these, so I have about 40 freakin million of the same things over and over in this little basket! Love em. Then next is my paperwork holder. I keep my to do book, lists and whatnot in here, plus my calendar, and all the things I have printed out for inspiration in a binder, and another binder for sketches. It keeps it all in one place that I can slide out easily-if my desk is clean. :D
Next up is my book shelf!!! :D I love this thing. And wish so much I had another. (and in case you were wondering-my husband stained the shelves but didn't make it to the actual bookcase unit so it looks a little funky.) It is located to the right of my desk. This bookcase actually has 6 shelves in it, although I only pictured 4. The 5th is under construction and the 6th pretty much just sits there filled to the brim. The bottom shelf holds a bin of my mini albums and another which holds all my 8x8 papers. Too much for words in regards to both of those things. The 5th shelf holds my papers, although I just changed that kinda. It holds part of my papers and then also will hold my kits. That I desperately need in sight so that I will use. :P The rest of the papers got moved to under my desk-which is a scary place right now. The rest of the shelves are pretty much explained by the picture below. :D I am so proud of myself that I figured out how to do that. LOL!
And here, to the left of my desk, is where I keep all my papers for DT work and all my personal stash embies. I keep my papers in the postal boxes with the tops cut off and in files within the postal boxes. Another on had fix that works for me. It looks a little unsightly but no one really ever comes over to visit who would care about it. LOL! :D These are how all my papers in my bookshelf are too. And it was jampacked from one side to the other. :P The drawers below are mostly organized, the second shelf is a mad house and I really don't open it for fear of everything flying out at me. Organizing it is my next task. The first drawer holds my tools. Not that I really have many. I have a cropodile, and 4 deco scissors. And a couple hole punches. The rest of the shelf is made up of pop dots, other glues and refills for my exacto knife.
This is the third drawer. I have all my flowers (other than Prima) and mainly sticker die cuts on the far left. All my rubons next to that, right. I just expanded to put some of the bigger stamps and overflow further right. And then finally the big stamp and ink box on the far right. Lots that I never use.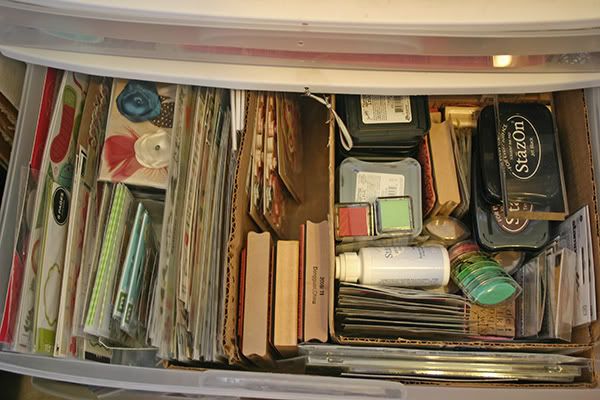 And the fourth drawer (which for some reason will never fully close) has all my chipboards on the far left, and all my brads, metals and buttons on the right. (Are you likin that Studio Calico box in the top of the photo?! ;D I love those boxes! They are so good for everything!)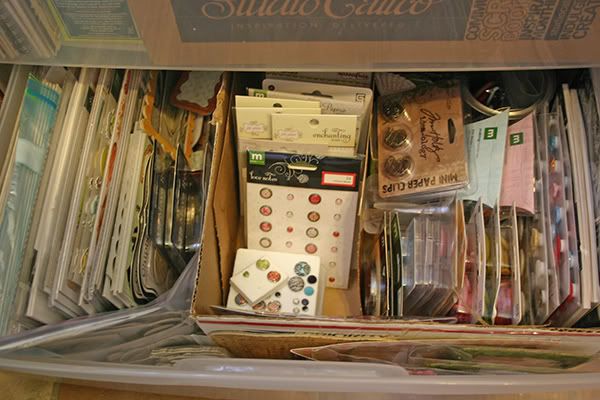 Ok and last but not least the little drawer storage that is under my desk. :D It holds my punches in the top shelf, my ribbons-sorted by color-in the middle shelf (in those oh so fancy spaghetti jars again), and all my alpha in the bottom shelf-mainly American Crafts and Making Memories.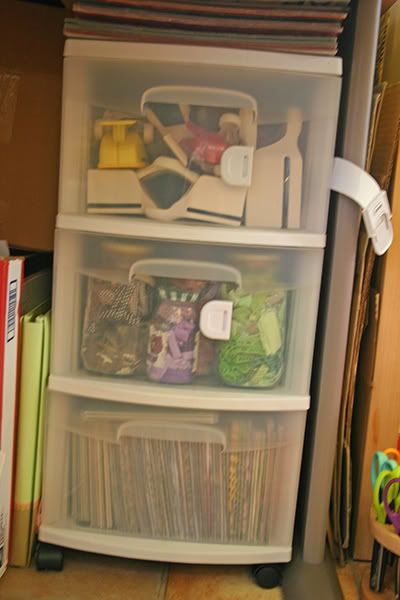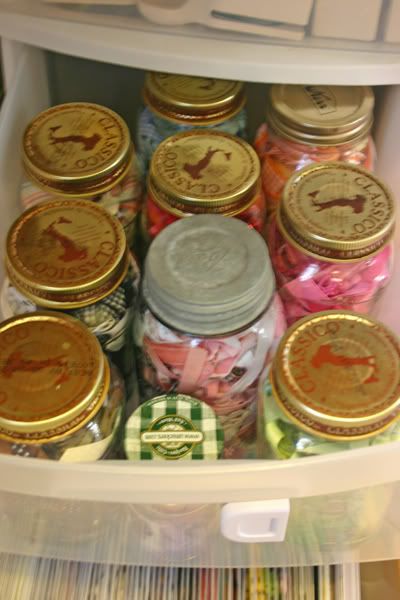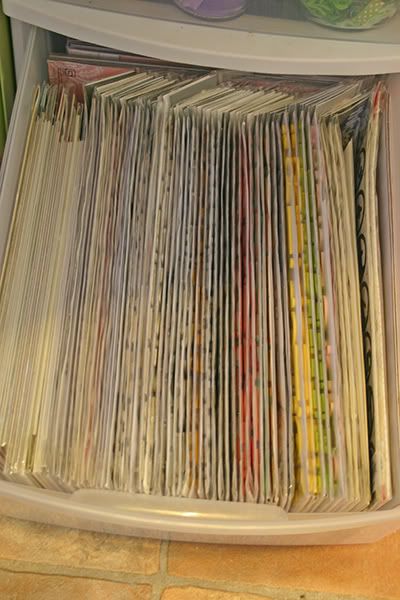 Yay! I shared my mess with the world! Now what you don't see here is a huge-I mean HUGE-stack of stuff that doesn't have a home, and the mess under my desk that is so bad I cringe, and sometimes have trouble getting my legs under because it is so crammed. :P Mucho work needs to be done on that. LOL! Now if I could only just convince my husband that I need my own room for all my stuff then I think my problem would be solved! But then I would have more space to add more to my stash and seriously that is not the solution here. :P