Hi. This post believe it or not has been in the making for almost 3 weeks. This has been the busiest month we have had all year. Weeks went by in a blink for me and I am still not sure why. Anyway, I am here now and I have some things I did a little while back to show you. These first projects were done with my very first
Label Tulip
kit. This is the August kit below, which they actually still have some available for purchase! I absolutely love the papers in this kit! I bought a second set of the papers at the time of purchase, but when it came time to order my September kit I went ahead and bought another set because that is how much I love them! hehe I'm silly I know. If you are not already a subscriber to them, I
highly
recommend it! The wild color combos yet awesome style of them makes them perfect for doing all sorts of things! (As you will see comin up in the pics)....
This is a little card I did. It's my owl card. I really like this one. It makes me smile. Oh and those are supposed to be feathers in the talk bubble.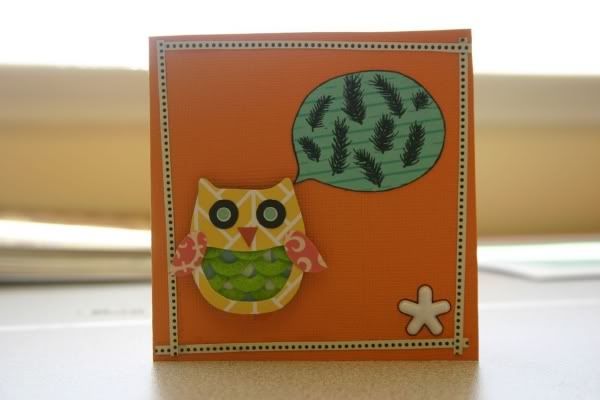 This is the inside of the card. I did flocking for the first time on this card. I don't know if you can see it on the astrick or not.
This is another card I did. Again this one makes me smile. I used every piece of paper for this one. And I really think they do look awesome together. I wasn't sure how to use this bingo card, so why not throw it on to make an inspirational card, huh? Good idea to me.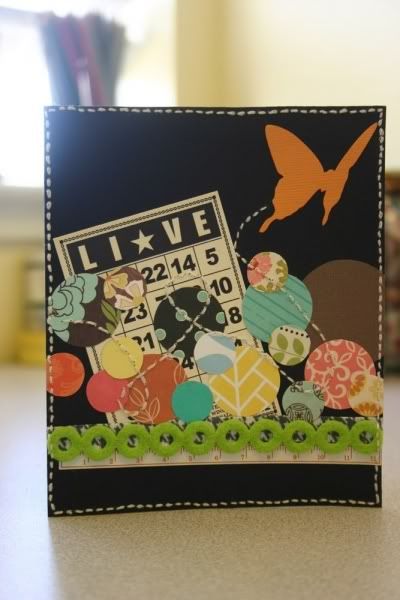 This is one of the packages that all the papers come in. They are these great pocket/folders, and so I thought why not reuse one? Now it is made to hold all the pics of Creedence before she was one, that way I can just grab them and know which layouts I still want to do. This one again has every paper from the kit. And if you look carefully I used the exclusive stamp to create a pattern on the paper for a background.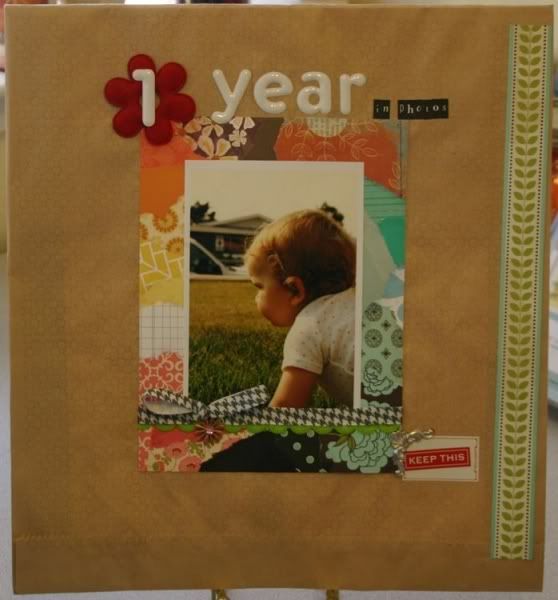 This is the back view. I used two of the chipboard embellishments backed with clear buttons to make a tie for the ribbon to go around. That way I can just use the ribbon to close it up!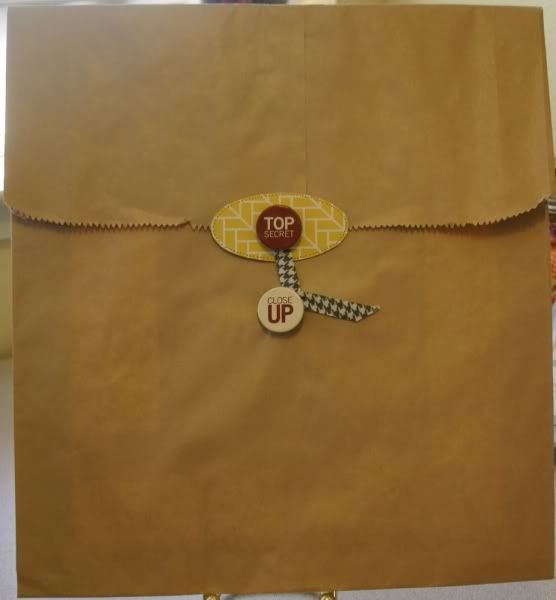 This is a mobile I made with all the papers. The holder/circle thing is kinda cheesy but that was all I had to be able to use. But I really love this project. I intend on doing lots more of these in different animals and what not. Sorry for the bad pics of it. I will redo it sometime soon. Each owl has a different front and back from the rest of the owls. (And still not all the papers were used!! Man there are lots of papers in these kits!) I used the rest of the chipboard embellishments for the bellies kinda + two of the apothecary stickers. The ones with the large bellies didn't get background bellies because there was no point, you wouldn't be able to see the pattern on the background belly. I also cut out wings and eyes?kinda. On top of the paper eyes are buttons for the real eyes. And teeny triangles for the beaks. Again all of the owls are different from the rest! So much fun to mix and match! Once everything is glued to the front pieces then I stitch them together, but before I do the last quarter of the stitching I stuffed em with foam! That way they are poofy! Oh and make sure that you run the string through before stitching them up as well or else you'll need like a crochet hook or something to get them through. Then in the middle of the two sets of owls I have 4 teeny circles just big enough to have the letters O W L S on each. Yay for cute mobiles!! I'm thinking my next one will be butterflies because I have some awesome butterfly chipboard that I am going to use as templates!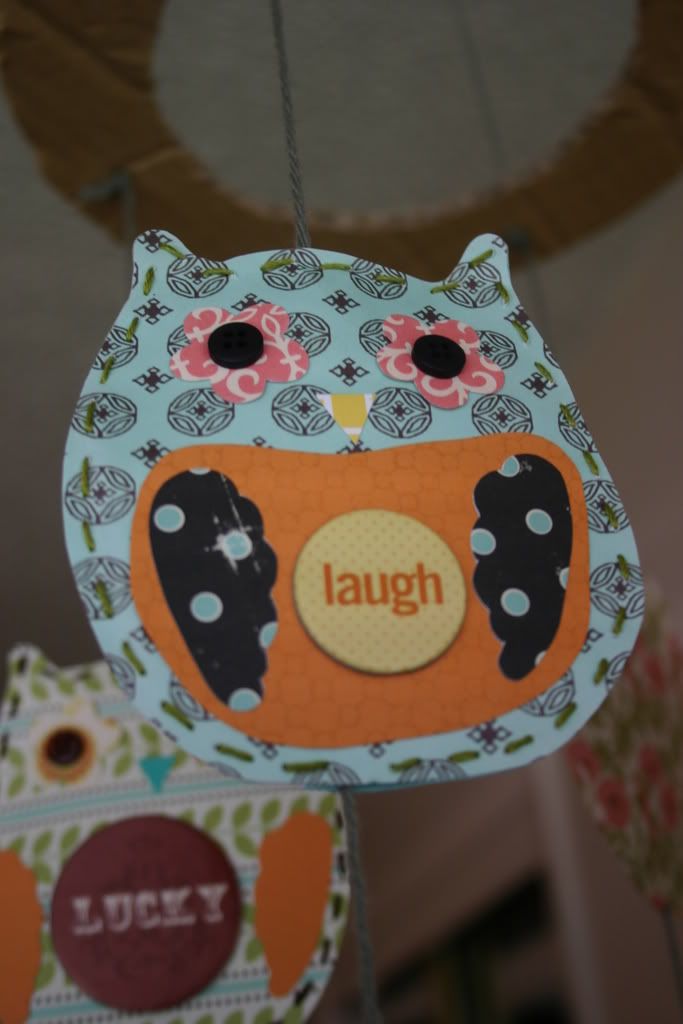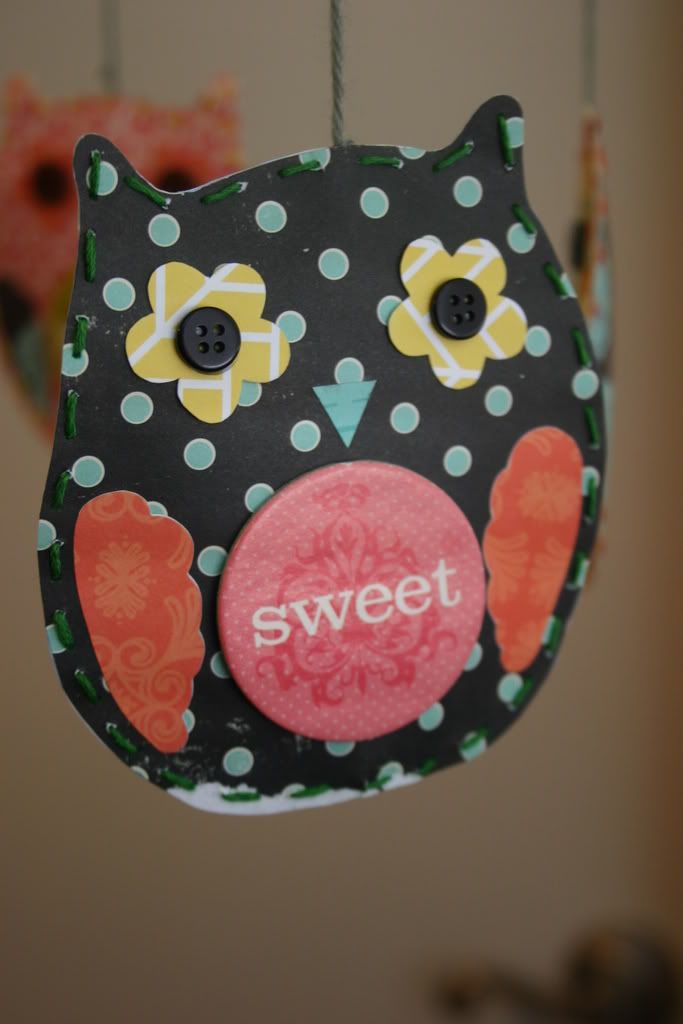 This is a LO I did with my own personal stuff. A huge mix of brands on here plus some vintage stuff. I really love the colors on this one. Really love it. It took me like three hours to come up with the sketch and set up but once I got it, the whole thing came together perfectly and smoothly. Which makes me like it even more.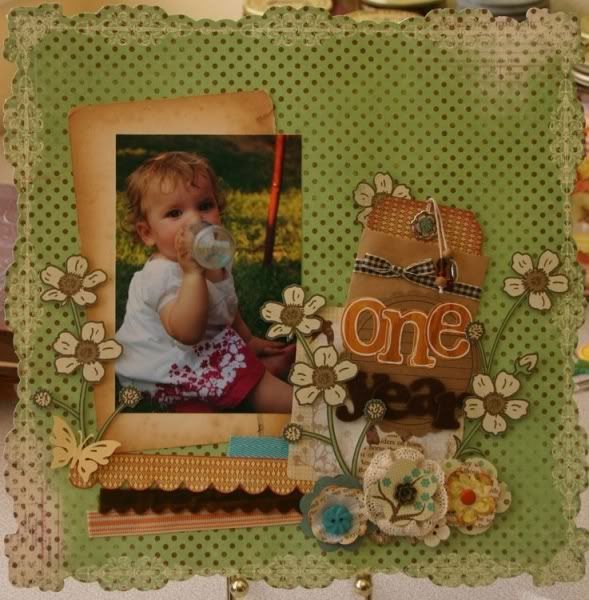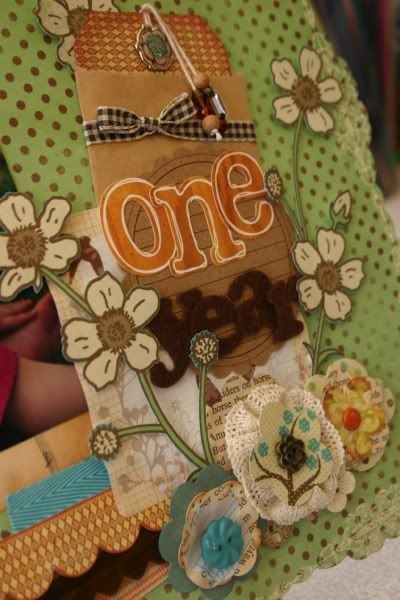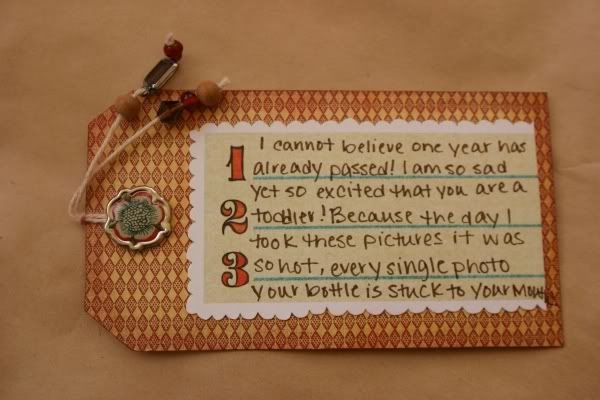 This I did with my Septemeber kit from
Red Velvet Kit Club
. All the papers and the ribbon are from the kit. Everything else is a mix of things that I had laying around. I did this with a protective sheet that I stitched into 12 sections. At the top of each section I cut a slit into the top layer for a picture to fit into the pocket. It is backed with a patterned paper just with brads. The embellishments on the clear sheet are both on the front and back. I made this so that I could stick a picture of Creedence in each pocket for each month she gets older. As a SAHM one day blurs into the next and I don't really see when she changes. This allows me to see her grow! I tried to make it look like each pic would be in a forest! There are a whole bunch of close ups. I really like this project and want to do another but I need to figure out what it will be for first!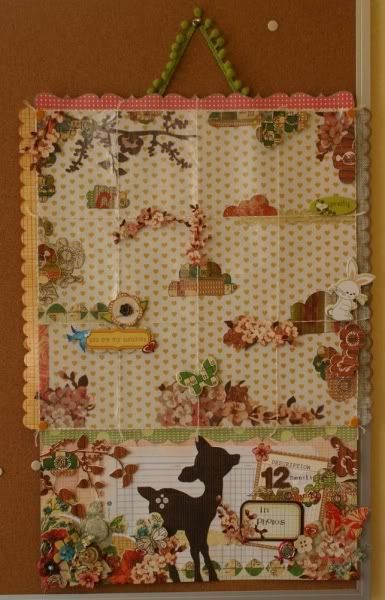 These are just some random pics I took of Creedence on a recent road trip. She is in her new car seat and with her new sock monkey in this first photo. The next two are of her just being a wild toddler.
Well that is it from me. Nothing new going on here. Doing lots and lots of scrapping with my new
September Label Tulip kit
. Everything is sold out now, it went so fast! But if you are a subscriber you get to preorder so I made sure I got everything! I have done 4 LOs so far and still have massive amounts of stuff!! I can tell I am going to be working with this kit for a while! Hope to have some pics for you soon enough. Take care! ~Amy~