Oh my goodness!! Look what I got in the mail!! I got so much stuff! I felt really bad for our mailman, who is a walking mailman mind you, because he had to carry an extra bag with him just to hold my packages!! Oh goodness I felt awful. But he didn't seem to mind. I was so absolutely giddy after I took the packages and closed the door. I ripped all the packages open in like a minute and a half! This is the first time I have ever got
scrapbooking
stuff online, so forgive me if I seem silly. I just am!! So I will slowly go down the list of these special things and their millions of photos to accompany.
First up is a huge package I received from
Scrap Attack

Scrapbooking
. They are a great online store that I look at quite often look at and drool over fondly. I checked out their blog one day and they had a post that caught my eye. It was this
post
. I couldn't believe what I was reading!! I was so excited about the Sassafras Lass mystery box that I bought one right then and there! I had no idea what was to come in it but seeing as I didn't own anything Sassafras Lass I knew that no matter what it was I would love it! And even better you get entered into a drawing the more boxes you buy! If you are picked you could win the ENTIRE collection of NEW
CHA
GLITZ papers! Sounds fantastic to me! So as they say the boxes will not disappoint and goodness knows mine didn't. Just look below at the many things from Sassafras Lass I got.....
Look at that stack!!
The Royal Bliss Collection
The Felicity Collection

The Scrumptious Collection
The Indian Summer Collection
Some of the Blue Boutique Collection
Some of the Starry Night Collection

A couple Dapper Dan papers

Some of the Orange A Peel Collection
Rubs
Ons
Cardstock
Letter Stickers
And these great jumbo brads from Queen and Co.
Now you gotta admit that is pretty damn good for 35 bucks. I am almost tempted to buy another one.~

This loverly set came from Label Tulip. It is a RAK I won during their One Year Anniversary Bash thingy! Sorry the pick isn't that great but the little kit is perfect! It has such a wide variety of brands in it, from DreamStreet to Webster's Pages to Sassafras Lass! It's kinda hard to tell but all the papers and embellishments really do go together superbly! I can't wait to do something with it all! Thank you so much Label Tulip!! BTW you should really check them out if you haven't already. They are an amazing kit club with some of the best talent I have seen yet. I have not subscribed to them yet but I will be this next month! So exciting!~
This gorgeous kit is from
Scrapbook Circle
. They are the first kit club I have subscribed to and they have wonderful stuff! They give a great wide variety of kits from month to month (as far as I can see on their previous kits) and they have some really awesome people on their design team! In this kit I got papers from Heidi
Swapp
, Making Memories and October Afternoon. I love the color scheme in this kit and the whimsical yet romantic feel of it.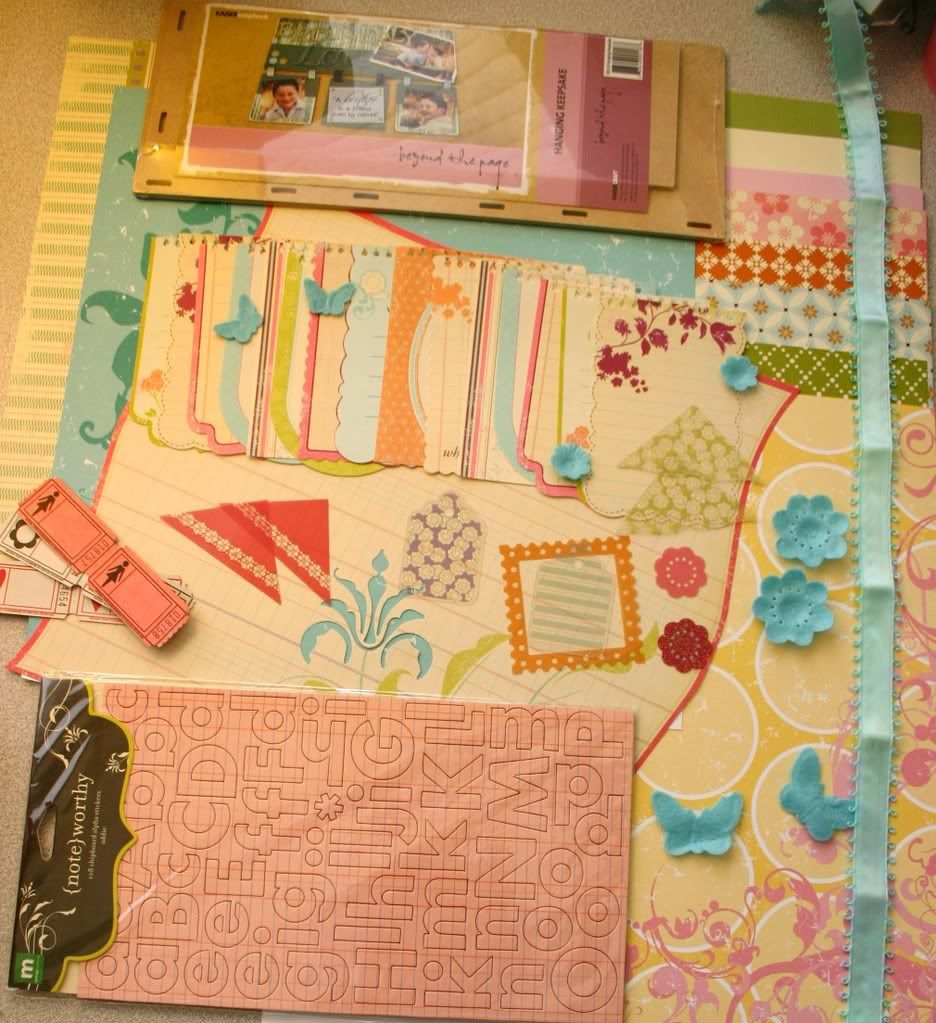 Close up of some of the embellishments...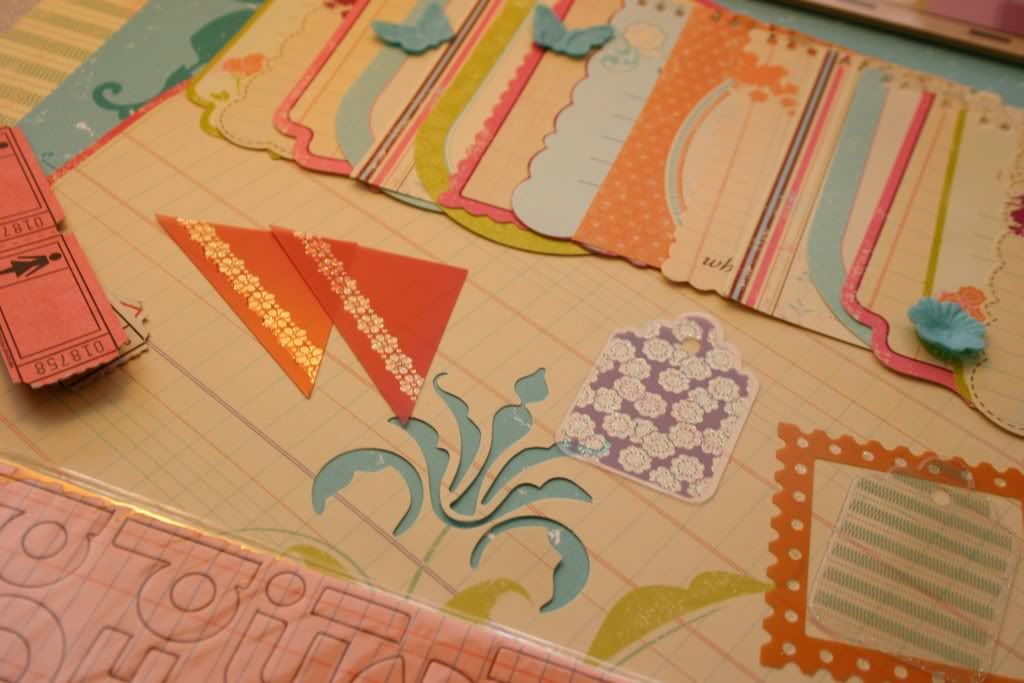 Look at how many
journaling
tags came with it!!
and a close up of some of the papers. They are so gorgeous.
Needless to say I am very happy with this kit! Hurrah for Scrapbook Circle!~

This next kit comes from PaperMinx. They are a brand new kit provider and has some out of this world style which goes into their kits! It is very retro vintage. I don't know if that is an oxymoron or not but it makes sense to me! I have loved this kit from the moment I saw it and have been loving it even more since I got it! There are so many amazing one of a kind things in it! And so many embellishments oh my goodness!! You'll just have to look at the pics.
A pic of the whole kit and caboodle.
A pic of only some of the great embellishments.
A pic of some more of the great embellishments. Look at that
Black Apple
bookplate! Isn't it awesome!
I love those fabric covered brads!! I love those! Did I say I love them? (BTW if you want to know how to do those then go
here
. Holly Hanks gives a great tutorial on the know how!!)
Lookey there! Those are my first two pieces of fabric to use on LOs! Can't WAIT!
And just look at that vintage Bingo card! AHHH! Gaggin over here I'm so stoked! I know I'm a dork.

And these two pics are an amazing piece. My first overlay, my first transparency, my first Hambly. I'm so happy.
I don't think I can say enough good things about PaperMinx! Go check them out because if you like this style then you will be in heaven!! The two founders, Aimee and Steph, are amazing talents with loads of inspiration to give!!~
Well that is all I have for you right now. I went out of town recently and have been busy otherwise at home so I haven't gotten anything scrappy done lately. I also, someone kick me please, started a new craft with the intent on starting another next month as well. I am knitting. I want to knit. I tried for the first time last night and geez louise it is hard. I think I am making the stitches too tight so I am going to go to the local craft store and beg for some help. I just can't get the loop through without having to drop my needles and do some yanking on the former stitch and I know that is not how knitting is supposed to be done. When I get knitting down this month I will move on to starting the next one. And when I get the supplies I will tell you all about it. I will leave you with a picture of my daughter, who is my joy in every way. Hope you all are well and have a great weekend! Take care ~Amy~
And I thought I would add this one in as well. This picture is the whole reason we went to Texas in the first place. This is a picture of my Great-Grandmother. Creedence makes the fifth generation in our family and we wanted to make sure that the first generation and the fifth met and were documented before it was too late. Gammy, as we call her, is turning 90 soon but suffers from dementia. I am making it a personal goal to go and visit her at least once a year with Creedence from here on out. I am very happy we were able to get this picture. It makes me smile so much.