Hi Everyone! I know I have been gone for a little bit here, but it is because I have been non-stop crafting and had family visiting. :D I hope to get back on a blogging schedule real soon here! It is incredible how much time has gone by since I was last on here, and it seems like a million and one things have gone on in that time! :P I am writing up some other posts today, most of them will be scrapbooking catch up, but I will make sure to do some update ones on the girls cause they have grown sooooo much!!
Anyway, back to the scrappy stuff for right now....I received an email from
Paige Evans
of
American Crafts
a while ago about being their Guest Designer for the week! I couldn't believe it! Talk about a dream come true! :D Who doesn't love American Crafts stuff huh?! So of course I said yes! It has been a little bit since
my layouts went live
on the AC blog, so I thought I would share them here too. :D
This first layout is about my two favorite flowers we had in our garden this season! I LOVE Ranunculus and this was my first time having some! They are so beautiful and delicate and just perfect for putting in vases. :D Make me very happy. And then we had a surprise in the garden with
millions
(I am not exaggerating!) of poppies! Jed threw out a butt load of seeds without paying attention to what went where or anything, and as plants started growing we would try to figure out what they were. Well for the
loooongest
time we thought these were weeds, but as buds started to form we realized they were poppies! And man they were stunning! So many colors and sizes, some single petaled and others super thick!! And with how many seeds they let down they should come back even more next season!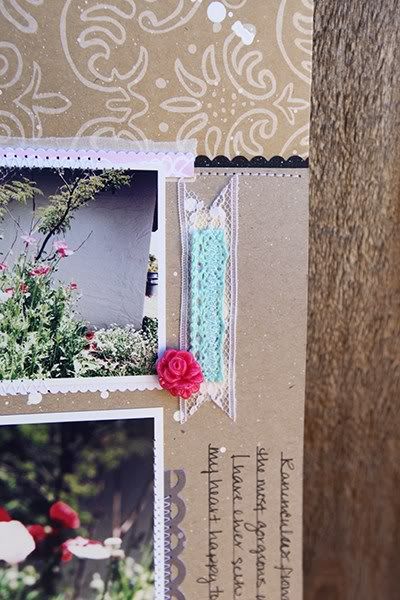 The theme for my week of guesting were decorative brads, so I tried my hardest to use them on my projects! But they really took center stage for my altered project: hair barrettes and pretty clips! I couldn't resist making these! They not only work for going in your hair but also clip onto clothes or scarves! Some I made specific for me :D , and then the rest I made for the Munchkin and Aurelia!
These are for the girls!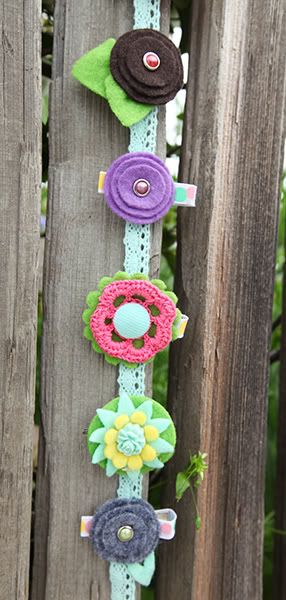 And these are for me! :D I've already worn the middle one several times and love it!!
I know there were requests to do a tutorial on making the little hair clips from the Elmer's and XACTO Blog Hop, and I haven't forgotten that! I will be working on that real soon! :D
Next up is a layout about the little one. I am working on trying to catch up on her monthly layouts, and I am still three months behind now! Laugh! Anyway, I had so much fun making this layout! I tore out a couple sheets of paper from a spiral I have and messily folded them in half. Not a bit of it was even, as sheets were sticking out in different directions in several places. I trimmed some layers with decorative scissors, and then stuck some strips of patterned paper cut with punches into some of the sections. Everything is leaning differently and it is slightly messy, but by keeping the colors crisp and bright and using a clean white, it keeps it from looking a mess! :D Once it is all stuck down, then I sewed through each layer and started adding photos!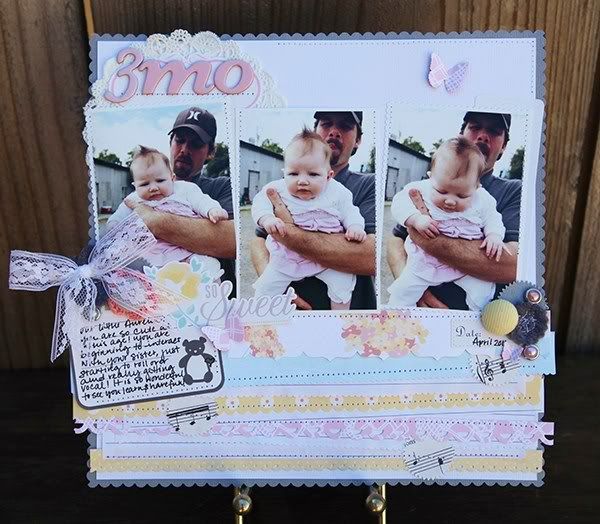 I have my dear friend
Rahel
to thank for the gorgeous pink Thickers!!! She is the sweetest!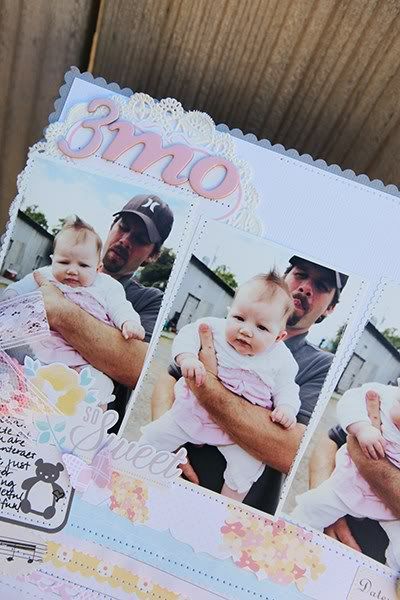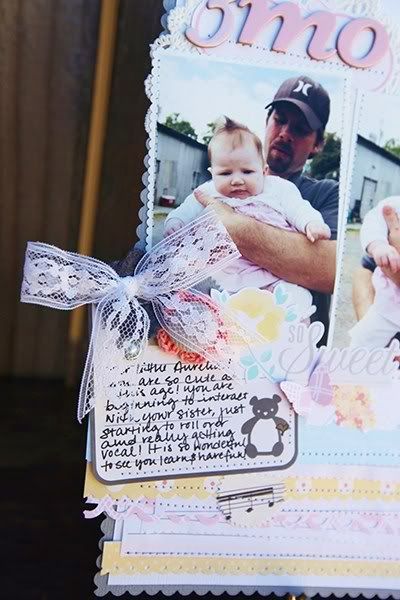 And last, but certainly not least, is my layout about Creedence's Speech Therapist, Sharon. I am so indebted to her, I don't know how I could ever thank her enough for all she has done for Creedence! She worked so hard with her and was so patient with her, and Creedence is not the same little thing because of it! Her speech has improved immensely and I am so happy because of it! Laugh! Now Creedence seriously
NEVER STOPS TALKING
!!! But I wouldn't change a second of that! :D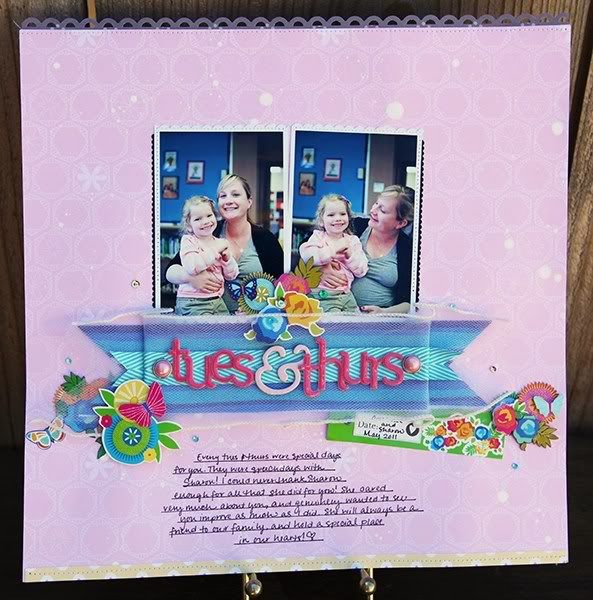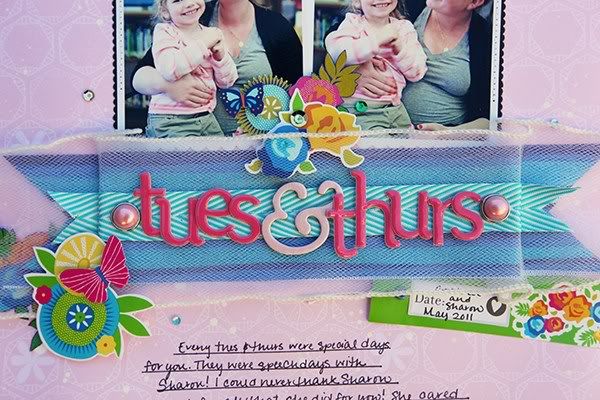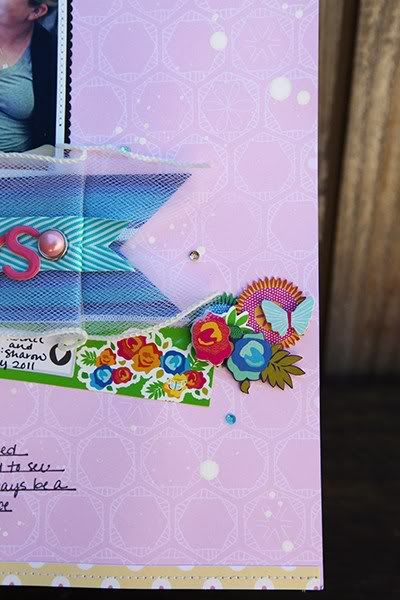 So there you have it!! :D All my American Crafts GDT work!
Less than two weeks later was the deadline for the DT call, and serioulsy with all this amazing AC product that I had just received I could not resist putting my name in!! :D I will be back tomorrow to share with you my submission!
Take care!!
~Amy