Hi Everyone!! I finally have some pictures to share with you all! They were taken a few days after her 'one week birthday', and hopefully I will have some more taken tomorrow too. And not just pictures of the wee bitty, but of us all. :D Much needed right now as none of us have been in front of the camera in a while. :P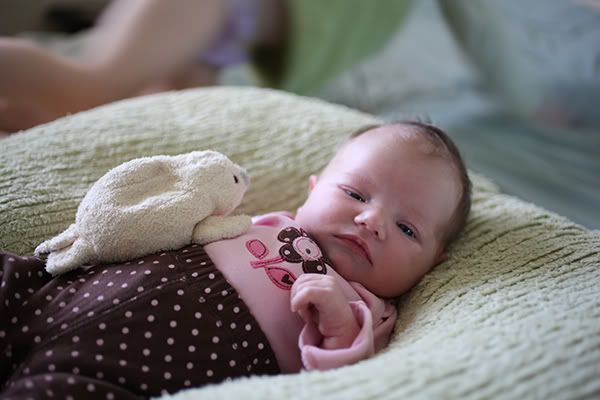 Seriously, could she be any cuter?!!! That last picture is one of her funny little smiling faces. She actually does those a lot! And almost always when Jed comes around. :D We know already that she is a daddy's girl.
I have some Sassafras Lass shares for you all today! I finally finished a few of the projects I had been working on for the Sass DT call. :P I just hope that they nose around on peoples blogs so that they see these! Laugh! If not, oh well. I am really happy with these LOs and that truely is all that matters. I still have more that I am working on but they are not quite done, and I have a few other projects to work on right now so they will have to take a bit of a backseat until those are done.
This first one is the first that I finished (and it was before my Truly Scrumptious kit came from Noel Mignon so it is made primarily of all older Sass products). The photograph here was almost deleted by Jed, and I am so glad that I caught it because I love it! Yeah it is not of anything but Creedence's head and the path behind her, but I think it is gorgeous. Something about it just spoke to me and I had to use it on a LO. This is titled 'Follow Your Heart'. Something that my mother taught me to do, and something I will be passing on to my own daughters.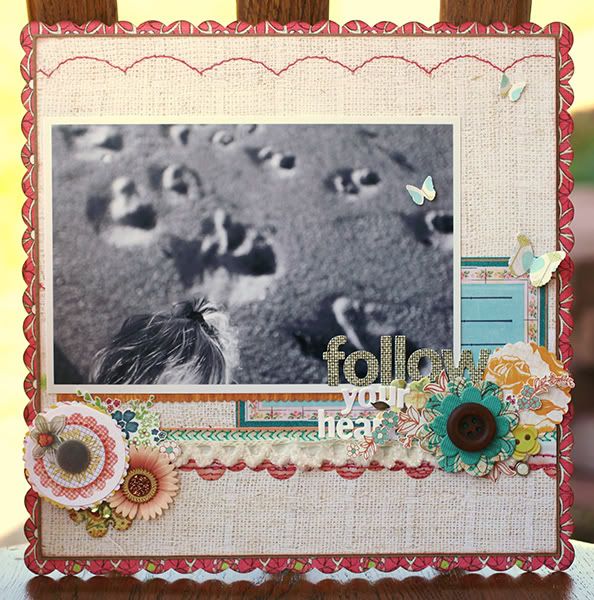 This next LO I made for the Valentine's Day Crop over at Noel Mignon (did you come and join us?! It was a blast!), and I used my Truly Scrumptious kit to make it! :D My challenge was to follow the rule of twos! That means that you can use anything you want on your LO, but it must be in twos! So you can only use to pieces of cardstock, or two pieces of patterned paper, or only two pieces of chipboard. The only things I required you to absolutely have on your LO were two hearts. It is a Valentine's Day challenge after all. :P I decided to use two of the new Sassafras Lass Paper Crush papers for my patterned papers. LOVE THESE! :D
This last LO was an absolute blast to make, and it came together so fast! I made it for the current DT challenge over at Noel Mignon, where we followed a sketch. I decided to turn the sketch as it made it flow better for me. :D One thing that was a lot of fun (but difficult!) to do was the circle punched border running vertical on my paper. I punched 1 inch circles out of my Sassafras Lass Mix and Mend paper, then lined them up exactly as they were on the paper on the paper I wanted for my background. It created this scalloped border that looks exactly like the Mix and Mend paper. :D Certainly more work than it needed to be but lots of fun to do.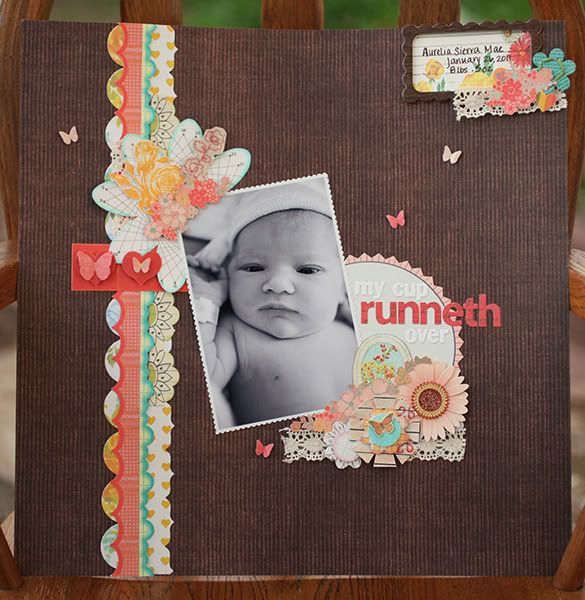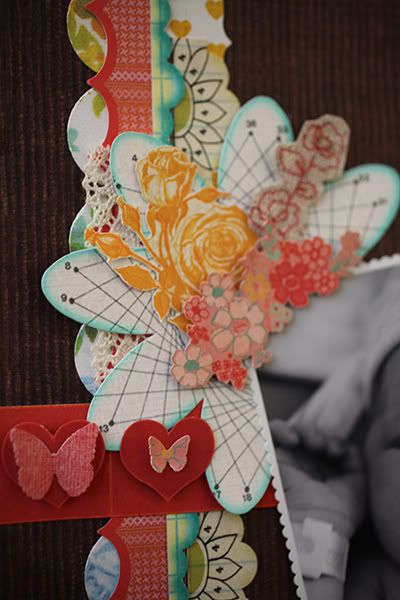 And there you have it! I will have more to share with you real soon! Certainly more photographs of us. I need to stay more on top of sharing those for my family! I am sooooo bad at getting photos sent off to them.
Hope you are all well!! Thanks so much for your sweet comments! They make me smile so much! :D
Take care!! ~Amy