And just like that...*Poof!* She is gone again! :P I've got mad blog-neglect skills.
Totally was not my intention, but it happened. I still haven't finished redoing my blog either. I began working on it. Switched it to just a 2 column, but now that I am looking at again (weeks later) I am really not liking that. So I think switching back to 3 columns is a must. Which means I have to get back into the HTML, which I hate! LOL! Who else here can't stand that stuff?! It's total non-sense jibberish! Anyway-I am still working on the blog header too. Picked up
this digi kit
from Kitschy Digitals, and am having a blast working with it! I had been waiting for that kit to come out for a while, so I am stoked that I can finally use it for my blog banner. :D That will hopefully be up next week.
Got some scrappy stuff to share with you today. :D I was hoping to get all my Halloween stuff done before Halloween, but I only have parts of several projects done. LOL! I guess those will all just have to go up for us to enjoy in November! :D I will share all of those when I am done, but until then I have a few Cosmo shares.
Post went up last Saturday over at Cosmo Cricket-it was Wendy Sue's turn to do the DT challenge, and she chose a gorgeous page from a Pottery Barn catalog. Love it! So here is what I did for the challenge: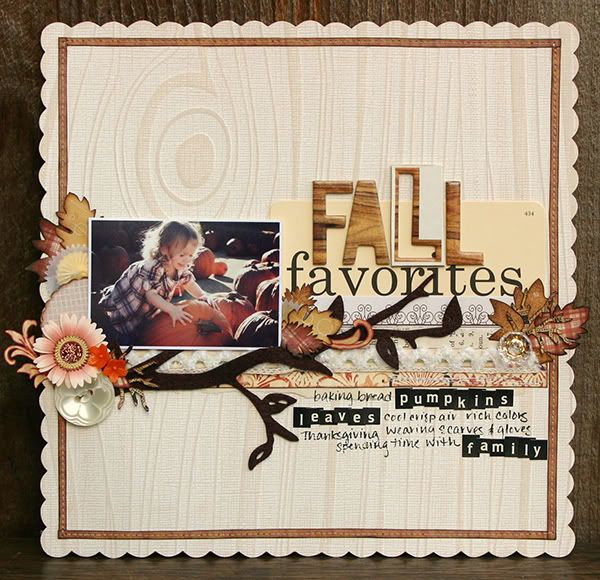 Supplies: Paper-Cosmo Cricket Haunted papers 'Macabre' 'Never More' 'Gothic' 'Journaling Cards', Cosmo Cricket Matilda 6x6 paper pack, Cosmo Cricket Coredinations Cardstock Neutral collection Whitewash Woodgrain; Embellishments-Cosmo Cricket Boyfriend Chipboard, Cosmo Cricket Tiny Type Black, Maya Road Leaves Singleton Stamp, K and Company Handmade lace frames, Prima felt branch, Making Memories Vintage Findings Copper Buttons, Making Memories Vintage Findings Plastic Flowers, Making Memories Medium kit Bienvenue, Martha Stewart Gerbera Daisy stickers in Gold/Peach, 7 Gypsies 97% Complete Flashcard Words ; Tools-Martha Stewart Autumn Branch punch, Marvy scallop punch, Color Box Chalk Cat's Eye Ink
Next up is a new LO I finished using the Mitten Weather line. I really do like this line a lot, but I for some reason just have a hard time scrapping winter/Christmas themed projects, and have them turn out looking decent. :P I don't know what it is, but they just never turn out the way I wanted. This LO turned out super plain jane to me. :P But the pics of Cree make me smile so I am still somewhat happy with it. :D I decided to tone-down that background paper by giving it a white-wash with watered down gesso. Everything else I just cut into squares, and some of them I punched the middle out with one of my fav winter punches from Martha Stewart, then backed those pieces with a different patterned paper. Once everything was all lined up, then I ran it through my sewing machine. Some of the pieces turned out a little wonky cause they weren't so securely fastened, but it is pretty subtle. Anyway, here it is. :D
Supplies: Paper-Cosmo Cricket Mitten Weather collection (all papers, including journaling cards and borders); Embellishments-Cosmo Cricket Mitten Weather 12x12 Ready Set Chip, Cosmo Cricket Ready Set Chip Glittered Sweet Sparkle chipboard alpha, American Crafts Lullaby Thickers in Charcoal, Kaisercraft Pearls, Ivory Jute twine from Studio Calico; Tools-Martha Stewart Alpine snowflake punch, Martha Stewart Arctic snowflake punch, Martha Stewart Star Confetti punch, Claudine Hellmuth Gesso
This last one I will share is actually pretty old! :P it went up on the Cosmo blog month's ago, but never made it to my own blog! LOL! But it is one of my all time favs. I really like how this one turned out! I don't usually do circles on my blog (I am not sure why, they just don't come to mind when designing), but they really made this LO I think. Lots of distressing and inking, and some machine and hand sewing. And I love that pic of Cree so this LO just makes me happy. :D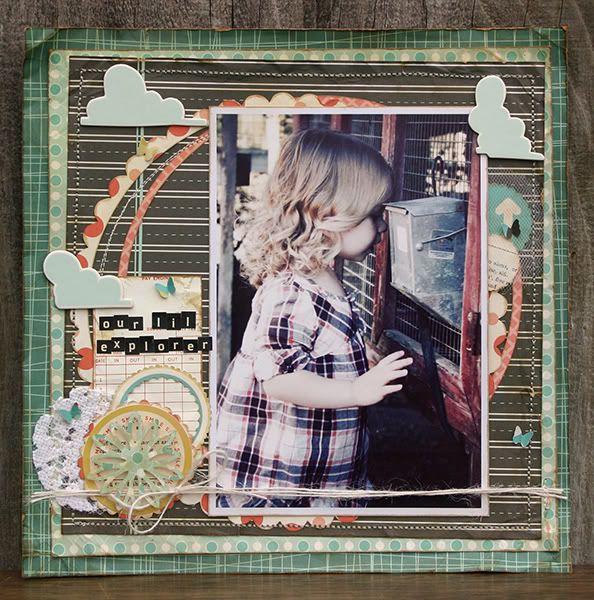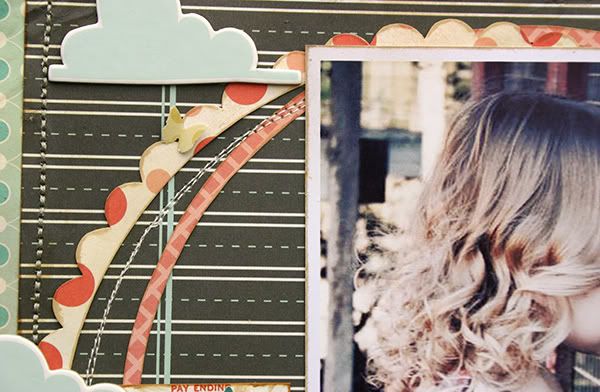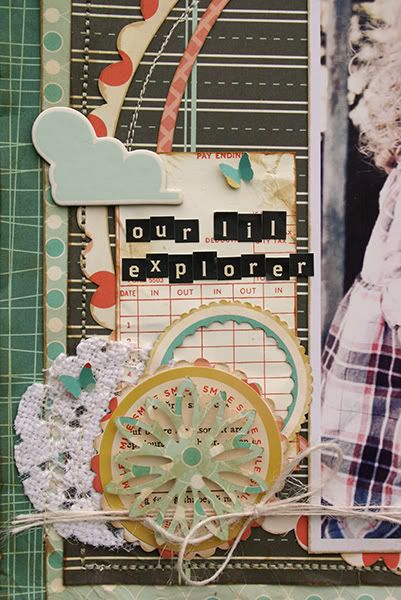 Here are some close ups of the hidden journaling tag behind the picture. I still have to put the journaling on there. :P Details, details.

Supplies: Paper-Cosmo Cricket Joy Ride collection (pretty much every paper in the pack is on this LO somewhere), Cosmo Cricket Early Bird 'Ribbon Sandwich', vintage book paper; Embellishments-Cosmo Cricket Joy Rid cardstock stickers, Cosmo Cricket Tiny Type black stickers, Cosmo Cricket Joy Ride 12x12 Ready Set Chip shapes, tulle from Michael's Crafts, Ivory Jute twine from Studio Calico, vintage lace; Tools-Martha Stewart 3-in-1 Butterfly punch, Martha Stewart scalloped 1 in circle punch, Marvy 1 1/2 in scallop circle punch, Martha Stewart Chrysanthemum punch, Tim Holtz Antique Linen distress ink
Ok so I have a lot of catching up to do still!! LOL! I am going to be finalizing my blog this weekend, as there is something really fun happening on Monday that you all will be able to be a part of! :D Check back on Monday for the details on that. I am going to try and get one more post in before the end of the weekend, but we will see, as it is a busy weekend for me! Lots of scrapping to be done!
Hope everyone is well! Take care!
~Amy