.....to try and get through the night!!!! Gahhhh!!!! I am still so stunned, shocked and honored that I
made the finalists
for
Cosmo Cricket
! The amount of talent on that list blows me away! And a few of those names alone: Wow! I am truly honored. I have to thank Cosmo Cricket for thinking I was good enough to be on that list. And I have to thank all of you for the amazing support you have shown me!!! Your well wishes and wonderful comments have been overwhelming!!! Thank you Thank you Thank you!
BTW have you checked out the
Cosmo Cricket
site today? They did a post called
Christmas in July
about the local Food Bank there. To help Food Banks everywhere, they are incouraging people to donate to their local Food Banks! And they are doing so in the most amazing way! For every person who comments on that post, they will donate one dollar to the Food Bank up to $1000!!!!! Is that amazing or what?! The funny thing is, my husband had just come home yesterday and told me about a local food drive going on here! He said there is a trust fund company that is matching any cash donations given!!! We decided to donate $100! Like the Cosmo Cricket post says, it is so hard for them to raise money in the off season. So please, donate anything you can! Doesn't by any means have to be money, it can be any canned or other appropriate foods that your Food Bank will accept! :D Helping those in need is something we all need to do. And remember to make a comment on the Cosmo Blog post to help them reach their goal of $1000!!!
Well....moving on to scrappy goodness!
July BAP
went up at
Prima
a little bit ago and I need to share my LO here now! I went very very simply simple with this LO. And I love it. I love it so much. It was so fun to do. And so liberating to do something simple. Uncomplicated and not time-consuming! My fav part about scrapping is the freedom you have to just create. No boundaries or restrictions (well some-like using particular product or something-but for the most part I don't mind that)! Just you and your endless imagination! :D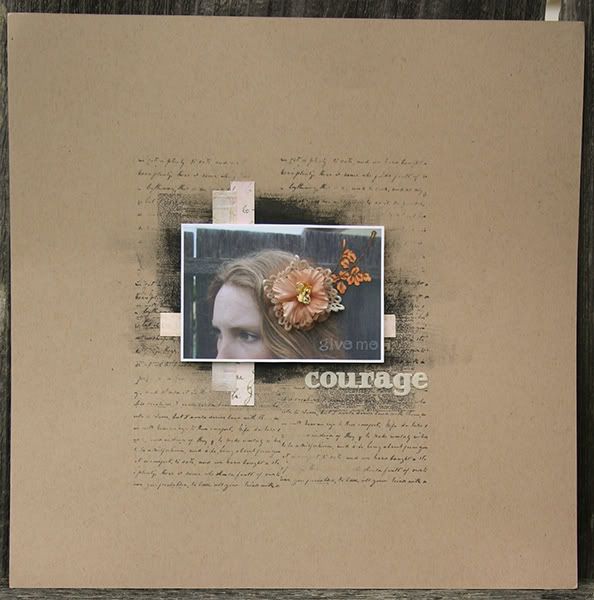 Supplies: All supplies on this LO are Prima (except for the scripture stamp and the letters stamps-they are from my stash and I am spacing it on who makes them right now)
Next up to show you is the new Category Stories! The first prompt for July is: Fictional Character! I took all of my fav books-which happen to be fiction or historical fiction (for a list of everything I have read see my Goodreads widget on the left side of the screen) and put myself in my fav character's shoes and just wrote the things that I loved most that that character got to see or do! This prompt is due at the end of the month, but we have another one coming up on the 15th so stay tuned to the site to see the new prompt!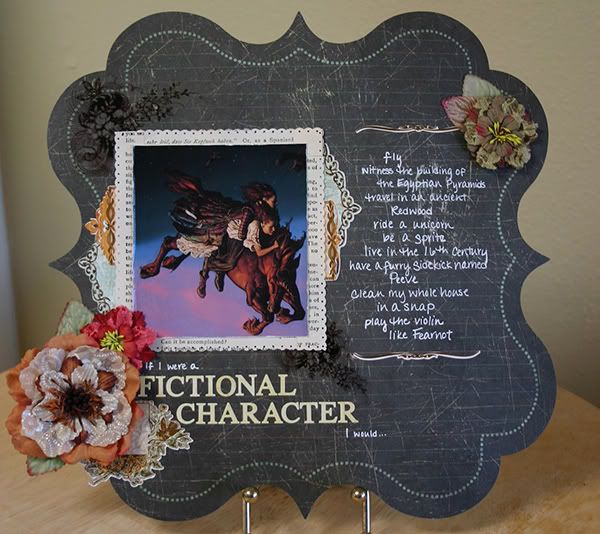 Supplies: Paper-Collage Press, Letters-Collage Press, Flowers/Leaves-Prima, Stickers-Prima, Rub ons-October Afternoon, Other-Vintage book paper from my stash
Now I have a little announcement to make. I decided to step down from my position at The Scrapbook Nook. I have had the most incredible time being a part of this amazing community (if you have not yet made it over there then you need to! It is a wonderful kit club-Leah does the best job!-and the community of girls there are the absolute best you could ever ask for!) and designing with stunning kits month after month! But my 6 month term was up, so I took the opportunity to back out the DT call. This was my first kit club, and was a huge learning experience and a great challenge to my scrapping! It forced me to think outside the box several times! I decided to step down because I just felt that I was not fullfiling my duties there as a Design Team member and as an active Moderator of the message board. To be honest, I am not a huge chatter. :P I never have been. So it was difficult trying to keep up with all the talkiness that goes on there! :D Not that talking is a bad thing-I just found that I was at the computer for far too long during the day and still was not able to keep up like some of the other members! So I felt it was unfair to try for another term, when I was not sure that I could fully commit again. Besides, there is some fabulous talent there in the boards, and some girls who want this so badly! Tomorrow is the reveal as to who has made the new Design Team, and I am sooooo anxious to find out who it is! I am rooting for a whole list of gals! :D Leah has kept even us out of the loop and in total suspense!!! So until we find out-Good Luck to all you lovely ladies who have applied!!!
REMINDER: I am also going to give a friendly reminder that tomorrow before Noon PST is the cut off time for my giveaway! Leave a comment before then to be entered! Thanks!!! Oh and I am so glad to see that so many of you have thought this giveaway worth winning! It is very encouraging for future giveaways! ;D
Till tomorrow!!!! Take care! ~Amy