I didn't make it back on here on Thursday!!! As you may have noticed! I have had absolutely no time to get the giveaway together! That's right, I don't even know what I am giving the winner yet! But lucky for that person, I just walked into Michael's tonight and found that they are now carrying the
Vintage Findings collection
! I am off this weekend to go and get all of that (I had a screaming muchkin in my cart so I had to make a dash for the door so I didn't get any of it tonight)!! So I will get together a whole ton of what I want to give away and then just add those things in when I get them! I think because of that I will wait to do the giveaway until I actually have a pic to show you. It only seems fair that you know what you are trying to win, right? So on Monday I will have that for ya! :D *Hope you don't mind waiting till then!*
In the meantime I will show you a couple more LOs I did for the
Scrapbook Nook
! :D Still loving this June kit!!! :D
This first LO I kinda went paint happy. :P Journaling reads: I am becoming better and better at documenting the everyday, right now and what really mean the most moments!
And then on the bottom (in second photo) I used a cut off from the selvedge edge border (the one that talks about how they-Cosmo Cricket-used soy-based inks) to further my journaling! :D
Supplies:
Paper-Cosmo Cricket
Ticket-Jenni Bowlin
Letter stickers-American Crafts, Basic Grey
Chipboard-Cosmo Cricket
Button-Chatterbox
Punches-EK Success, Fiskars
This next LO I decided to participate in a sketch challenge we had for fun on the Scrapbook Nook message board! :D It is Pencil Lines sketch #73 by Asa Bergstrand! I followed it pretty closely which is totally not my usual, and also kept it pretty clean and simple (again so not normal!)!! But it was a lot of fun, even though I am wanting to make a million changes to this LO!! I have told myself though that I am not to touch it again!
Journaling reads: We are so lucky to have been blessed with such a happy girl! You love to laugh, give hugs and kisses, and you sing and dance all the time! We love to see your smile!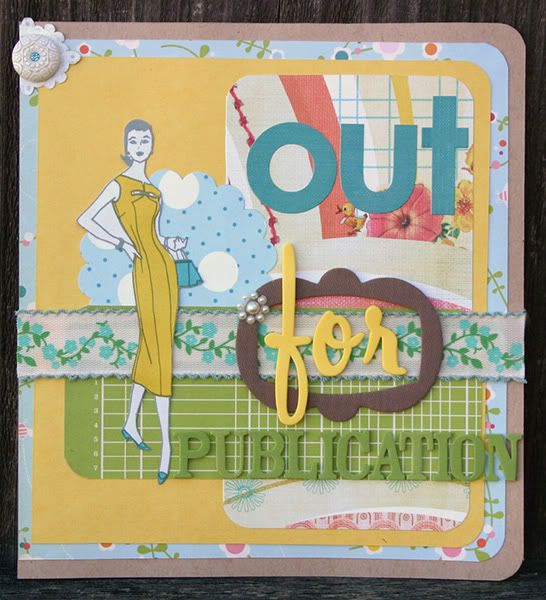 Supplies:
Paper-Cosmo Cricket
Chipboard-Cosmo Cricket
Ribbon-American Crafts
Letter Stickers-American Crafts
I don't know why Blogger won't let me get rid of the double spacing in that supply list but there it is. :P Hope everyone is well! I will be back again real soon with more to share! :D Take care!
~Amy